COVID-19
Please find information here with regards to any measures currently in place due to the Covid-19 pandemic.
A reminder of current Covid regulations in school:
All staff and students are required to wear a mask on the school site, unless exempt
All staff and students should adhere to the 2m distancing
We encourage regular hand washing and hand sanitising
All rooms will be ventillated
All staff and students should test twice a week - tests are available from school
Please report any positive Covid cases, or cases of self-isolation to testandtrace@littleheath.org.uk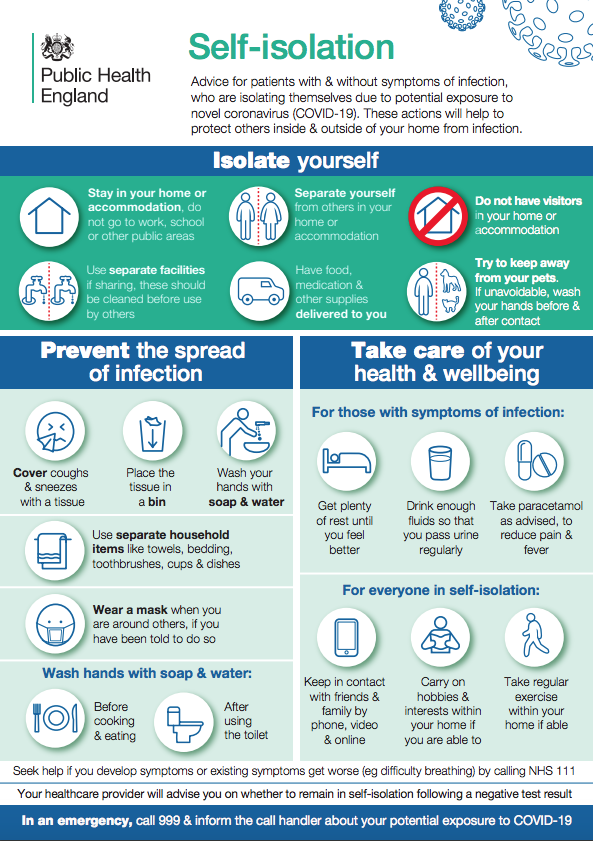 Find out more about Remote Learning here.
The latest news is below for your information:
Reopening of school 8 March 2021
Reopening of school
On 22 February, the government announced that all schools are to re-open on Monday 8 March as part of their roadmap for coming out of lockdown. This is great news, and we are committed to making sure that students can return safely and promptly to school so that they can get on with their learning.
With this in mind, we plan for all students to return to school together on Monday 8 March, having received one of their three Lateral Flow Tests before they return.
We will continue to apply risk reduction measures from our school Risk assessment, as was the case before Christmas. This will mean that we will continue with Year group bubbles, staggered lunch and break times, dedicated entrances and exits, and specific toilets for each Year group.
To remind you, students should use the following entrances:
Year 7 - Warbrough Avenue entrance
Year 8 – Sixth Form entrance
Year 9 – front entrance
Year 10 – back field entrance (Spring Lane)
Year 11 – front entrance
Year 12 and 13 – Sixth Form entrance
We are introducing some additional risk reduction measures as follows:
As per government guidelines, we will expect all students and staff (unless medically exempt) to wear a mask at all times whilst inside and outside on school site, including in classrooms. This will include outside during social times.
To minimise risk of transmission, we will also be changing our routines at the ends of lessons, asking all students to wipe down desks and touchpoints before leaving their classroom.
Please ensure your child brings their own hand sanitiser as part of their school equipment. They should use this regularly throughout the day.
Full uniform will be required from Monday 8 March. Please let us know if you need any support with this, through your child's tutor or Head of Year. This includes PE kit.
We will be having a longer AM registration period on Monday 8 March to allow time for students to run through expectations in detail with their tutors.
We are all looking forward to welcoming students back to school, and are determined to make the most of our opportunities for learning inside and outside the classroom for the rest of this academic year.
Lateral Flow Testing programme - March 2021
We will be starting the LFT programme next week on Wednesday 3 March, which will allow us to complete the first test for all Year groups before they return to school.
The second and third tests will be delivered in school during the following week (8 March).
The following information is really important, so please read it carefully and do not hesitate to contact us through your child's Tutor or Head of Year if you have any concerns:
Students will be given a one hour slot to arrive in school for their allocated day, and should enter via the Warborough Avenue entrance. A member of staff will greet them there, and move them to a waiting room area in the History block.
Information about your child's specific slot will be emailed to you soon.
After this welcome, students will then be registered and will have their test in our Testing area in the gym.
After the test, they will move to the waiting area in the Hall, to await their result. This takes thirty minutes. After the test result, they will be allowed to go home. The whole process of the test, including collection of results, should take around 45 minutes.
Students do not need to wear uniform for their testing next week.
Students cannot eat or drink for thirty minutes before the test. Please remind them of this on the day.
Students are allowed to bring their phones to school while they are being tested, as the test result may be sent to their phone. They can also use their phone while they are waiting for the result, or they may wish to bring a book to read.
The schedule for Test 1 and other tests over the next two weeks is attached. Each student will be given a specific time slot which will be communicated next week, but the schedule is attached so that you can see which Year Groups are on different days, to help with planning. We will start with Year 11 and the Sixth Form next Wednesday (3 March).
We have adapted the consent form to allow it to be completed online. The consent form can be accessed at the following link: NHS Consent Form
The consent form is also available on the school website.
Please can yu urgently complete the consent form and return by Monday 1 March. We will not be able to test students if we do not have a completed consent form. We need completed forms for students who do not wish to take the test as well.
When filling in the consent form, please use the school system for identifying tutor groups, using capital letters for the tutor. So, Mr. Eden's tutor group in Year 8 is 8 JED.
Unfortunately, we will not be able to allow parents to join the students for the test, although we are happy for parents to wait for their son/daughter in the school car park, or to return to pick them up.
Obviously, students must not attend school, including for testing, if they are self-isolating for any reason, or display any Covid-19 symptoms, which are a continuous cough, temperature or loss of taste or smell.
Students who have been vaccinated should still take the test.
Students who have had a positive test for Covid-19 within the last 90 days should not take the test.
Following the three guided tests in school, students will transition to testing at home. More information about this will follow when we give the Test at Home packs to students. These packs are being delivered shortly. The tests at school will allow students to feel more comfortable with the testing process, prior to having to carry out the tests themselves at home.
Please be aware that there will be fewer live lessons during the three days of testing next week, in part because of staff involvement in testing, but also because we do not want to affect student learning adversely while they come into school for their own test. We will provide work through recorded lessons and on Show my Homework in the usual way.
Thank you to all of the parents who volunteered to help with the testing process. We have managed to staff the testing in-house but I wanted to thank you personally for your offer of support, which was greatly appreciated.
Home testing and contact tracing over Easter - 1 April 2021
HOME TESTING KITS
Testing for students should continue over the Easter holidays. Further Lateral Flow Testing kits have now been distributed to students by their tutors.
Please note that these Lateral Flow Tests are only to be used by asymptomatic students. Those students who are exhibiting symptoms of Covid should immediately self-isolate and take a PCR test.
Any Lateral Flow Tests taken at home, which are positive, must also be followed up by a confirmatory PCR test.
The Lateral Flow instructions make clear that you should report all tests (negative and positive) through the NHS Test and Trace service, but you only need to report positive test results to the school.
Testing should continue every 3-5 days, as already explained in a previous Headteacher update.
If your child has been absent from school this week, and has not picked up their next allocation of Lateral Flow Tests, then please refer to local NHS advice about where you can obtain free LFT kits. Unfortunately, we will be unable to send messages to parents after today because our email system will be shut down as part of the building move.
CONTACT TRACING OVER THE EASTER BREAK
In line with the Department for Education guidance, schools are required to contact trace for 6 days into the Easter break (so up to and including Wednesday 7th April). If a positive case is reported to us as a school, we will run through our usual process of working with parents to identify social contacts, and using classroom seating plans to identify proximity contacts in school.
This six day period unfortunately coincides with our building move, when we will not have any access to school IT systems or email addresses.
With this in mind, we have set up the following secure email address: lhscovid@littleheath.onmicrosoft.com.
Please report any positive cases to this email address. This is a change to our previous system, designed to work despite the disabling of our IT systems.
Any requests for a proximity contact to self-isolate will be sent from this email address. Due to the important nature of Covid contact tracing, please do not use this email address for any other purpose. This email address will only be monitored up to and including 7th April, when it will be removed.
Masks update - 14 May 2021
MASKS AND OTHER RISK REDUCTION MEASURES
Following the recent government announcement about the next steps in their Roadmap out of Covid, I would like to give you an update on the next steps for us as a school.
I have made the decision to continue to make face masks compulsory for staff and students for the next two weeks, up until May half term.
This is a sensible plan, we feel. Given the number of cases before Christmas, and the rapid spread in cases after that initial outbreak, we feel that another two weeks of wearing masks is a useful precaution at this time. Students are used to wearing them now, and will be able to keep up this routine for two weeks with no difficulty.
After the holiday, we are also going to remove "student bubbles" and return to a more "normal" timetable. We will still keep staggered lunchtimes and other risk reduction measures, but with Year 11 and Year 13 students finishing their studies, there will be more room in school for students to move around. This makes sense to do at the same time as removing compulsory masks.
In addition, I still have a number of clinically vulnerable members of staff, including pregnant staff, and they may well ask students to wear masks in their classrooms after the holiday. So please make sure that your son/daughter has a mask as part of their daily equipment after the holiday, because they may be asked to don a mask in an individual classroom by an individual teacher, at least in the short term. I am sure you will understand why we wish to do this to support staff.
We will not insist that face masks are compulsory from 8 June onwards, although we will still allow students to wear them if they want to do so.
It is great to be able to talk in an update letter about relaxing restrictions and moving towards some kind of "normal" routine, but we need to do this in a planned and sensible way. Two more weeks of wearing masks around school should make a difference, and help us all to feel confident about coming out of lockdown.
Thank you on a personal basis to all those students who have responded to me when I have stopped them in the corridor to get their views. You have been brilliant!
Mr Ramsden, Headteacher
Covid restriction changes after half term - 21 May 2021
MASKS AND OTHER RISK REDUCTION MEASURES
After the holiday, we will remove "student bubbles" and return to a more "normal" timetable. With Year 11 and Year 13 students finishing their studies, there will be more room in school for students to move around. We will still keep staggered lunchtimes, designated toilets and other risk reduction measures, which will help us to continue to reduce risk at school.
We will not insist that face masks are compulsory from 8 June onwards, although we will still allow students to wear them if they want to do so.
Some individual teachers who are Clinically Vulnerable, such as staff who are pregnant, will still ask students to wear masks in their classroom. Please ensure your child has a mask as part of their normal equipment, even after the holiday.
I will be updating the school Risk Assessment to reflect these changes before the holiday, so please have a look at it on the school website if you are interested in our overall approach to risk reduction.
We are constantly observing local and national trends in cases of Covid, and will respond carefully to any spikes in transmission rates. We hope that we can remain on course for an overall relaxation of risk reduction measures, but will not do that if the national picture shifts in the wrong direction.
Change to mask restrictions - 21 June 2021
We have made the decision ask all staff and students to wear masks again while on the school site until Friday 2 July, at the earliest. We will review the situation again at this point.
If you have any questions, please contact our main office office@littleheath.org.uk