Eco-Schools
Seven Steps Framework:
Eco-Committee, a group of students and adults responsible for all things Eco-Schools.
Environmental Review, a resource which has been designed to review learning environments and provide inspiration to Eco-Committees. Our full Environmental Review can be downloaded below. Here is a summary.
Action Plan, a plan for environmental actions in your school. Our latest Action plan can be viewed here.
Curriculum Links, including environmental issues in your school's learning.
Informing and Involving, including all pupils, staff members and your local community in Eco-Schools work.
Monitoring and Evaluation, measuring the impact of the projects in your Action Plan.
Eco-Code, a rallying call that everyone can get behind!
As pupils work through the Seven Steps they are able to pick three of the ten Eco-Schools topics to work on. All the Eco-Schools topics help young people engage with environmental issues that are important to them and their local community. They also cover a huge range of sustainability issues and each topic is also entirely open to pupil interpretation.
Eco-Schools topics:
Biodiversity, caring for all plants, animals and insects.
Energy, reducing energy use and investigating greener energy sources.
Global Citizenship, working with others on local and global issues.
Healthy Living, improving mental and physical well-being.
Litter, taking action to reduce litter in your local area and beyond.
Marine, protecting rivers, canals, lakes, oceans and the plants and animals that inhabit them.
School Grounds, enhancing your learning environment.
Transport, travelling in an environmentally-friendly manner.
Waste, refusing, reducing, reusing, repairing and recycling.
Water, protecting our most important natural resource.
For more information about the Eco-Schools programme, visit Eco Schools (eco-schools.org.uk).
Eco-Committee
Our Eco-Code was created in collaboration with Miss Burrows and the Writing Club. We wanted to come up with a mission statement that represented what we want to achieve as a school community.
We picked the word 'GROWTH' as it represents the early stages of our eco-journey as a school, and that we have a long way still to go. We have made positive steps this past year and we thank everyone who has helped and made changes to their lives to become more eco-concious.
We hope our '6 steps to Growth' will inspire staff and students alike to consider the environment in all you do so, together, we can make change happen.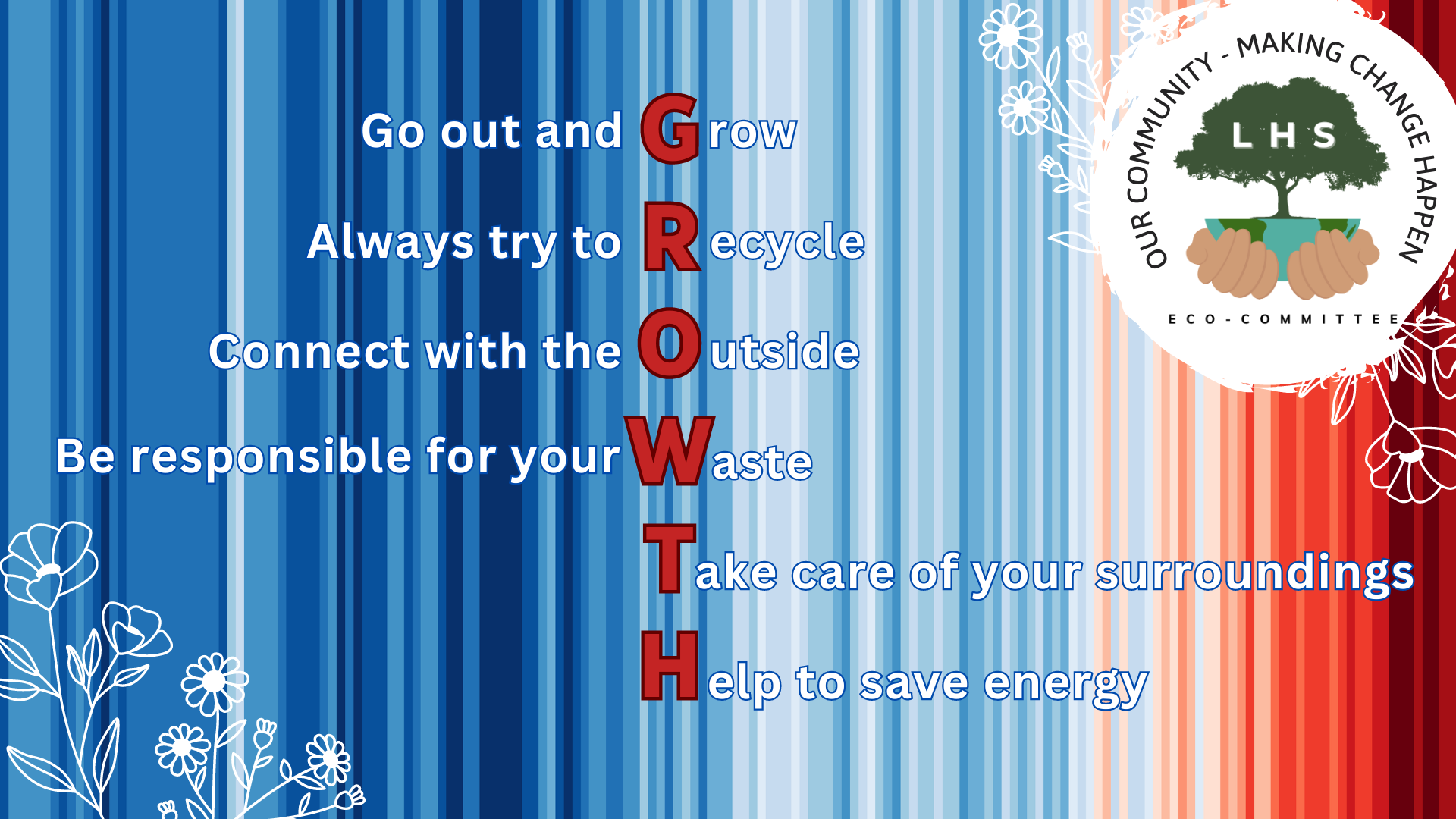 ONLINE ECO-BOARD - Updates and information