Take a look around the new A Block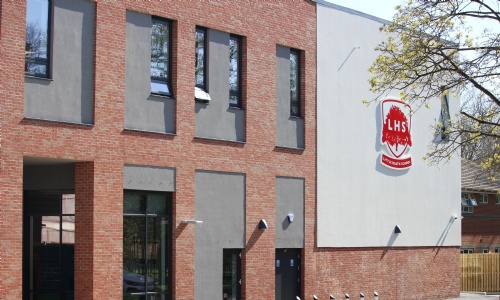 Watch our video tour of the new A Block
So here it is! Welcome to the new A Block!
Sadly, Covid restrictions have prevented us from letting you through the doors for an official opening, so a month after we got the keys, we take you on a tour with our video presentation. We hope you love it as much as we do...enjoy!
"I am so pleased with the reaction from students and staff to the opening of the new building. While we have known since the start of the project that LHS students deserved a new building, with all the modern facilities that come with it, it was only really when the doors properly opened at the start of term that we realised what impact it would have. So many students have spoken about their excitement at the various rooms throughout the block (especially the canteen and the Hall of course). It is their building, and I am delighted that they like it so much!"

Mr David Ramsden, Headteacher
Hear what our students have to say...
"I think it is brilliant and will improve learning for students massively.
The modern facilities have been needed for a while" Aaron Y9

"It is an amazing building and it has a great canteen"
Caleb Y9

"We are very lucky to have the new building and its technology
available to enhance our learning experience"
Abby Y9

"Very modern and spacious"
Lily Y9

"I love the new drama studio,
as the new lighting equipment is spectacular"
Bethany Y9

"Food rooms are great"
Alex Y9

"It looks very clean and fresh"
Adele Y9

"I think it's really nice and a lot
of people will benefit from it!"
Alex Y9