Careers & Higher Education Fair - 4 May 2022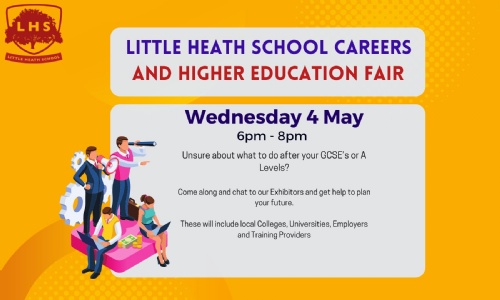 Careers & Higher Education Fair 2022
We would like to take this opportunity to invite you to a Careers Evening at Little Heath School on Wednesday 4 May 2022 from 6-8pm. The evening provides an opportunity for students and parents to talk about career options with a range of people in a variety of career areas. It will be held in the Main Hall and Activity Studio in the new building and parking will be provided in the main school car park.
We are extremely grateful to the volunteers who have offered to participate in the evening. A list of the exhibitors and their areas of work can be found below and whilst the list might not be as exhaustive as our usual events, it is fantastic to be able to open up the school to a careers fair once again. Please take a careful look at the list of exhibitors and only attend if they are relevant to you. The universities in attendance may be of particular interest to Year 12 for example.
We are limiting numbers attending so ask that each student only bring one adult with them if at all possible. You are welcome to wear a mask and hand sanitiser will be available throughout the venue.
We look forward to seeing you at the Careers Evening and hope you find it useful.
Exhibitors:
Recruitment - Profiles Personnel
Early Years Child Care - The Forbury Group of Nurseries
Early Years Child Care - Childbase
Engineering - AWE
Engineering / Surveying / Architecture - Ridge & Partners LLP
Health - RBH Orthroptics
Apprenticeships in Childcare, Business and Customer Service - Chiltern Training
Apprenticeships - Department of Work & Pensions
Engineering - Wood PLC
STEM Ambassador - Careers in the Energy Industry
Apprenticeships - ASK
Health - Radiology, Audiology and Occupational Therapist
Services - Armed Forces, Navy, Fire & Rescue and Police
Technology - British Computer Society & Visa Europe - Cyber Security
Heritage Careers - Museum of English Rural Life
Chiltern Nursery & Training College
Reading College
South Central Institute of Technology HE options available at Reading College
Berkshire College of Technology
UTC Reading
Henley College
Artemis Studios
Royal Agricultural University
Oxford Brookes
University for the Creative Arts
Royal Holloway University
University of Hertfordshire
Brunel University
Portsmouth University
University of West London
Solent University