Miss Eustace: 2021-22 winner of the James Furlong Award for Outstanding Mentoring in Secondary ITE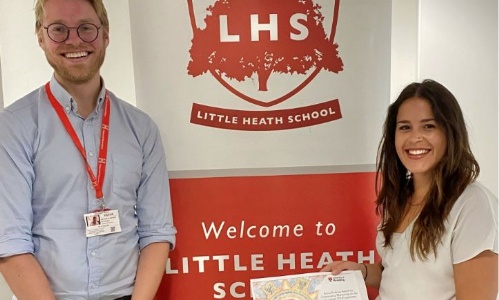 Miss Eustace receives the inaugural James Furlong Award for Outstanding Mentoring from Reading University
We are delighted to announce that Miss Eustace, Maths teacher at Little Heath School, is the Reading University 2021-22 winner of the James Furlong Award for Outstanding Mentoring in Secondary ITE (Initial Teacher Education).
In April 2022, Reading University launched a new award for mentoring in their Secondary Education partnership of schools. Each year about 250 teachers in local schools mentor Reading Partnership Teachers (RPTs). This award aims to recognise the incredible contributions these mentors make to developing new teachers and implementing the University of Reading's ambitious ITE curriculum.
The University received nominations from all over their partnership of schools. Miss Eustace and nearly thirty other mentors, including three Science teachers also from Little Heath, were nominated for meeting at least one of the following criteria:
Providing outstanding teaching guidance and support that is tailored to their RPTs' particular needs and the school context
Providing outstanding pastoral support that is tailored to their RPTs' particular needs
Achieving outstanding outcomes (irrespective of their RPTs' starting points)
Inspiring in their RPT a greater appreciation of their subject and what is possible for a teacher to achieve in that subject
Working collaboratively and positively with academic tutors and/or other mentors across the University of Reading Partnership
The nomination for Miss Eustace referred to her as a 'lifebelt' in times of need, an 'anchor' in times of turmoil, and concluded that:
"If I made it as a teacher, that is Miriam's achievement as much as mine"
The panel of judges agreed that it was clear that Miriam had made a life-changing impact in the life of an RPT.
When presented with her award, Miriam said that she had loved mentoring an RPT this year.
"It was so rewarding to build a trusting relationship with a new teacher, to push and challenge in a way that keeps them motivated, and ultimately see them grow into their own teacher".
We are so proud of Miss Eustace and the value she adds to the school both as a Maths teacher to her students and as a colleague. Well done!
To read the full article, please click here.