Careers Bulletin 16 September 2022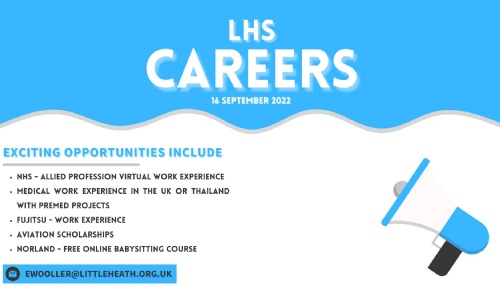 General Information
PwC 2023 School and College Leaver opportunities open for applications
We're delighted to let you know that our 2023 School and College Leaver opportunities are now open and we have many routes through which your students can join us.
If you have students looking for opportunities to join us straight from school or college, our full-time School and College Leaver programmes are designed to help them develop their business skills through real client work, while also completing formal training and studying towards qualifications. Explore these opportunities here. https://www.pwc.co.uk/careers/early-careers/our-programmes/join-us-from-school.html
Perhaps your students are looking for an opportunity where they can gain a degree and begin their career. Our Flying Start degree programmes offer the opportunity to kick-start a career and go to university at the same time. You can find out more about these here. https://www.pwc.co.uk/careers/early-careers/our-programmes/flying-start-degrees.html
Encourage your students to attend our upcoming Virtual Classroom event series where they can learn more about our opportunities, gain top tips for the application process, and find support in writing their UCAS personal statement. We're also hosting a parent and teacher session to support you to understand professional apprenticeships. Find out more about our upcoming events including our Virtual Classroom series and register here. https://www.careersschools.pwc.co.uk/event-search/
Visit our early careers website to explore the different options and apply here. https://www.pwc.co.uk/careers/early-careers.html
Insight Webinars with IBM & PwC
Hear from current apprentices
Learn more about the organisation and company culture
Discover apprenticeship opportunities
PLUS a Q&A session, where you'll be able to ask questions directly to their recruitment teams
IBM Apprenticeships Insight Webinar
12 October 2022 at 6.30-7.15pm
This is aimed at students in years 10 to 13 & parents
https://www.eventbrite.co.uk/e/ibm-apprenticeships-webinar-tickets-410313397417?aff=odeimcmailchimp&goal=0_f09eb3b2c8-9651a87956-211995373&mc_cid=9651a87956&mc_eid=7a807bdecc
PwC Women in STEM
19 October 2022 at 6.30-7.15pm
This is aimed at parents, career leaders, and students who identify as female in years 10 to 13
https://www.eventbrite.co.uk/e/women-in-stem-at-pwc-tickets-410462593667?aff=odeimcmailchimp&goal=0_f09eb3b2c8-9651a87956-211995373&mc_cid=9651a87956&mc_eid=7a807bdecc
EDT (Engineering Development Trust) STEM Opportunities for students
To learn more about all our Programmes and Industrial Cadets levels and to have a look at this year's programme please click here. https://dd233f6a-c442-4437-a8e1-9e42987b6020.filesusr.com/ugd/4517c8_7da96fbcf6934b4db7a550d5c1a7fdb3.pdf
Webinar: Insight into EDT - Opportunities for students
Date: Tuesday 20th September 2022
Time: 4:00pm - 5:00 pm
Registration link https://us06web.zoom.us/webinar/register/WN_W0POwyx7STKyvA5TfxwLtg
For more information: www.etrust.org.uk
Careers & University Fair 11th & 12th November
Book your free trip to the unmissable event for 15-19-year-olds today! What University? & What Career? Live returns to London Olympia on 11 & 12 November. Ensure your students are fully equipped to make decisions about their future with access to a wide range of exhibitors including the UK's leading universities and apprenticeship providers all under one roof.
Visitors will be able to speak to representatives one-to-one, as well as careers advisors, CV experts and more! https://news-notgoingtouni.co.uk/4CV9-1EOHT-127B1P-187QMS-1/c.aspx
Invitation to Crash BMAT Course
The PotMed BMAT Intensive is a half-day crash course organised by Imperial College London's Muslim Medics student society. The course is aimed at any students who will be sitting the BMAT examination in October.
The course will consist of students from Imperial College London leading interactive teaching sessions covering each individual section of the BMAT. We will provide advice on how to tackle each section, timed mock questions, answers and explanations.
Event Details
Date: Sunday 2nd October 2022
Time: 09:00 – 13:30
Location: Zoom
Event Page: https://fb.me/e/3Y7rJPMLk
Ticket Link: bit.ly/potmed22-23 (£5)
A Zoom link to attend the event will be emailed to all those who have registered/purchased a ticket nearer to the event date.
Agenda
We will start promptly at 9am.
9:00-9:15 – Overview of the BMAT and how medical schools use it
9:15-10:30 – Section 1
10:30-10:40 – Break
10:40-11:55 – Section 2
11:55-12:05– Break
12:05-13:20 – Section 3
13:20-13:30 – Q&A with PotMed team
*We are able to offer a limited number of free tickets, on a first-come-first-serve basis, to students who meet at least one of the following criteria. If a student is eligible, they should not purchase a ticket via the link and contact us first at mmpotmed@imperial.ac.uk with supporting evidence.
In receipt of free school meals
In receipt of the 16-19 bursary
Attend a non-selective state school and both parents have not attended university
Enrolled on the Imperial WATCCH programme
If you have any questions, please free to contact us at mmpotmed@imperial.ac.uk.
NHS Allied Healthcare Virtual Work Experience - 2nd October
The NHS Allied Healthcare Work Experience successfully invited 12,000 students to participate in the last academic year, making it the largest programme for students who are specifically interested in the following careers:
Nursing
Midwifery
Paramedicine
Physiotherapy
Occupational Therapy
Dietetics
Radiography
Prosthetics and Orthotics
Speech and Language Therapy
Pharmacy
Applications for this programme are now open, and they will be open throughout this academic year, with the first programme taking place on the 2nd October!
Students can enrol here: https://alliedhealthmentor.org/product/live-virtual-work-experience-programme/
During the work experience day, students will follow 2 patients from their initial presentation to recovery. Students will observe the healthcare professionals as they interact with the patients and each other. They will have an opportunity to ask questions and gain knowledge through teaching.
This will help students to make an informed career decision about their career and give them the opportunity to learn about how healthcare professionals work together as part of a multidisciplinary team. Each work experience day is completely different and students will be able to build on their knowledge of NHS careers as they see different patient cases and healthcare professionals work in a variety of settings, such as hospital and community.
Students will also receive certificates as evidence of having participated in the work experience programme. Those that complete the entire 5-month programme will be awarded a Highly Commended Reference from the Presidents of Medic Mentor. Students can register individually through the website link below. Places are £10 a day to cover administrative costs and run the tech on the day. Schools can also register groups online.
You can learn more and your students can register for the programme
here: https://alliedhealthmentor.org/nhs-healthcare-careers-virtual-work-experience/
Doctors Live – Surgery Live
My name is Veronica, and I am a doctor working for the NHS. I am emailing you from DoctorsLive. We are a group of doctors passionate about inspiring the next generation of students in Medicine, Nursing, and Allied Health Professions. We are thrilled to announce that our popular SugeryLive course is back this academic year. The online course gives a student an immersive insight into the world of Surgery and what it's like to be in the operating room. Students also get their own suturing kit through the post to learn how to suture.
The course is suitable for all students aged 14 and above and counts towards virtual work experience. Certificates will be provided for participation. Below are some further details:
SurgeryLive - Virtual Surgical Theatre Operating Experience - Saturday 1st October 2022
Our SurgeryLive course is an innovative and interactive virtual course that gives students a real glimpse of what it's like to be a surgeon in an operating theatre, delivered by practicing NHS surgeons.
The day course includes:
A glimpse into the day-to-day life of a surgeon
Solving real-life surgical cases, including history taking and anonymized scans
Live virtual operations - showing step by step how common surgeries are carried out
Learning how to suture with a live follow-along demo (students will be sent their own suturing kit, the same ones used by medical students and doctors)
A chance for students to interact with practicing surgeons and doctors
For more information and to enrol please visit the link below:
https://doctorslive.co.uk/surgerylive/
Veronica Barry - MBChB MRCS | NHS Doctor
E: info@doctorslive.co.uk / W: www.doctorslive.co.uk
INVESTIN: Various WX Opportunities
INVESTIN have launched their autumn term career opportunities which are available in 19 cutting-edge industries. Students will learn directly from some of the world's best professionals - doctors, lawyers, engineers, investment bankers and more - through a series of live, interactive simulations which provide tailor-made professional experience to ages 12-18:
https://investin.org/collections/our-programmes?filter.p.m.product_filters.age=Ages+15-18
PREMED: Medical WX
Medical work experience with Premed Projects in the UK or Thailand will give you hospital work experience like no other. Premed Projects arranges hospital work experience in UK hospitals and Thailand hospitals for aspiring healthcare students. Students join for a 1 or 2 week hospital work experience, 1 day, or weekend projects, visiting hospitals and medical schools, learning about life as a healthcare professional:
https://www.premedprojects.co.uk/
FUJITSU: WX 24 October - 7 November
Fujitsu is one of the world's largest IT service providers - but what do they actually do? This programme will open Fujitsu's doors and let you see inside. You'll discover smart cities and try your hand at quantum computing.
https://www.springpod.com/virtual-work-experience/fujitsu-workx
JLL AND META: Real Estate WX 24 October - 4 November
You've probably heard of 'real estate', but do you know what it means? In this virtual work experience programme, JLL and Meta will introduce you to the world of real estate and the exciting opportunities within it. Through the lens of written, interactive and video content, you'll work through a series of online modules to build your understanding of this industry...
https://www.springpod.com/virtual-work-experience/building-your-future
TechGirl 2022 Competition
Applications are now open to find the next TechGirl 2022! A competition for ambitious girls aged 16-18 years old that will inspire and accelerate more females into leadership positions in the tech sector. The winners attend an event at Tottenham Hotspur's FC on Oct 18th and are introduced to a mentor (see attachment), made up of the UK's most influential female technology leaders.
Closing date is 30 September 2022
Aviation Scholarships
The Air League:
Instagram: @TheAirLeague
Website: https://www.airleague.co.uk/flying-scholarships
The Honourable Company of Air Pilots:
Instagram: @YoungAirPilots
Website: https://www.airpilots.org/scholarships/flying-scholarships/
Fantasy Wings:
Instagram: @FantasyWingsUK
Website: https://www.fantasywings.co.uk/
Career Magazine for Parents/Guardians
The latest issue of Careermag for Parents is here to help parents, carers and guardians to support their young people along the way!
This issue sponsored by NOCN and supported by PiXL, Get the Jump and many more covers lots of tips for post 16 and 18 options, the UCAS application key dates, talking careers with your children and much more!
https://careermap.co.uk/careermag-parents-carers-guardians/
Careers in Technology - Thursday 22nd September, from 5:00pm - 7:00pm.
Join us for our kick-off Technology Event of the Season! Meet with world-leading employers whilst taking part in some incredible workshops. You will also discover all the latest Work Experience, Apprenticeship and Insight Events on offer this year!
We have added 2 more employers to the lineup since the last time we shared it with you with Capgemini and Willis Towers Watson joining PwC, Goldman Sachs, BT and World Wide Technology. It's set to be a fantastic event with a range of senior level speakers running various technology focused presentations and workshops.
Here is the registration link: https://www.surveymonkey.co.uk/r/Technology-Event-2022
Speakers4Schools
Here is the upcoming live broadcasts schedule. Live broadcasts are a great way for students to hear directly from leading figures from a range of industries, and have the opportunity to ask questions via a moderated Q&A.
https://www.speakersforschools.org/inspiration/vtalks/upcoming-vtalks/
Opportunity for students aged 11 – 15 years
Narrative Research Survey
Researchers at City, University of London are investigating spoken narrative skills in young people aged 11-15 years. We are looking for participants to take part in our online study - this involves joining a 1 hour Zoom assessment session with a researcher, and in return, participants will receive a £5 Amazon voucher, a certificate, and entry into our prize draw. more details, or visit our website about the study: www.explainingclearly.wordpress.com
Anna Harvey - Speech and Language Therapist
PhD student (City, University of London)
anna.harvey@city.ac.uk / 07434649897
Norland – Free Babysitting Online Courses - On Demand
This free online course is a brief introduction to the wonderful world and potential of babysitting. It has been designed for teenagers and young adults who are thinking about offering babysitting services for the first time.
https://onlinecourses.norland.ac.uk/courses/course-v1:NorlandCollege+OC0001+2021_Run1/about
College Information
Reading & Bracknell College - recent school leavers opportunities
We hope that your recent school leavers were happy with their GCSE results and are comfortable with the next stage of their education. However, if you are aware of any of your school leavers who are yet to choose a course or college, or perhaps are reconsidering whether school sixth form is right for them, we are offering 'Clearing' sessions at our colleges. These sessions will take place throughout September and will allow students to have a chat with subject specialist tutors who can help them decide on what the next steps could be. For more information and to book an appointment click on the links below or contact us on 0800 612 6008. It's not too late to apply, as we still have places available to start this term:
Bracknell & Wokingham : https://outlook.office365.com/owa/calendar/BracknellandWokinghamCollegeClearing2022@ActivateLearning.onmicrosoft.com/bookings/
Reading College:
https://outlook.office365.com/owa/calendar/ReadingCollegeClearing2022@ActivateLearning.onmicrosoft.com/bookings/
University Information
USA College Day - London
23rd & 24th September
Students can meet 120+ American universities at this fair
Students can explore studying in the USA and their options
Venue: ILEC Conference Centre, London (47 Lillie Road, SW6 1UD)
Tickets: must be booked in advance. FREE to those who register.
View confirmed exhibitors on our website: https://www.fulbright.org.uk/events/who-will-be-at-college-day-2022
Register now for free tickets! https://www.fulbright.org.uk/events/usa-college-day-2022
City, University of London:
City, University of London has six specialist Schools made up of excellent academic departments, faculties, and research centres. These include: Bayes Business School, The City Law School, School of Science & Technology, School of Health & Psychological Sciences, School of Communication & Creativity and the School of Policy & Global Affairs.
With the new academic year, we are especially excited to welcome Urdang, the prestigious performing arts school to City, which has joined our School of Communication & Creativity. You can find out more about the range of courses we offer on our courses webpage or by following the button below. https://www.city.ac.uk/prospective-students/courses?utm_source=UK+Recruitment&utm_medium=email&utm_campaign=13466119_Schools+Liaison+Termly+Newsletter+September+2022&utm_content=City+Website+%27Courses%27&dm_i=O4X%2C80MIV%2CSYRFVR%2CWSJB1%2C1
University of Hertfordshire - Upcoming virtual events
Join us at the University of Hertfordshire to have your questions answered. Be inspired by taster lectures, industry talks, masterclasses.
Getting started: The application process
29 September 2022, 16:30 - 17:15
Nutrition & Dietetics: Do you know what you are eating?
05 October 2022, 17:00 - 18:00
Geography & Environment: Probably the best subjects in the world!
06 October 2022, 17:00 - 18:00
Personal Statements: How to write an excellent one
06 October 2022, 16:30 - 17:15
Philosophy Masterclass: Meditations on Descartes
13 October 2022, 17:00 - 18:00
Parent/Guardian information evening: Application & student finance
20 October 2022, 19:00 - 19:45
Study skills: Academic writing and referencing
27 October 2022, 16:30 - 17:15
Nutrition & Dietetics: How do you know you are healthy?
02 November 2022, 17:00 - 18:00
Geography & Environment: Green Belts
03 November 2022, 17:00 - 18:00
Study skills: Research Methods
10 November 2022, 16:30 - 17:15
Find out more and book any of the above events on our website. https://www.herts.ac.uk/study/open-days/undergraduate-events/virtual-events
University Centre Sparsholt – Open Day 081022
Sparsholt is one of the leading providers of undergraduate courses for the land, environment and conservation. Registrations are now open for University Centre Sparsholt's next open event on Saturday 8 October 2022. This is an on campus, in person event.
To attend, your students will need to register for the event as soon as possible here: https://www.sparsholt.ac.uk/ucs-opendays/
Phil Allen - Schools Liaison & Outreach Co-ordinator
Sparsholt College Group (incorporating Andover College, University Centre Sparsholt & Sparsholt College Services) Sparsholt | Winchester | Hampshire | SO21 2NF
Direct Line: 01962 797563
Sparsholt Reception: 01962 776441 | Andover Reception: 01264 360000
Email: phil.allen@sparsholtcollegegroup.ac.uk |web: www.sparsholt.ac.uk and www.andover.ac.uk