Careers Bulletin 11 October 2022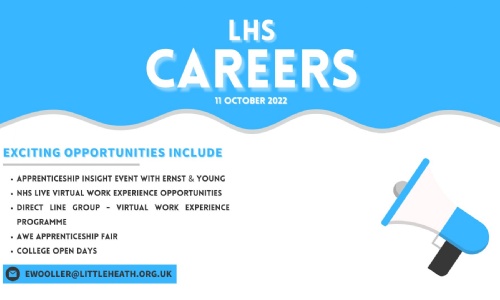 General Information
Celeros Flow Technology
HR Apprenticeship opportunity - Newbury
We are a global manufacturing company who specialise in pumps, valves, filtration and closure systems, and I would be keen to discuss this opportunity with someone at Little Heath. More details on the role can be found on HR Apprentice (celerosft.com)
https://careers.celerosft.com/job/Newbury-HR-Apprentice-Berk-RG14-5TR/937234300/
Apply now for our 2023 Women in Engineering Insight Experience with BAE
Are you thinking about your apprenticeship options, but not sure what route's right for you?
Why engineering?
It might not be something you've considered, but a BAE Systems engineering apprenticeship gives you the opportunity to build valuable skills, gain new experiences, and work while you continue to learn – a solid foundation to help launch your future career.
Still not sure?
Then make sure you apply for our Women in Engineering Insight Experience. Taking place over four days early next year, you'll get a sneak-peak into what an engineering apprenticeship is all about, and get to visit our sites. And if you like what you see, you could be offered a full-time position on one of our engineering apprenticeships, starting in Autumn 2023.
Please see attached for full details
Career Days for Students
Over the coming weeks we have a range of online career & work experience days for students aged 14-18 to take part in. Hosted live from the UK and watched across the world, your students are able to learn about their future careers and take part in interactive sessions where they can gain some experience to help them in their university applications.
The schedule is as follows:
Medicine Career Day - Saturday 8th October 2022
Dentistry Career Day - Sunday 9th October 2022
Midwifery Career Day - Saturday 15th October 2022
Psychology Career Day - Saturday 5th November 2022
Business Career Day - Saturday 12th November 2022
Architect Career Day - Saturday 19th November 2022
Vet Career Day - Saturday 26th November 2022
Law Career Day - Saturday 3rd December 2022
Computer Science Career Day - Saturday 10th December 2022
Performing Arts Career Day - Saturday 17th December 2022
Students can visit www.careerdays.co.uk to choose a session and it would be great if your students aged 14-18 could join in.
Anna O'Byrne - The CareerDays.co.uk Team
E: info@careerdays.co.uk
W: www.careerdays.co.uk
Ernst & Young – Apprenticeship Event – Y12 & Y13
EY are launching their new campaign 'EY Adventures'.
For this, we really would like to an extend an invite to your Year 12/13 pupils to attend a bespoke Apprenticeship invite evening in our Reading office for students interested in Accounting, Business, Finance and Professional Services. Here are the details:
12th October 2022, 6pm-7:30pm
2 Blagrave St, Reading RG1 1AZ
The event will focus around EY's offering in the professional services space and give your students an opportunity to learn more about us, ask questions and get an opportunity to liaise with apprentices.
If you would like to attend please register your interest here: https://forms.integrate-events.com/#/events/ey/334281?type=preregister&background=ffffff&font=2e2e38&page=2e2e38
Future Medics – increase your chance of getting a place at medical school
We have just released our latest report. We have analysed every medical school's entry requirements and summarised each element in a student-friendly report and set of tables. This will help students optimise their medical school choices and increase their chances of successfully gaining a place.
The report will cover :
Which medical schools look at GCSEs?
Which medical schools use predicted grades?
Which medical schools consider the EPQ?
Is studying 4 A Levels advantageous?
Which medical schools read the personal statement?
IB requirements for medicine
You can also access the complete data set of entry requirements for each medical school in the UK via this report.
I hope you and your students find this report useful.
https://educationprojects.co.uk/wp-content/uploads/2022/10/Optimising-UK-Medical-School-Applications-September-2022.pdf
Mark Williams, Director of Learning
NHS Live Virtual Work Experience – November 6th
We are running another LIVE work experience day on Sunday November 6th.
With the UCAS deadline for NHS Health Careers in January, students considering a career in healthcare need to gain as much work experience as possible. We strongly encourage all students (including those who attended October's session) to register. No two work experience days are the same.
Students can register for November's session using the link below: https://alliedhealthmentor.org/product/live-virtual-work-experience-programme/
This programme is suitable for students in years 10 - 13 who are interested in the following careers:
Nursing
Midwifery
Paramedicine
Physiotherapy
Occupational Therapy
Dietetics
Radiography
Prosthetics and Orthotics
Speech and Language Therapy
Pharmacy
Once they've registered, students will be emailed links to their virtual work experience portals.
Students are awarded a Work Experience Certificate for every session they complete. Those who complete the full 5-month programme will be awarded a Highly Commended Reference from the Presidents of Allied Healthcare Mentor. These are fantastic additions to their CVs and UCAS applications!
During the work experience day, students will follow 2 patients from their initial presentation to recovery. They will gain a unique insight into how patients interact with various healthcare professionals and what it's like to work in an NHS multidisciplinary team.
Attendees will have the opportunity to interact with healthcare professionals throughout each day. This will empower students to make informed career decisions and demonstrate their commitment to healthcare in their UCAS applications.
Students can register individually at any time throughout the 5-month programme using the link below. We recommend booking early to gain as much out of this programme as possible. Places are £10 a session to cover administrative and technological costs.
Registration Link: https://alliedhealthmentor.org/product/live-virtual-work-experience-programme/
Work Experience Team - Allied Healthcare Mentor
Allied Healthcare Mentor Helpline: 01530 417299 (Open 10am - 5pm Monday - Friday)
NHS Allied Work Experience - Sunday 6th November
Here is the registration link for easy access for more future healthcare professionals!
https://alliedhealthmentor.org/product/live-virtual-work-experience-programme/
We've also created a leaflet for November's session to distribute among your students. Scanning the QR code brings them straight to the registration page.
https://medicmentor.co.uk/wp-content/uploads/2022/10/AHP-6th-nov.pdf
FREE, LIVE, VIRTUAL Insight into Medicine Conference on Sunday 8th October.
Students in years 10 - 12 can secure their place here: https://medicmentor.co.uk/insight-into-medicine-conference/
Chief Mentors Dr Jack Ecklid and Dr Dion Manning will be joined by guest speakers Dr Ray Tse (Geriatric Medicine), Dr Vinita Ruparel (Oncology), and Dr Faizan Shah (General Surgery).
All speakers will be sharing their insight into what it's like to work within their speciality of medicine. This is a unique and rare opportunity to speak directly to Doctors about their areas of expertise!
All attendees will be awarded a Certificate of Attendance, a fantastic addition to their UCAS applications. Please notes that all students must be accompanied by a parent/guardian throughout the conference.
Insight into Medicine Registration Link: https://medicmentor.co.uk/insight-into-medicine-conference/
Liz Bailey, Head of Medic Mentor Education
Enquiry Form: https://airtable.com/shrM6UPT8Z2uxx7OL
Medic Mentor Line: 01530 417299 (Open 10am - 5pm Monday - Friday)
Business and Finance with CIMA, IBM, Amey & Network Rail
Wednesday 12th October from 5:00pm - 7:00pm
CIMA will be hosting an online insight event and will be bringing with them a number of senior finance professionals from global technology giants IBM, world-leading infrastructure and engineering firm Amey and Network Rail, who are the owner and manager of the vast majority of Britain's railway network.
All these organisations turn over billions on an annual basis, so the professionals you'll get to hear and learn from are responsible for the oversight of huge sums of money. But what's most interesting about their work is then how they use their financial data to make strategic business decisions.
So what is a Management Accountant?
Officially, management accountants help businesses all over the world manage their finances. But in reality, there's so much more to it than that. They are business leaders. Innovators. Decision makers. Forecasters. There's no one industry or role that they work in: you'll find management accountants in all kinds of companies, public and private, big and small.
Day to day, they interpret financial data, prepare reports and use business knowledge to help management make decisions. They'll always be looking to the future and figuring out ways to improve things for the company.
In short – they're pretty important.
If you'd like to register for this exclusive online event and hear from senior financial figures at world-leading companies, please click on the registration link below.
Registration Link: https://www.surveymonkey.co.uk/r/Business-Event-CIMA
Direct Line Group - Virtual Work Experience Programme
Programme Dates – 24/10/22 - 07/11/22
Deadline to apply – 19/10/22
This is a really great opportunity for your students who may not be able to afford the costs that come with traditional work experience routes, giving them the same skills to gain a career with great opportunities and earning potential.
Focusing on how to build professional skills and how these are used within Direct Line, this opportunity aims to make your students career ready, so they can start developing their career path from their first role.
From an introduction to Direct Line Group to a deep dive into their teams, their use of technology and sustainable practices, this programme will teach you it all! Beyond the scope of DLG, you'll explore the importance of networking and employability skills. Take everything in at your own pace as you make your way through a programme filled with written, interactive and video content, whilst also attending live webinars with insurance professionals. What's more, you'll get to put your knowledge to the test in this programme's quizzes and activities…
https://app1.campus-site.com/public/e/click/9Kadrcpe3isB2ArcI5USPQ/1ivjshHr5Hl-47MeoPBO5g
Routes into Law
On Tuesday 11th October from 5:00pm - 6:00pm we're hosting an online event with international law firm Charles Russell Speechlys. Charles Russell Speechlys are a top 30 law firm headquartered in London with offices across the UK, Europe, Asia and the Middle East with revenues of £120 million.
We know how rare Solicitor Apprenticeships are as well as Mentoring and Work Experience placements within the legal profession. This is your chance to hear from global law firm Charles Russell Speechlys and discover how you can join their exciting school leaver programs open to Y12 & Y13 students across the U.K.
You will get some incredible insights from top lawyers at the firm, take part in some fantastic workshops and get a really great understanding of the alternative routes into the legal profession.
This gives students just like you such a leg up into the industry straight from school with no university debt, a salary from day one and you become a fully qualified solicitor!
To sign up to this online event click here: https://www.surveymonkey.com/r/73Z9QJN
AWE – Apprenticeship Fair
12/10/22 at Tadley Library – please see attached for full details
NB – AWE are recruiting now for September 2023 start
College Information
Henley College
Information Evening: Tuesday 18th October 2022, 5:30pm-8:00pm
This will be an excellent opportunity for prospective students and parents to explore our two campuses, meet our friendly staff and teachers, and find out more about the College and the courses we offer. We are excited to unveil our new hospital suite teaching facility that was recently created for delivering the new T Level in Health.
Spaces are filling up so please register for your slot now.
https://www.henleycol.ac.uk/events/october-information-evening-1/
Reading College
October will mark the beginning of our series of Open Events across our college campuses. As always, we strongly suggest that any of your students who are considering college after Year 11 attend an Open Event to gain an insight into what life is like at college, discuss their course options with our wonderful tutors, and find out more about the support that is available to them.
Bracknell & Wokingham College
Bracknell & Wokingham College – Open Day information: https://bracknell.activatelearning.ac.uk/events/detail/open-event/
Students can apply for our 23/24 courses via our website. Once they have found a course they would like to apply to, students can use the 'apply now' button to take them to the application portal. Please let us know if you will require the PDF version of the application forms for those of you with students who will benefit from completing the application in this way instead.
T Levels
With National T Levels Week just around the corner (10-14 October), we wanted to remind you of some of the fantastic opportunities to study T Levels here at Activate Learning. T Levels are new technical vocational qualifications introduced by the government, with the aim of meeting the demands of various industries that require highly skilled and practical workforces. They are designed to develop the necessary skills and knowledge to enter employment, and are comprised of 80% classroom-based study, accompanied by 20% work experience (over 315 hours).
Available to school leavers after completing their GCSEs, T Levels are an alternative to A Levels, purely vocational courses, and apprenticeships, and, as they are equivalent to three A Levels, allow students to progress to higher education or apprenticeships.
At Bracknell and Wokingham College, we are proud to offer T Levels in Health (Adult Nursing) and Business (Management & Administration).
Business is such an important sector for the UK economy, with over 13.5 million jobs and further growth of 1.5% expected in the next five years. Across Bracknell, Slough, and Reading, nearly 19,000 jobs were advertised within the last year, with employers requiring communication, management, and customer service as the top three common skills from applicants.
Employers also looked for specialised skills including finance, marketing, and invoicing, all which students experience on the Business T Level qualification.
At Reading College, students can study T Levels in Health (Adult Nursing), Digital Production, Design, & Development, Engineering, Business (Management & Administration), and Education & Childcare.
Did you know that in the UK there are over 2 million jobs in the health sector, with a 2.6% growth forecast by 2027? In Berkshire alone, there were 5841 jobs advertised (September 2021-August 2022) in the health sector, with the top posting companies including the NHS, Specsavers, and Nuffield Health. Most in demand during this time were dental nurses, healthcare assistants, and personal trainers, so it is vital that students wishing to go into this industry make use of the fantastic new qualification available to provide them with the vital industry experience needed to progress.
University Information
University Live - Free Information Channel
We are offering free access to the University Live Channel for all schools and colleges across the UK to help young individuals with their future. The University Live Channel is a perfect opportunity to ask questions to Universities regarding courses, facilities, grants/finance support, social life, grades and so much more...
Students, teachers and parents are encouraged to ask questions and leave messages via the channel's moderated LIVE CHAT facility directly to the University Live Channel partners.
If you would like to connect with hundreds of Universities then visit: https://universityliveuk.com
and #starttheconversation today.
Customer Service Team - Learn Live
t: 01257 446010 Option 1 - learnliveuk.com
Residential Insight into University 2023 courses - Registration now open
Applications will remain open until 3rd of January 2023. Make sure your students don't miss out on this opportunity to experience STEM studies at university and the career opportunities that these subjects lead to. These summer schools are recommended on UCAS website as a tool to prepare students for higher education and make their UCAS application stand out.
Registration for EDT Residential Insight into University 2023 courses is now open. https://www.etrust.org.uk/residential-insight-into-university
Residential Insight into University courses are Industrial Cadets accredited summer schools which can help you decide which degree course might be right for you and also enhance your UCAS application. Courses run over 4 or 5 days where Yr12 students get a taster of university life and an insight into a specific STEM subject. In summer 2023 these will include:
Materials Science at University of Oxford
Maths at Lancaster University
Broad-based Engineering at University of Sheffield
Materials Science at University of Cambridge
Robotics & Autonomous Systems at University of Liverpool
Mechanical Engineering at UCL
Life Sciences at University of Warwick – details coming soon
Aerospace Engineering at University of Liverpool – details coming soon
It's just like studying at university! You will get the opportunity to experience university style lectures and work on activities and group projects with the support of academics and student mentors. Throughout the duration of the course, you will stay in halls of residence and will take part in social activities in the evenings.
For dates, cost, requirements, content of each course and the application form, please click here. https://www.etrust.org.uk/residential-insight-into-university
Please note places on each course are limited so it's highly recommended that you apply ASAP to avoid disappointment. Make sure you think about what to write on your personal statement (approx. 200 - 250 words) to tell us why you would like to do the course, which subjects you are currently studying and your predicted grades.
Applications are open for a limited time and will close on the 3rd of January 2023.
Please make sure you check out our FAQs page: https://www.etrust.org.uk/faq-residential-insight-into-university if you have any questions or contact our student support team on studentrecruitment@etrust.org.uk
To hear what students had to say about their residential summer course last summer, please click here. https://www.youtube.com/watch?v=Zvl-Qr1oLHc
Student Recruitment Team, EDT (Engineering Development Trust)
Tel: 01707 906106| Email: studentrecruitment@etrust.org.uk , www.etrust.org.uk
University of Sheffield – Taster Days
At the University of Sheffield, throughout Autumn and Winter there are a number of opportunities for your students to experience what it is like to study different subjects at university. All of the activities are completely free of charge and will provide students with a good insight into their chosen subject or area of interest at university. Please ensure that interested students fill out the booking forms individually using the links below. New topics will be shared in the coming weeks so please register your interest or keep an eye on our webpage for updates.
https://www.sheffield.ac.uk/undergraduate/visit/subject-tasters
| Subject | Date | Time |
| --- | --- | --- |
| | Wednesday 5th October | 4.00pm - 5.35pm |
| | Thursday 6th October | 4.30pm - 5.45pm |
| | Wednesday 12th October | 4.00pm - 5.35pm |
| | Monday 17th October | 4.00pm - 5.30pm |
| | Tuesday 18th October | 4.00pm - 5.30pm |
| | Monday 24th October | 4.00pm-5.30pm |
| | Thursday 27th October | 9.45am - 4.00pm |
| | Thursday 3rd November | 4.00pm - 5.45pm |
| | Wednesday 9th November | 4.00pm - 5.45pm |
Benefits of a Gap Year
A productive gap year can help you to decide what to do. It may also help with the university, apprenticeship or job application process. Purposeful gap years demonstrate skills and a willingness to challenge yourself and is invariably an engaging topic of conversation during interviews.
Volunteering, training, working and learning during a gap year builds life experience. This can help you develop a sense of local and global citizenship and an empathy with diverse cultures.
https://yearoutgroup.org/gap-year-advice-planning/benefits-gap-year/