Careers Bulletin 2 December 2022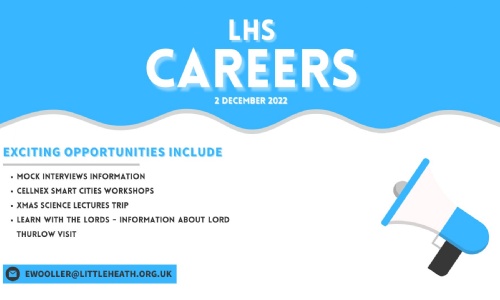 Employment
All of these school-leaver & apprenticeship schemes are open NOW for students to express and register their interest – please do not delay!
Schroders
Investment Management & Finance
https://www.schroders.com/en/about-us/careers/school-leavers/
MI5
Software Engineer Apprenticeship
https://recruitmentservices.applicationtrack.com/vx/lang-en-GB/mobile-0/appcentre-1/brand-5/candidate/so/pm/1/pl/4/opp/2650?adhoc_referrer=557945846
Interior Services Group
Construction & Planning
https://sway.office.com/MbrISaac0wKp4F9u?ref=Link
RSM
Business Apprenticeship
https://www.rsmuk.com/careers/students/school-leaver-apprenticeship
Pepsico
Supply Chain Leadership Apprenticeship
https://www.findapprenticeship.service.gov.uk/apprenticeship/1000105091
Bloomberg
Finance & Technology
https://www.bloomberg.com/company/careers/early-career/apprenticeships-at-bloomberg/?tactic-page=588602
** Please find the Parents Apprenticeship Information pack here (at the bottom of the page):
https://www.littleheath.org.uk/careers
Work Experience
InvestIN: Work Experience Opportunities
INVESTIN have launched their autumn term career opportunities which are available in 19 cutting-edge industries. Students will learn directly from some of the world's best professionals - doctors, lawyers, engineers, investment bankers and more - through a series of live, interactive simulations which provide tailor-made professional experience to ages 12-18.
https://investin.org/collections/our-programmes?filter.p.m.product_filters.age=Ages+15-18
InvestIN: Competition
In honour of World Kindness Day, InvestIN invite students aged 12-18 to enter their
competition, The Young Photographer Challenge. Students should submit a photograph
they have taken of an act of kindness, along with a short caption explaining what's
happening. Creativity is highly encouraged!
https://investin.org/blogs/news/world-kindness-days-investin-s-young-photographer-competition?utm_source=UK+SCHOOLS+MASTER&utm_campaign=c4e2606b29-bankersschoolmar_COPY_06&utm_medium=email&utm_term=0_bfccb03bbd-c4e2606b29-139463233&mc_cid=c4e2606b29&mc_eid=2b96efc1e3
Cisco: Pathways to Your Future
Curious about a career in technology? Looking for work experience that's fun, exciting and where you can get stuck in? Look no further than Pathways to Your Future. You don't have to be tech-savvy to take part; they're open to everyone. Cisco have got technical and non-technical workstreams for you to choose from showing the variety of roles in the technology industry. Spend time with people who do these jobs every day, shadowing them to see first-hand what it's like to work for Cisco and inspire your choices for a career in IT.
https://www.cisco.com/c/en_uk/about/our-programmes.html#~cisco-pathways
STFC: Work Experience
STFC are very excited to be able to host an in-person Work Experience programme at the lab next year, with placements between mid-June and mid-August. Applications will as usual be via an online form, and will open in early January and close on 24 February. Work experience at STFC's Rutherford Appleton Laboratory is a fantastic opportunity to experience work with a large research organisation - in both STEM and non-STEM roles.
https://sway.office.com/MbrISaac0wKp4F9u?ref=Link
Year in Industry
Applications are now open for the placement year 23/24 The Year in Industry has vacancies with companies working in technology, computing, science, engineering, business, marketing and finance across the UK – from leading FTSE 100 companies to small innovative start-ups.
https://www.etrust.org.uk/the-year-in-industry
General Information
KPMG
An insight evening with one of the Big 4 Professional Services and Auditing firms KPMG. Hear from their experts, take part in workshops and find out about their student opportunities.
https://www.surveymonkey.co.uk/r/KPMG-Insight-Event
Farrer & Co Solicitor Apprenticeship - September 2023 and Information Session
Two Solicitor Apprentices to join in September 2023. At the end of this six-year apprenticeship, subject to satisfactory character and suitability, you will be a fully qualified solicitor, registered with the SRA. All tuition fees will be paid and you will earn a salary whilst you are training and gaining your qualification.
If your application is successful, you will be invited to participate in a virtual interview. Shortlisted candidates will then attend an assessment morning involving a group task, interview and short written exercise.
Information evening Tuesday 29th November
https://sites-farrer.vuture.net/127/2217/landing-pages/rsvp-blank---tuesday-29-november.asp
Read more: https://www.farrer.co.uk/join-us/train-with-us/
WES: Aerospace & Defence Free Webinars
Don't miss the five webinars covering topics such as additive manufacturing within the
defence industry and the next frontier – space and digital manufacturing.
https://www.crowdcast.io/e/aerospace-and-defence/register?utm_source=WES&utm_id=WES
Ernst & Young – Reading Information Evening
14th December 2022
6-7.30pm (please arrive by 5.45pm)
Are you interested in Business, Finance or Technology? Join us for an exclusive, Apprenticeship event and see how you can start your career with EY.
You will get to know who we are as an organisation, the kind of work we do and the opportunities we have on offer. As well as hearing from our apprentices with the opportunity to ask them your questions!
You can bring your parents, guardians & friends and find out more about what a career at EY looks like. Scroll down to register your place, spaces are limited!
Location: EY Reading, R+ Building, 2 Blagrave St, Reading RG1 1AZ
Please reserve your space here: https://forms.integrate-events.com/#/events/ey/336852?type=preregister&background=ffffff&font=2e2e38&page=2e2e38
This will be a great opportunity to find out more around our different programmes including more detail on our different programmes as well as your local office. We're also offering the opportunity to get some hints and tips on our application process that we believe you'll find useful if you're looking to kick-start your career. It's a chance for you to ask the EY Reading staff your questions too.
College Information
Open Evening at The Henley College
Tuesday 6th December
5.30pm - 8pm
Visitors will get the opportunity to explore our campuses and meet our experienced teachers to discuss our wide range of subjects and what the courses will entail.
Our friendly and knowledgeable support staff will be on hand to talk to you about everything The Henley College has to offer including support, admissions, transport and welfare.
Afterwards, you may want to explore beautiful Henley-On-Thames and its excellent facilities.
Please register your place by following this link: https://www.henleycol.ac.uk/events/
University Information
University of Law: Taster Lecture
Real World Lecture: Why Are We So Obsessed With True Crime? (Virtual Event)Why is watching crime dramas and documentaries so addictive? What sort of psychological impact do you think a love for watching true crime shows has? Is there any cause for concern when it comes to the nation's appetite for crime dramas and documentaries? Join and discuss the impact of a growing viewership for crime dramas and documentaries. Is this having a harmful effect on society or could it inspire a generation of policing professionals, criminologists and legal experts?
https://www.law.ac.uk/events/event-booking/?id=b30440b6-085a-ed11-9562-0022481b50d1&utm_source=UCAS&utm_medium=email&utm_campaign=TGM_UGLaw_UCAS_Email_PRO_Generics_Advisor&utm_ID=157&dclid=CIXZp8-TzPsCFQhDHQkdivECiA
Sheffield Hallam University: More than Meets the Pie Online Food Science Webinar
Don't miss out on the opportunity to join Caroline Millman- Senior lecturer in Food and Nutrition at SHU- for a virtual FREE UK Food Science Webinar!
https://leeds.onlinesurveys.ac.uk/food-science-webinar-sign-up
Escape Studios: Get Ready for Take-off
Get a taste of Escape's courses designed with industry (on-campus and online). These undergraduate taster days are a perfect introduction to the software and skills taught on our degrees in Animation, Game Art and VFX. You'll have the chance to visit studios, meet some of your future classmates and test-drive the industry software including Maya and Unreal Engine!
https://www.pearsoncollegelondon.ac.uk/escape-studios/visit-us/events/undergraduate-taster-days.html
Newcastle University: Mini Medical School
Explore the exciting world of Medical Science -this Mini-Medical School runs every autumn and is open to anyone aged 15 and over. The programme offers the pupils the chance to find out about exciting topics. This includes current research developments at the University. Previous programmes have covered a range of exciting topics, including: anaesthetics, dermatology, emergency medicine, medical scanning technology, psychology, pharmacy, sport and exercise science.
https://www.ncl.ac.uk/medical-sciences/engage-with-us/mini-medical-school/