Careers Bulletin 3 March 2023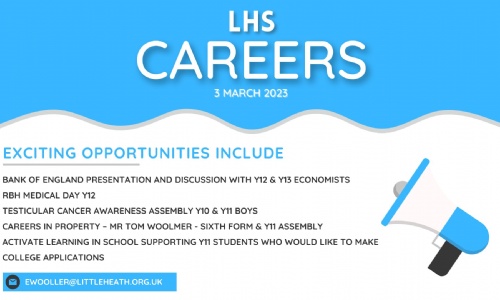 Upcoming Events
International Women's Day on the 8th March - virtual event with leading companies where inspirational women in senior positions talk about their career journeys
Opportunities for aspiring Doctors & Dentists
Support for potential medics from disadvantaged backgrounds
Royal Society of Medicine event to support applicants
Imperial College - Science Challenge for Y10-Y13
Future Leaders Engineering Program - Scholarships available for the cost of this
Virtual Expo with various Business Careers - organised by ACCA
General Information
Biggest International Women's Day event in the UK!
Wednesday the 8th of March – zoom, 5pm - 7pm
To celebrate International Women's Day, Young Professionals are extremely excited to invite you to the biggest 'International Women's Day' virtual event Nationwide!
On Wednesday the 8th of March, we will be hosting this absolute blockbuster of an event online via zoom, between 5pm - 7pm. We will be joined by many huge, global companies who are all leaders in their industries. These companies include:
PwC - PwC is the second-largest professional services network in the world with 300,000+ employees, numerous offices in 152 countries and a gross revenue of $50.3 billion as of 2022.
Grant Thornton - Grant Thornton is one of the world's largest professional services networks of independent accounting and consulting member firms which provide assurance, tax and advisory services to privately held businesses, public interest entities, and public sector entities.
Legal & General – FTSE 100 Legal & General provide services such as investment management, pensions and life assurance and their asset management arm is the second largest institutional investment management firm in Europe. They also currently manage assets worth over £1 trillion!
CIMA - CIMA is the Chartered Institute of Management Accountants, based in the UK they are a global professional management accounting body. CIMA will give you a real insight into Management Accounting and what a career within the industry can look like.
Mazars - Mazars are a leading international audit, tax and advisory firm, aspiring to build the economic foundations of a fair and prosperous world.
WTW - WTW provides data-driven, insight-led solutions in the areas of people, risk and capital. Leveraging the global view and local expertise of their colleagues serving 140 different countries and markets, WTW help to sharpen their clients' strategy, motivate their workforce and maximise performance.
Experian – FTSE 100 Experian is the world's leading global information services company. Experian help individuals to take financial control and access financial services, businesses to make smarter decisions and thrive, lenders to lend more responsibly, and organisations to prevent identity fraud and crime.
These companies cover different Industries such as Accounting, Financial Services, Management and Technology giving you the chance to learn about many different sectors in the working environment, as you prepare to think about your next steps.
On the evening you can expect to be joined by many inspirational women who are at a senior level in their profession, as they will provide panel discussions where you can learn more about their career. This will give you an insight into what their background is, how they got to where they are currently and what it is like being a woman in a high responsibility role within their organisations. You will also be given the chance to network with these Female Leaders, so seize the opportunity! A connection on LinkedIn can go a long way.
This event is open to any UK students who are in Year 10 - Year 13
As this will be the biggest International Women's Day event for School Leavers, we expect record-breaking numbers attending. Make sure you sign up using the link below to be a part of history!
Application Link:
https://www.surveymonkey.co.uk/r/K7NRVFZ
Opportunities for Doctors & Dentists
This weekend, Dr Siva and I are hosting a FREE virtual Get into Medicine conference on Saturday 4th March (1:30pm - 7pm) and Sunday 5th March (10am - 3pm) for aspiring doctors in years 10-12 Dr Siva and I will guide students through every stage of the UCAS application process for medicine.

This is a unique opportunity for your students to get ahead and make their applications to medical school stand out from other candidates. No previous experience is necessary. These conferences are here to help your students, not to test them. Students can sign up for free using the link below.

Registration link: https://medicmentor.co.uk/medicine-national-healthcare-weekend/

For aspiring dentists, Dr Safiyyah Yacoobali will be leading the next free virtual Get into Dentistry conference on Saturday 4th March (9:30am - 1pm). All aspiring dentists in years 10-12 are invited to register here:
https://medicmentor.co.uk/online-get-into-dentistry-conference/

With bespoke advice for medicine and dentistry, these conferences will cover:
- Tactically choosing universities
- Personal statements
- UCAT and BMAT
- Medical school interview skills
- Medical Leadership Programmes
- Awards Programmes
- Extracurricular activities
- Work experience
- Building a CV
- Applying for scholarships

Applying to medical and dental school is best done with support from both parents and teachers, so all parents are invited too! Having a strong grasp of the UCAS application process is as crucial to getting into university as getting excellent grades, and we're here to help your students get there. Thank you for helping so many young people realise their dreams of becoming doctors or dentists.
Dr Mike Carvill, Chief Mentor, Your Medic Family
In2MedSchool – Making Medicine More Accessible
My name is Qaasim, and I represent In2MedSchool, a national charity that supports aspiring medics from disadvantaged backgrounds in their journey to medical school. I am reaching out to you to introduce our Acceleration Programme (IAP), which we believe can be of great benefit to your students.
IAP is designed to demystify medicine and guide students through every aspect of the medical school application process. Our programme offers a range of events, including:
Regular teaching sessions at your school (online or in-person) taught by a current medical student, covering every aspect of the medical school application process
Case-based seminars delivered by NHS consultants
National competitions for the students
Healthy lifestyle webinars to help students take care of their health and make informed decisions that prioritize their wellbeing.
Participation in this programme is entirely free for both your school and your students. We simply request that if enrolled, you encourage your students to participate fully in the programme. To register your interest in IAP, please complete the form linked below. You can also find more information about the programme on our website.
Register interest form: https://forms.office.com/e/ZApjgsMMct
IAP website: https://www.in2medschool.com/acceleration-programme
TMP: Aspire 2023
Hosted at the Royal Society of Medicine. Learn the secrets of getting into Med School
and becoming a successful Doctor. Thinking about applying for Medicine - or already
decided on Medicine and want to ensure you're a competitive applicant? TMP Aspire,
hosted at the Royal Society of Medicine, is a must-attend event for you! There is a cost for this opportunity.
https://www.themedicportal.com/courses/aspire/?utm_source=THE%20MEDIC%20PORTAL%20NEWSLETTER&utm_medium=email&utm_campaign=promo22121&mc_cid=24a4537588&mc_eid=3d476e7fc1
Imperial College's Science Challenge Y10 – Y13
The Science Challenge is the Imperial Royal College of Science Union's annual science communication competition. It gives young scientists the opportunity to develop the skills to talk about science in a way that is engaging and fun to people who don't necessarily have a science background.
The competition involves producing a short piece of science communication, in a variety of formats in answer to one of four questions set by our guest judges. The questions for this year's competition can be found on our website sciencechallenge.org

Who can get involved?
The competition is open to school students in their last four years of secondary education (Year 10 – 13), as well as all Imperial undergraduates, who answer the same prompts but are judged separately.
Key information
The competition opens for entries on Monday 27th February 2023 and will be open until 5pm on Monday 17th April.
This is an individual competition so we will not be accepting team entries this year.
Entries should be emailed to science.challenge@imperial.ac.uk with the subject 'SCsubmissions2023' and the submissions form https://forms.office.com/e/Pq6D1mmNZd must be completed.
We will accept multiple entries from each school but there will only be one winner/runner up allowed per school for each of the four questions.
Why should your students enter?
It is an opportunity for students to engage with science beyond the traditional syllabus and is an opportunity for teachers to enrich their taught curriculum.
Students will have the chance to develop the skills to communicate science in concise, engaging, fun, and creative ways; a crucial skill for all careers in STEM.
Students will be challenged to think about science in a wider context, to see where the topics taught at school fit in the bigger picture.
Students will learn the importance of science communication, how misguided communication impacts the public perception of science, and how they can communicate effectively.
Prizes include a tour of the House of Lords, tickets to the Cheltenham Science Festival and publications of written work in the Young Scientists' Journal (subject to change/availability).
For more information, contact science.challenge@imperial.ac.uk or visit sciencechallenge.org
rcsu.org.uk / sciencechallenge.org / science.challenge@imperial.ac.uk
Scholarship for Future Leaders Engineering Program
We are thrilled to offer an opportunity for students who are passionate about engineering to join the Future Engineering Leaders program by Impetus Education. This four-week online course is tailored for 16-18 year olds and covers the latest frontiers in advanced engineering, artificial intelligence and entrepreneurship. The program offers a comprehensive learning experience, including one-to-one tutor discussions and class-based lessons, with no geographical barriers.
Taught by experts in their respective fields who are Oxford and Cambridge alumni, the Future Engineering Leaders program is an excellent way for students to gain valuable knowledge and skills for their future careers.
Don't forget that we are offering 5 scholarship awards for this program, including one full scholarship covering the entire package cost of £1095, and four 50% discount scholarships worth £547. The deadline for submission is 12th March 2023. To participate, students can submit their entry via the link: https://www.impetus.education/competition.
For more details, please visit https://www.impetus.education/future-engineering-leaders.
ACCA Careers in Business - Virtual Expo
Exhibitors include Sage, UCAS, Burberry, Azets, Your Game Plan, the NHS, the Ministry
of Defense and many more.
Throughout the day there will be multiple live and interactive sessions covering topics
such as: understanding the roles available within the business including finance,
marketing, HR and much more; the skills required to get started in different business
areas and how to acquire them; employability sessions such as time management,
leadership and application and interview workshops. You will have the opportunity to
explore the partner organizations via their virtual expo booths as well as network with
employers via video and chat functions on the event platform.
https://events.zoom.us/ev/AuRVrcdIc-4LcO0jyl2oXHX92UToXvySckuvPJqaJ80Gql04PQP1~At6GG9srnw5JZpZLZQo9-0iklSjetlkF_YY0u0DvKuevDBjL5znQH_klSA
Apprenticeship & Internship Opportunities
Apprenticeship with National Grid
When a school leaver joins us, it's their opportunity to join a generation of people working together to shape the future of energy in the UK and beyond.
We have apprenticeships to suit a range of interests and skillsets, including Advanced and Higher Apprenticeships for engineering, finance, human resources and much more! What's more, they'll all be part of the mission to tackle climate change!
The apprenticeship deadline for our current intake is the 6th March. To find out more please look at this link: https://jobs.nationalgrid.com/UK/content/Apprentices/?locale=en_GB
Explore opportunities with Zurich
Location: Nationwide
Deadline: 19 March 2023 - Quick! Only 2 weeks left to apply!
Latest opportunities: Opportunities for students interested in IT, Marketing, HR, Customer Service, Insurance, Underwriting and Claims. Various apprenticeships from Level 3 – Level 6
https://successatschool.org/jobscourses?empUniId=1667&goal=0_f09eb3b2c8-11eba4c52b-211995373&mc_cid=11eba4c52b&mc_eid=7a807bdecc
Explore opportunities with Dixon Wilson
Location: Nationwide
Deadline: 31 March and 30 April
Latest opportunities: Work in the heart of London, earn a competitive salary, and gain the highest-level tax qualification in the UK across the four-year Tax School Leaver Programme at Dixon Wilson
https://successatschool.org/jobscourses?empUniId=1677&goal=0_f09eb3b2c8-11eba4c52b-211995373&mc_cid=11eba4c52b&mc_eid=7a807bdecc
Explore opportunities with bp
Location: Nationwide
Deadline: Ongoing
Latest opportunities: For students interested in Product Design, Tech Solutions, Engineering, and Marketing. Degree apprenticeships available in Business Management and Data Science
https://successatschool.org/jobscourses?empUniId=613&goal=0_f09eb3b2c8-11eba4c52b-211995373&mc_cid=11eba4c52b&mc_eid=7a807bdecc
Explore opportunities with National Audit Office
Location: Newcastle and Greater London
Deadline: 27 March 2023 - Quick! Only 3 weeks left to apply!
Latest opportunities: Begin your accountancy career on the 2023 Apprentice Accountancy Scheme
https://successatschool.org/jobscourses?empUniId=503&goal=0_f09eb3b2c8-11eba4c52b-211995373&mc_cid=11eba4c52b&mc_eid=7a807bdecc
Explore opportunities with Lloyds Banking Group
Location: Newcastle and Greater London
Deadline: March 2023
Latest opportunities: Are you interested in making a real impact in banking and finance? Apprenticeship available across Audit, Commercial Banking, Corporate Treasury, and more!
https://successatschool.org/jobscourses?empUniId=1672&goal=0_f09eb3b2c8-11eba4c52b-211995373&mc_cid=11eba4c52b&mc_eid=7a807bdecc
Jaguar Land Rover Retail Apprenticeships
Location: Nationwide
Latest opportunities: Customer Service, Service Technician, Parts Assistant apprenticeships
https://successatschool.org/jobscourses?empUniId=1673&goal=0_f09eb3b2c8-11eba4c52b-211995373&mc_cid=11eba4c52b&mc_eid=7a807bdecc
VWG Apprenticeships
Location: Nationwide
Latest opportunities: Interested in engineering and vehicle manufacturing? Become a Parts Assistant or Advisor, work in Mechanical and Technical Engineering, or become a Sales Executive, all whilst gaining a professional qualification
https://successatschool.org/jobscourses?empUniId=508&goal=0_f09eb3b2c8-11eba4c52b-211995373&mc_cid=11eba4c52b&mc_eid=7a807bdecc
Explore opportunities with Rolls-Royce
Location: Nationwide
Latest opportunities: For students interested in Engineering, Physics, Chemistry, Maths and Technology. Be a part of the manufacturing, design, and engineering of Civil Aerospace, Defence and Submarines through Rolls-Royce's apprenticeship opportunities
https://successatschool.org/jobscourses?empUniId=1666&goal=0_f09eb3b2c8-11eba4c52b-211995373&mc_cid=11eba4c52b&mc_eid=7a807bdecc
Employment
Funtastic Kids - Easter and Summer Holiday Playworker and Sports Coach roles
Our Holiday Camp locations near Little Heath include Springfield Primary School and Kennet Valley Primary School. Application forms can be downloaded from our website. Completed applications should be sent to: hr@funtastickids.co.uk
Playworkers: https://funtastickids.co.uk/team/holiday-camp-playworkers/
Sports Coaches: https://funtastickids.co.uk/team/holiday-camp-sports-coaches/
Work Experience
Medical Projects: Aspiring Medics Programme
This residential course in London offers the perfect combination of hands-on work
experience and application support.
https://educationprojects.co.uk/courses/uk-medical-work-experience-course/
Easter Work experience – Town Planning
The Royal Town Planning Institute (RTPI) are hosting an in-person 5 day work experience opportunity this Easter half term for Years 11-13 where students have the opportunity to learn all about a career in Town Planning!

There is more to Town Planning than you think! It doesn't just involve great leadership but this industry relates to different sectors such as construction, design, real estate, and feeds into different subject areas such as maths, science and psychology.

If your child is looking for a unique and exciting work experience opportunity then this could be the right one for them. They will be able to develop their employability skills and take part in an assessment project amongst other activities whilst learning more about Town Planning as a profession! Not to mention an opportunity like this stands out on their CV and to a future employer.

Click the button below for more info & for your child to apply - applications close 08/03/23
https://pathwayctm.com/opportunity/rtpi-explore-work-experience-town-planning-rtpi/
Springpod - Virtual Work Experiences
Springpod have just launched their latest offer across many industries.
https://drive.google.com/file/d/1zsGPhIqGm_TdtkuF1t3dO9XId8U5sCZO/view
Easter & Summer Schools
Small Piece Trust Charity - STEM Engineering Challenges
Y9 Cyber Security (Residential)
3 to 5 April - £310
Over three amazing days at Royal Holloway, University of London, students will learn all about keeping safe in the digital world and the measures we can all take to protect our own cyberspace.

Leading academics will give students an unforgettable look at what university life is really like and an understanding of secure coding and security technologies.

Our courses combine hard work and fun during the day with a different social activity every night. https://www.smallpeicetrust.org.uk/course-page/1d3b0c64-b670-ed11-81ac-0022481b5db9
Y9 Girls Into Engineering
14 to 16 August - £310
12-14 year old girls stay at Loughborough University, learn from industry insiders and test their technical skills in a fun, hard-working environment. From soldering to building connectors, this is the perfect course to explore careers in engineering.

Girls Into Engineering is supported by GE HealthCare and Leonardo. By partnering with these amazing companies, we are able to introduce you to experts in the field who live the engineering life every day. https://www.smallpeicetrust.org.uk/course-page/54f6bbba-b870-ed11-81ac-0022481b5db9
Y12 Fully funded summer school opportunities
Imperial Life Sciences Scholars - for students interested in studying in Biology or Biochemistry at university. It will take place online from 24th to 28th July. Further eligibility criteria can be found on the application form linked here. https://forms.office.com/Pages/ResponsePage.aspx?id=NsxOAZpk5km3adgvFLSapAfN4w7huMlCrXiL08fxjvRURFJUTjlKR0ZPVEdXV0ZETkJHUFJNMlNISS4u
Imperial Chemistry Scholars - for students interested in studying Chemistry at university. It will take place online from 31st July to 4th August, with a funded trip to Imperial's South Kensington campus on 16th August. Further eligibility criteria can be found on the application form linked here. https://forms.office.com/Pages/ResponsePage.aspx?id=NsxOAZpk5km3adgvFLSapCINEAw5DKFLuIxENIjhBWhUMkhUMzY5TDNKSTZGVEY2ODY2R0FHU0EyTS4u
These summer schools focus on academic enrichment and university preparedness, and support the supra-curricular engagement that highly selective universities such as Imperial College London look for in student applications. Click here to find out more about what participants can expect on the summer school.
https://thebrilliantclub.org/wp-content/uploads/2023/02/Imperial-Scholars-Summer-Schools-Flyer-2022-23.pdf
It is our aim to support students from backgrounds that are underrepresented in higher education to take part in a summer school. As such, we'd particularly keen to receive applications from students from these backgrounds.
To apply, students should complete the application form as soon as possible and before the final deadline at 12pm on Tuesday 2nd May.
Y12 Nuffield Research Summer Placement
This email is for schools with Year 12 students interested in STEM-related subjects, with the opportunity to complete an onsite placement within Higher Education or Industry.
A widely recognised programme, Nuffield Research Placements offer students the opportunity to be matched to a placement in line with their subject interests and future career. Find out more about the programme at https://www.stem.org.uk/nuffield-research-placements
Fully funded placements take place during the school summer holidays before Year 13, offering students the chance to gain real-life career experience, networking opportunities and receive accreditation to add to their personal statement/UCAS/etc.
With a 31st March deadline, now is a great time for students to apply. Please share this FREE opportunity with your students, along with my email address for any queries. Students can apply via the link: https://www.nuffieldresearchplacements.org/ I have attached an information leaflet and applicant guide, please do share with your students. As Regional Co-Ordinator, I am happy to work alongside teachers and students through the application process.
2023 In2science summer programme application.
The In2science summer programme is an opportunity for your student/s to undertake a work experience placement with a STEM professional and participate in other supporting events and activities that will assist them in fulfilling their STEM aspirations. In2scienceUK is a small charity committed to supporting students from low-income and disadvantaged backgrounds. The programme supports students passionate about science, technology, engineering and maths by offering work experience placements with STEM professionals, and skills workshops to help with university/apprenticeship applications, career advice and more. If you would like to know more about our programme you can have a look at our website. https://in2scienceuk.org/students/
In order to be considered for a place on the programme we require references for all student applicants. Please complete this short Teacher Reference Form.
https://survey.alchemer.eu/s3/90533925/In2science-summer-programme-Teacher-Reference-2023
If you think you have already completed a reference for this student, please let us know so we can double check our records.
We're still accepting applications from Year 12 students for this year's summer programme. Please share the opportunity with your students and encourage them to apply if they have an interest in STEM. Applications will close on Friday, 31 March 2023.
College Information
Basingstoke College of Technology
Open Event 2nd of May 4:30-7pm
Apprenticeship Fair 19th June 4:30-7pm
Activate Learning – Reading College
21st March Periods 1 – 4
Lauren Davies from Reading College will be in the main school library to support Y11 students who want to apply for a college course. Please let me know if you need some help in making a college application.
University Information
Joint IAG Conference for Students - Next Steps for Y12
Join representatives from the University of Exeter, University of Bath, Cardiff University,
Keele University, Lancaster University and the University of Warwick to find out more
about applying to, and studying at, university.
https://app.geckoform.com/public/#/modern/21FO00k0rmky7s005szp4of69y
UK University Search
UK University & Apprenticeship Search host large scale fairs at prestigious sporting
venues and university campuses all across Britain. They give pupils the chance to meet
a variety of apprenticeship providers, universities and colleges in person, at one event,
for free.
https://www.ukuniversitysearch.com/
University of East Anglia: Subject Taster Sessions
Join UEA for their online taster sessions to discover what it's like to study your chosen
subject at university. You might even meet your future lecturer.
https://www.uea.ac.uk/study/information-for/young-people/subject-taster-sessions?utm_medium=email&utm_source=salesforce&utm_campaign=Teacher%20newsletter&utm_content=Feb_23%20&utm_source=salesforce&utm_term=&utm_content=275914&utm_id=b0bd0f2d-a4bb-404b-bef7-323ad0ee49ed&sfmc_activityid=a9c30fa4-d93a-4632-9b85-3159b6a439d1&utm_medium=email
KCL - German Workshop
An opportunity to join a workshop with the German Graphic Novelist Olivia Vieweg
taking place at the Institute of Languages, Cultures and Societies at the University of
London. What does it mean to be human anyway? This is one of the questions posed
you step into the strange yet familiar worlds created by this award-winning German
graphic novelist and cartoonist.
https://ilcs.sas.ac.uk/events/endzeit-author-workshop-graphic-novelist-olivia-vieweg
Royal Agricultural University: Virtual Information Event
Join the Royal Ag for this virtual event which will provide an overview of the University.
The event will include a presentation about their courses, accommodation and campus
followed by a live Q&A where you will have the opportunity to ask questions to staff
from their student recruitment and outreach team.
https://rau.my.salesforce-sites.com/events/targetX_eventsb__events#/esr?eid=a1F5q0000015NPQEA2