Careers Bulletin - 16 June 2023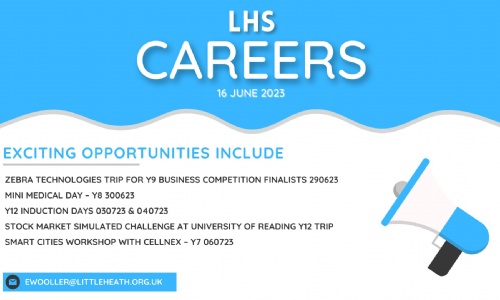 General Information
Early carers in Healthcare - recruitment & information evening 280623
Festival of Apprenticeships roadshow
Engineering Development Trust ( EDT) Routes into STEM
Clarkson's - Trainee Broker Program
General Information
Early Careers in Healthcare Recruitment and Information Evening
Wednesday 28 June
Berkshire Healthcare NHS Foundation Trust are running a recruitment and information session for those aged 16-30 years who are interested to find out more about the opportunities that a career in healthcare bring. This event is being run in partnership with the Princes Trust. During the evening you can:
Gain information on our Early Career roles:

Healthcare Support Worker Roles

NHS Reservists

Administration roles

Allied Health and Nursing early career opportunities

Discover our apprenticeship pathways and opportunities

Attend an information session on Interview Tips run by the Princes Trust

Find out more about Princes Trust support – including mentoring and employability workshops
Time: 5:00 – 7:00pm (drop-in any time during this timeframe to visit our stands)
Location: Erlegh House, University of Reading, RG6 6BZ.
Free parking is available on site
Bookings can be made here:
https://www.eventbrite.co.uk/e/early-careers-in-healthcare-recruitment-and-information-evening-tickets-633965336387
Festival of Apprenticeships
The Festival of Apprenticeships is a roadshow exhibition promoting and celebrating all things apprenticeships. More than just a careers fair or conference, the event is a one-stop shop for anyone looking to find out more about apprenticeships.
https://festivalofapprenticeships.com/
EDT: Routes into STEM
The virtual Routes into STEM course allows pupils to recognise the variety of opportunities available to them after taking their GCSEs. It will provide access to key information on different pathways; college, university and STEM career. Diverse live interactive sessions will take place during the summer holidays allowing pupils to listen and ask questions to a variety of STEM professionals and student ambassadors.
https://www.etrust.org.uk/routes-into-stem-read-more
Clarksons: Trainee Broker Programme
Clarksons are very pleased to be launching their Global Trainee Broker Programme, starting this September. The programme is an incredible opportunity providing Trainee Brokers with a breadth of experience to help accelerate career development, whilst at the same time, developing the next generation of brokers who can deliver the full value of Clarksons to clients.
https://www.clarksons.com/home/careers/early-careers/global-trainee-broker-programme/
Employment
Ernst & Young
Apprenticeships in Technology, Business & Finance
Kick-start your career and develop skills for life on our Assurance Business Apprenticeship. You'll be working with EY clients, earn a salary from your first day, make a real impact to client projects, all while studying for an industry recognised professional qualification.

And, while technology increasingly automates the routine work, you can expect more freedom to focus on clients. And clients are a big part of the job. You won't be hiding away behind the scenes here. You'll be developing key relationships and making them last – all while building a better working world through big and impactful projects. You'll be encouraged to succeed by an apprenticeship coach and supported by a team that provide useful resources for your studies.

What is Assurance at EY?
Our teams in Assurance provide the confidence to financial markets that businesses and governments publish true and fair financial information others can rely on. We make sure that businesses are protected from risks that can affect their reputation and performance.

We have opportunities available across the UK including Aberdeen, Birmingham, Bristol, Cambridge, Edinburgh, Glasgow, Leeds, Liverpool, London, Luton, Manchester, Newcastle, Reading, Southampton.

Applications close on Monday 26 June – don't miss out!
https://eycareers.ambertrack.global/studentrecruitment2023/CandidateLogin.aspx?WT.mc_id=10480896&AA.tsrc=display&dclid=CO3hsM_ox_8CFRtSpAQdSBMCLA&cookieCheck=true
Summer Job Opportunity
Funtastic Kids is currently recruiting individuals to work as Sports Coaches and Playworkers at our Summer Holiday Camps. Roles are available across Berkshire, at primary schools located in Arborfield, Binfield, Burghfield, Earley, Woodley, Reading, Shinfield, Calcot, Wokingham, Lower Earley, Newbury and Finchampstead.
Role descriptions:
Sports Coaches: Deliver fun and educational sports sessions to children aged 3-14. Equipment, training and easy-to-follow session plans will be provided.
Playworkers: Assist with the overall running of holiday clubs and help to deliver our pre-planned creative-themed timetables, as well as supervise and support the children throughout the day.
Our teams are friendly, welcoming and supportive, making a role with Funtastic Kids a fulfilling (and fun) way for students to gain valuable work experience and earn money during the school break.
I have attached our job adverts which provide more information. An application form for each role can be downloaded from https://funtastickids.co.uk/vacancies/ or requested from marketing@funtastickids.co.uk
Summer Employment – Jubilee Nurseries
We are a group of private nurseries in West Berkshire who are looking for staff during the summer holidays.
The role does not require any qualifications and hours are very flexible, with a full-time wage. If any of your students are looking for an opportunity to gain some work experience, whilst having fun this summer we hope this could be of interest.
Our nurseries have a fantastic focus on outdoor learning. We have over 60 acres of private farmland, woodland, and gardens for staff and children to explore. Along with our incredible working farm with lots of sheep, cows, chickens, ducks, Guinea pigs and donkeys! No two days are the same, from making mud pies in the mud kitchens, to feeding the lambs on the farm to building dens in the woods.
Check out our nurseries here:
https://www.jubileedaynursery.co.uk/
https://www.jubileegems.co.uk/
https://www.jubileejets.co.uk/
Work Experience
Aviation Work Experience
We are pleased to inform you that NATS (National Air Traffic Services) will be hosting an event in August specifically designed for young women aged 14-19. This event aims to provide valuable insights into the field of Air Traffic Control and NATS' operational activities. It is an excellent opportunity to discover potential career paths in this highly rewarding and exciting field. NATS has requested us to extend this invitation to our network, and we would be delighted to have you join us on this special day in August. To express your interest, please register using the following link: https://www.nats.aero/future-minds/
In addition, the CAA (Civil Aviation Authority), responsible for regulating the Aviation Industry in the UK, has asked us to share an exciting opportunity for young individuals aged between 15 and 18. They are offering a virtual work experience programme this summer, allowing participants to gain valuable insights and engage with one of the largest aviation organisations, not only in the UK but globally. The programme covers various areas and responsibilities of the Civil Aviation Authority, including regulation, safety and security, HR and communication, corporate strategy and policy, and even space! To register for this unique experience, please visit: https://www.springpod.com/virtual-work-experience/aviation-aerospace-virtual-work-experience
Lastly, we would like to inform you that one of our airline partners will be offering in-person work experience opportunities for graduates of our programme. This week-long experience in the airline environment will provide you with practical skills, enable skill set development, allow networking with industry professionals, and enhance your CV. We will share more details about this opportunity and the process for expressing your interest directly with our graduates in the near future.
Participating in any of these opportunities will not only enrich your CV but also offer invaluable development and insights. We encourage you to seize these opportunities if they align with your interests.
The Young Artist Summer Experience
Over the course of 15 days, students will have some of the most exclusive experiences of art that one can imagine: sketch the London skyline from the top of The Tate Modern, build your portfolio with a range of artistic masterclasses and exhibit your work at a real London gallery space.
https://investin.org/products/the-young-artist-summer-experience
(LHS students can get a 10% discount)
YP: Summer Work Experience
The Young Professionals Summer Work Experience Event is back! Secure your place today and
meet some of the world's biggest employers. You will have the opportunity to take part in workshops, hear from C-Level keynote speakers, up skill yourself with professionals all whilst taking full advantage of the incredible industry knowledge and learning opportunities on the day. On top of all of this you will have plenty of time for networking and having those all important 1-1 conversation to secure yourself an opportunity over a longer period of time.
https://ypacademy.co.uk/booking-event/young-professionals-summer-work-experience-event-thursday-20th-july-2023-afternoon-session/64633d3beb6d4c4a66f7f8e0
Social Media Marketing Virtual Work Experience
From Influencer to Executive, Careers in Social Media Marketing
Social media marketing offers a range of careers that suit a variety of skill sets and interests. What roles are available in this field and what sort of work do they do? In this virtual work experience programme, you will find out! From data analyst to content creator, learn about the various careers in social media marketing to discover which one is right for you.
https://www.springpod.com/virtual-work-experience/social-media-marketing-virtual-work-experience
Free Veterinary, Dental & Medical Work Experience
A new work experience session is released every month, and students receive a work experience certificate once they complete the course to add to their UCAS applications. To access these sessions, students just need to create a free student portal if they have not done so already.

MEDICAL WORK EXPERIENCE - Geriatric Care
Free registration link: https://wexlibrary.yourmedicfamily.org/courses/medic-mentor-work-experience-palliative-care/
Aspiring doctors will learn about the unique qualities and skills required to look after frail, older people who can present with atypical symptoms, such as confusion, and often have multiple comorbidities.
Students will join a medical team assessing a patient with new onset limb weakness and speech disturbance and observe the essential role of the multidisciplinary team in managing these complex health issues. They will also hear from geriatric care experts to understand how we can improve healthcare when people near the end of their lives.

DENTAL WORK EXPERIENCE - New Patients
Free registration link: https://wexlibrary.yourmedicfamily.org/courses/dental-mentor-work-experience/
Aspiring dentists will be introduced to the team at Dental Mentor Smiles and observe a range of both child and adult patient consultations. This includes a possible oral cancer diagnosis, aesthetic solutions and child safeguarding concerns. There will be debriefing sessions for each of the cases.

VET WORK EXPERIENCE - Surgery
Free registration link: https://wexlibrary.yourmedicfamily.org/courses/vet-mentor-virtual-work-experience-surgery/
Aspiring vets are welcomed into the world of small animal surgery! Chief Vet mentors will demonstrate how vets prepare owners for their pet's surgery and administer anaesthesia and routine surgery.

Thank you for highlighting these valuable free opportunities to your students. They have the entire month to complete the session, so I strongly encourage them to take a little bit of time each day before the next free session is released in July.
Allied Health Virtual Work Experience
2nd July
As an educator, we wanted to personally reach out to you and inform you of this exceptional opportunity for your students to gain valuable insights into the world of healthcare.
Registration Link: https://alliedhealthmentor.org/product/live-virtual-work-experience-programme/
The Allied Healthcare Virtual Work Experience offers students the chance to immerse themselves in the journey of two patients, observing their progress from initial presentation to recovery. Throughout the day, students will witness first-hand the collaborative efforts of various healthcare professionals within the NHS interdisciplinary team. That includes:
Nursing
Midwifery
Paramedicine
Physiotherapy
Occupational Therapy
Dietetics
Radiography
Prosthetics and Orthotics
Speech and Language Therapy
Pharmacy
By participating in this work experience, students will be able to interact with healthcare professionals, ask questions, and deepen their understanding of the roles and responsibilities within different healthcare specialities. It is a unique opportunity for them to make informed decisions about their future careers and gain valuable experience to support their university applications.
To ensure your students secure their place early, we encourage you to share the registration link below:
Registration Link: https://alliedhealthmentor.org/product/live-virtual-work-experience-programme/
The work experience session will take place virtually on Sunday, 2nd July. Students who enrol in the program will receive a Work Experience Certificate upon completion of the session. Those who participate in the full 5-month program will be awarded a Highly Commended Reference from the Presidents of Allied Healthcare Mentor, adding significant value to their CVs and university applications. Students will gain invaluable insights into the healthcare field and develop a deeper appreciation for the roles and responsibilities of healthcare professionals.

NHS Virtual Wok Experience for 14 – 25 Year olds
Opportunity to develop skills & knowledge and to get a certificate of achievement.
Medical
Nursing & Midwifery
Allied Health Profession
Please see attached
UKAEA Women in Engineering
www.eventbrite.co.uk/e/women-in-engineering-experience-day-tickets-648744962647
UKAEA are holding a women in engineering experience day for 6th form students and their parents/carers on Saturday 1st July from 10:00-17:00. Participants will create, design and build a solution to tackle one of fusion energy's challenges. There are 20 spaces available.
Jaguar Land Rover Retailer
www.jaguarlandroverretailerapprenticeships.co.uk
The Jaguar Land Rover retailer apprenticeship programme are recruiting for over 150 apprenticeship vacancies this year. They are looking for Service Technician, Customer Service Advisor, Parts Advisor and Sales Executive apprentices to become part of their team across the UK.
Colleges
Henley College
Just a quick reminder that our Summer Information Evening is coming up on Tuesday 4th July, 17:30-20:00.
Registrations can be made by clicking here.
https://www.henleycol.ac.uk/events/information-evening-4th-july-2023/
Please may you be kind enough to let parents of Year 9, 10 and 11 know.
Chiltern Nursery & Training College
I just wanted to share with you our recruitment morning on Saturday 24th June from 9.30-12.30 for anyone looking for a career in childcare. Please would it be possible for you to share this information (attachments) with your year 11-13 pupils who may be interested.
We always encourage and are happy to facilitate personal tours of our setting and continue to support work experience placements.
University Information & Summer Schools
Insight into University Experience
Have you ever wondered what it's like to go to university?
Are there lots of questions about university going around in your head?
Would you like to know what it's like before you take the leap and apply for a STEM university degree?
Well now you can - with our Industrial Cadets Insight into University virtual experience you get the chance to try out multiple STEM degree subjects at various leading universities across the UK.
This course is like no other! Not only can it help you decide which degree course might be right for you and enhance your UCAS application. With the mix of live sessions, recorded lectures and hands-on practical STEM activities and projects set by leading UK universities and global STEM companies, you will have a unique opportunity to access all the amazing content in one place, pick-and-choose subjects that interest you and do as many as you wish at your own pace over the summer.
Applications remain open until 19th June, - don't miss out and apply today!
To find out more please visit our website https://www.etrust.org.uk/insight-into-university
Lancaster University: Architecture Taster Day
Join Lancaster University for a Taster Session at their School of Architecture, this will be a brilliant opportunity to visit the unique campus, work on a brand new Architecture Forest Lab, visit the final degree show, meet staff and students and learn how architecture can address climate emergency and promote sustainable ways of living.
https://lu.my.salesforce-sites.com/events/targetX_eventsb__events#/esr?eid=a126N000003fzMGQAY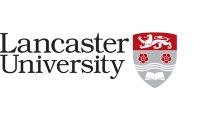 East London University: Your Future Summer School Challenge
The University of East London is very excited to announce the return of their Heist Award highly commended Summer School 2023. They will be offering a three-day on campus experience for Year 12 students, across a variety of exciting subject areas.
https://www.unitasterdays.com/events/event/70696/university-of-east-london-your-future-summer-school-challenge-2023

Reading University: Bioveterinary Sciences Taster Day
Have a passion for animals? At this free-of-charge event, you will explore what Bioveterinary Sciences is all about, sample lectures and practical sessions, work with other students interested in your subject, meet enthusiastic staff, and get a real feel for life at the University of Reading.
https://www.unitasterdays.com/events/event/70675/bioveterinary-sciences-taster-day
Royal Holloway University: Biological Sciences Taster Day
Get a taste of being a student in the department of Biological Sciences. Sit in on lectures delivered by experts from three research centres Biomedical Sciences, Ecology, Evolution and Behaviour and Plant Molecular Sciences. Then finish off the day in one of two practical sessions in teaching labs and chat with some students to find out what it is really like to study at RHU.
https://www.unitasterdays.com/events/event/70675/bioveterinary-sciences-taster-day
LSE Open Day
6th July
Bookings are now open for LSE's Undergraduate Open Day on Thursday 6 July.
Aimed at Year 12 students applying for entry in 2024, the Open Day is an opportunity for your students to explore the LSE campus, attend subject talks, meet current students and gain an insight into what it's like to study at the School.
https://www.lse.ac.uk/study-at-lse/meet-visit-and-discover-LSE/events/visit-lse/2022-23/undergraduate-open-day-july-2023/6-July-2023
Eligible students can also apply for funding towards the cost of travel to LSE through the LSE Travel Fund.
You can also find a variety of resources to help you support students interested in applying to LSE here: https://www.lse.ac.uk/study-at-lse/Undergraduate/Teachers-schools-parents/Information-for-teachers-and-schools
Gap Year Information
Quest Professional: The Professional Diploma
The programme is ideal if you are unsure which industry sector or job role you are interested in.
During the nine months you will cover a broad range of business topics, which will help you develop the key skills needed for today's job market and gain the confidence to embark on a successful career. https://www.theleap.co.uk/gap-year-planning-next-steps/10-step-guide/
https://www.eventbrite.co.uk/e/quest-professional-open-day-tuesday-30th-may-2023-tickets-626932531077#:~:text=Tue%2C%2030%20May%202023%2011%3A00%20-%2015%3A30%20BST,77%20Gloucester%20Road%20London%20SW7%204SS%20United%20Kingdom
Orchards Cookery: Off to University
The Off to University course is designed for school leavers and undergraduates who are about to move away from home and cook for themselves for the first time. The course is intensive and each fun packed day concludes with a dinner party.
https://www.orchardscookery.co.uk/our-courses/off-to-university-3/
Caversham Lakes: Summer Work
As they prepare for the summer season Caversham Lakes are now recruiting for seasonal staff. They are looking for team members 16 and over in the following areas: • Customer Service/Reception•
Aqua Park/Water Safety• Food & Beverage• Car Park• Site Maintenance.
https://sway.office.com/qNqkyqmbZg7LMsQI?ref=Link
The Leap: 10 Ways to Nail Your Gap Year
It covers topics such as:
What type of traveller are you, how to fundraise, where to go and when and a packing list.
https://www.theleap.co.uk/gap-year-planning-next-steps/10-step-guide/