Careers Bulletin 12 May 2023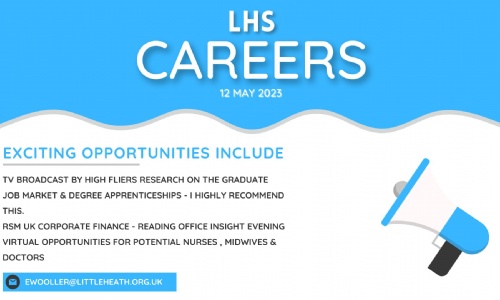 Upcoming Events This Term
· 230523 – Reading University – Arts & Humanities Outreach
General Information

The Graduate Job Market & Degree Apprenticeships explained
Graduate Careers Live! is the new twice-yearly TV programme for Year 12 students and their parents that provides inspiration, information and practical careers guidance on how university – or one of the growing number of degree apprenticeships – can lead to ambitious, rewarding careers in the future. The resources page that accompanies last week's special TV programme for Sixth Form students on the graduate job market and degree apprenticeships is now available:

The resources page below includes links to watch a recording of the full broadcast, along with each of the individual films, interviews and presentations that were featured on the programme.

You'll also find information on all of the employers that appeared on the programme, along with details of the UK's leading degree apprenticeship employers and The Times Top 100 Graduate Employers. We hope you'll find the programme and its resources page useful – the recording will remain online until the end of May.

Link to resources page
https://graduatecareers.live/resources-may-2023/

Carla Smith /Events Director
RSM UK Corporate Finance - Insight Evening
We are hosting an insight evening in our Reading offices at RSM (a global accounting and professional services firm) for sixth form students and their parents and would be grateful if you could share the attached details to your students. The purpose of the evening is to help students gain an understanding of RSM and the different pathways into a prospective career (school leavers, graduates, work experience and placements). Please see attached
RSM UK Corporate Finance LLP
Davidson House, Forbury Square, Reading, Berkshire, RG1 3EU
T: +44 118 953 0350 | DL: +44 118 953 0464 | W: www.rsmuk.com
Opportunities for aspiring nurses and midwives - Two virtual conferences on Saturday 3rd June.
The Get into Nursing conference (10-12.30pm) for aspiring nurses and the Get into Midwifery conference (2.30-5pm) for aspiring midwives. Your students in all year groups are invited!

Registration link: https://alliedhealthmentor.org/national-healthcare-insight-conference/

I will lead your students through the entire process of applying to nursing or midwifery and what day-to-day life in the profession actually entails. This is a fantastic opportunity for both students actively pursuing these careers and those still undecided. Student admissions teams notice those who go the extra mile to make an informed course and career decision.
Tickets are £10 to cover administrative and technological costs.

Abbie Dickinson
Chief Nurse Mentor / Your Medic Family

Free virtual Get into Medicine conference - Sunday 28th May and Sunday 4th June
These conferences will provide full clarity on UCAS and the medical application process. It is always better for students to invest half a Sunday in fully understanding what they need to get into medical school rather than days in unknown uncertainty.

Dr Mike and Dr Barrie will guide your students in years 10-12 through the UCAS application process to medicine. This includes personal statements, UCAT, interview skills, scholarships, and what they need to make their medical application stand out.

Sunday 28th May (9:30am - 3:30pm)
Sunday 4th June (9:30am - 3:30pm)
Registration link: https://medicmentor.co.uk/medicine-national-healthcare-weekend/

There are a limited number of conferences left this academic year, so it's especially important for students in years 12 to attend as soon as possible.

REAPPLICATION GET INTO MEDICINE CONFERENCE (FREE, VIRTUAL)
For students in years 13 Dr Ehsan will host a free virtual Reapplication to Medicine conference on Saturday 27th May (2pm - 8pm). The reapplication window is closing, I recommend that all students reapplying to medicine register below.

Registration link: https://medicmentor.co.uk/reapplication-to-medicine/

Dr Ehsan will cover accessing university feedback, Republic of Ireland Applications and HPAT, UCAS Extra and UCAS Clearing, studying medicine in Europe, and taking a gap year. Our community of doctors and UCAS application experts are here to help your students during this busy period. It's not even too late to start a medical application from scratch! We look forward to seeing all future doctors at your school soon.

Nikki Abbott
Head of Medic Mentor Education/ Your Medic Family
Employment
The Royal Opera House: Various Apprenticeships
The Royal Opera House is welcoming applications for a number of their apprenticeship placements.
From Creative Venue Technicians to Costume Makers, Scenic Carpentry to Social Media Marketing, there's an opportunity for everyone.
https://recruitment.roh.org.uk/vacancyList.php?_ga=2.208109138.1712603732.1683200978-1289648433.1683200978
Brookfields School – Specialist SEN
Brookfields are recruiting for short term staff and are offering a two month contract
Applicants need to be 18 years+. For more information please email:
Caversham Lakes: Summer Work
As they prepare for the summer season Caversham Lakes are now recruiting for seasonal staff. They
are looking for team members 16 and over in the following areas: • Customer Service/Reception•
Aqua Park/Water Safety• Food & Beverage• Car Park• Site Maintenance.
https://www.cavershamlakes.co.uk/vacancies/
At Your Service: Gap Year Work
At Your Service are an event staffing company, working at the best events and venues for the last 30 years. They are looking for highly presentable, confident, committed and approachable individuals with a can-do attitude to join their team. The perfect job for individuals taking a gap year to gain invaluable experience and earn money while having fun and meeting new friends. (18+ only)
https://at-your-service.crewplanner.com/register/invited/VMTADF4VKQMTLFDX?d=2640&signature=bc18fbf96c41ded8908a10fcff9294f911f629d3717c9a7883558551f81d929a
Work Experience
Aviation and aerospace work experience for your students
Our Virtual Work Experience programme with the Civil Aviation Authority is available to apply for right now, and takes place on the 24th of July.
The programme takes a closer look at the CAA as an organisation, while also taking your students on a journey into the careers that they could go into within the aerospace industry. Whatever their interests or career ambitions, there's a lot for students to discover here and get excited about.
The CAA are a public corporation, established by Parliament in 1972 as an independent specialist aviation regulator. They have a number of responsibilities including regulating UK airports, dealing with drone permissions and ensuring pilot medical standards are met.
The programme can be completed flexibly around students' studies. Even just half an hour per day is enough to finish the programme.
And most importantly, it's completely free for students to apply and complete.
Below is a shareable link to the programme. Please consider sharing this with your students, or alternatively forwarding this email to them so that they can access and apply to the programme before the application deadline closes.
https://www.springpod.com/virtual-work-experience/aviation-aerospace-virtual-work-experience
Get Career Ready This Summer: InvestIN Student & Parent Event
As we near the end of the academic year, you are likely looking ahead to summer and starting to think about how you might use your time off. The summer holidays are a great chance for you to unwind but can also be a very useful time for you to upskill and prepare for your future career.
https://us02web.zoom.us/webinar/register/WN_cFG5XaRbQkSmL55RlthTaA?utm_source=UK+SCHOOLS+MASTER&utm_campaign=6ebd1aadcb-bankersschoolmar_COPY_01&utm_medium=email&utm_term=0_bfccb03bbd-6ebd1aadcb-139463233&mc_cid=6ebd1aadcb&mc_eid=2b96efc1e3#/registration
The Young Investment Banker Summer Experience
Over the course of 15 days, you will have some of the most exclusive experiences of investment banking that one can imagine: trade the stock market in a London skyscraper, take part in a simulated M&A deal and build your own equities portfolio and have it reviewed by senior asset managers.
https://investin.org/products/the-young-investment-banker-summer-experience
PwC: Virtual Insight Programme
Due to increased capacity PwC have reopened applications for their Virtual Insight Programme, taking place 24-26 July 2023. Open to Year 11 and 12 pupils, the 3-day experience is designed to give you an insight into PwC: their lines of service, culture, the work they do and how you can join them as a school leaver
https://jobs.pwc.co.uk/school/uk/en/search-results?keywords=406628WD%20406485WD
College Information
Langley College – Apprenticeship Fair
Langley College is putting on an apprenticeship recruitment fair, aimed at connecting local employers with students who may be thinking about doing an apprenticeship post-16.
The event is taking place during half-term week on Wednesday 31st May, from 10:30am-2pm, and anyone who is interested in attending can register via the QR code on the flier attached.
I would be grateful if you could share the attached flier with any students, teachers, parents or carers who may be interested in attending and getting some more insight on apprenticeships and local opportunities.
University Information & Summer Schools
Next Steps for Y12 Conference 2023
Join representatives from the University of Exeter, University of Bath, Cardiff University, Keele
University, Lancaster University and the University of Warwick to find out more about applying to, and studying at, university. Please click on the link below to register and select the events you wish to attend.
https://app.geckoform.com/public/#/modern/21FO00k0rmky7s005szp4of69y
Northeastern University London: Summer School Y11
Applications are now open for this free three-day on campus summer school for students who are currently in Year 11. This is an excellent opportunity to help you get ready for Sixth Form, meet new people, enhance your skills and get an insight into university life. Sessions include study skills, wellbeing and budgeting. Participate in academic taster sessions in Law, Economics and History.
Experience a taste of university life, by spending time at their campus in central London. Get involved with social activities out and about in London.
https://www.nulondon.ac.uk/pre-university-programmes/get-ahead/?utm_campaign=Counsellor%20Updates&utm_medium=email&_hsmi=256048371&_hsenc=p2ANqtz-9mZS7soIodB9IgqxwtrEFXKkWUFzCg6jHaoSjmSPTCko0wBsFq3nBP3fUZwKjxjfz5KV-i8qYru5KbteX2gZOudJ8MtwyOK1QXw7y8xRD41mNsN40&utm_content=256048371&utm_source=hs_automation
RAU: Summer School
Discover what it is like to live and study at the RAU. This three day residential taster course for Y12 L
Pupils, is designed to give you the opportunity to explore the friendly campus and get a taste of what it is like to live and study with RAU. You will stay in student accommodation, attend sample lectures, take part in fun practical activities and get lots of information and advice about coming to university. The sessions will be tailored towards your main subject of interest, whether that's agriculture and environment, real estate and land management, equine or business.
https://www.rau.ac.uk/courses/open-days-and-events/discover-rau
Queens University Belfast: Virtual Campus Experience including Subject Talk
Join this Virtual Campus Experience and you will hear from students, watch subject talks and explore accommodation and Belfast city. Want a Russell Group education in an affordable, fun and friendly UK capital – all just one hour from London? Queens are a university that prioritises academic excellence and is dedicated to helping you discover your potential.
https://virtualexperience.qub.ac.uk/explore/welcome/welcome?subject_area=not-sure
York University: Festival of Ideas
York Festival of Ideas, led and curated by the University of York, returns from 2 to 15 June with an exciting programme featuring over 150 FREE in-person and online events, including talks, concerts, films, tours, and more.
https://yorkfestivalofideas.com/2023/
Gap Year Information
Gap Year Travel Advice & Guidance