Careers Bulletin - 7 July 2023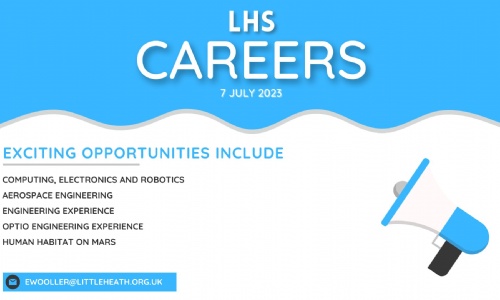 Neurodiversity Conference
NHS Doctor Apprenticeships
Volunteering Advice from the National Careers Service
Inside the BBC - What it's like to work there
Future Filmmakers Summer Camp
General Information
Personal Statement Advice 9th July
As this summer is a crucial time for applying medical students, I wanted to share our 5-step process for writing personal statements to medical school, put together by UCAS experts and doctors. This guide has shown itself to be highly effective in helping students craft personal statements that stand out to medical schools.

If your students want to hear more about writing personal statements, they are invited to register for the free virtual Get into Medicine conference on Sunday 9th July here: https://medicmentor.org/get-into-medicine-ucas-conference/
Dr Ehsan and Dr Mike will provide a full guide to personal statements and the UCAS application process for medicine.

In the meantime, please feel free to forward this summary of our personal statement guide

1) Self Reflection and Identifying Key Motivations
- Ask yourself why want to pursue a career in medicine. Identify your key motivations and create a structured plan before writing in full sentences. Link your experiences with a couple of skills/attributes and reflect on why this is important in medicine.

2) Structuring Your Personal Statement
- Structure it with an attention-grabbing introduction, body paragraphs, and conclusion.

3) Showcase Your Experiences and Skills
These can include work/volunteer experiences, research involvement, and key qualities and skills.

4) Making Your Personal Statement Engaging
- Incorporate personal anecdotes and stories that showcase your unique journey and experiences. Describe how these experiences shaped your perspectives and aspirations.

5) Highlight Ethical Considerations and Values
- Reflect on ethical dilemmas you have encountered and discuss how you navigate and prioritise ethical considerations in patient care.

Full guide: https://medicmentor.org/medicine-personal-statements/
Engineering Residential Summer Courses
Computing, Electronics and Robotics
£470 - five-day all-inclusive residential course
7 to 11 August 2023
University of Southampton
(This course is for Year 12 in England and Wales)
https://www.smallpeicetrust.org.uk/course-page/1dd7f4d2-69b3-ed11-b596-0022481b5e44
Aerospace Engineering
£310 - three-day all-inclusive residential course
15 to 17 August 2023
Kingston University
(This course is for Year 11 in England and Wales
https://www.smallpeicetrust.org.uk/course-page/333be64c-006c-ed11-81ac-0022481b5e44
Engineering Experience Manchester
£310 - three day all-inclusive residential course
22 to 25 August 2023
University of Manchester
(This course is for Years 8/9 in England and Wales)
https://www.smallpeicetrust.org.uk/course-page/138ae159-0e6c-ed11-81ac-0022481b5e44
Opito Engineering Experience
£99 - four-day virtual course (all kit included)
22 to 25 August 2023
(This course is for Years 8/9 in England and Wales)
https://www.smallpeicetrust.org.uk/course-page/fe18a2d9-60be-ed11-83fe-0022481b5db9
Human Habitat on Mars
£99 – three-day virtual course (all kit included)
29 to 31 August 2023
(This course is for Year 10 in England and Wales)
https://www.smallpeicetrust.org.uk/course-page/f9a8f708-7fb3-ed11-b596-0022481b5e44
Engineering Experience
£99 - four-day virtual course (all kit included)
14 to 16 August 2023
Virtual
(This course is for Years 8/9 in England and Wales)
https://www.smallpeicetrust.org.uk/course-page/46057b99-61be-ed11-83fe-0022481b5db9
Neurodiversity Conference
I am very excited to invite you to Vet Mentor's first-ever conference on Neurodiversity in the Clinical World! Registration is free, and we'd like to invite all students in your school considering a career in medicine, dentistry, veterinary medicine, or other clinical roles, to attend!

Date: Saturday 15th July
Time: 10am - 1pm
Registration Link: https://airtable.com/shr2MDecXEQ2AxdrL

Let by second-year vet student at the University of Edinburgh and Vet Mentor Scholar, Heather, this conference will discuss the realities of working and studying as a neurodivergent clinician. Our main aim with this project is to establish a sense of community around neurodivergent clinicians. This includes students, practising doctors, dentists, vets, and aspiring clinicians in school!

Your students are invited to join us on Saturday 15th July to learn more about neurodiversity in the clinical world and what we can do to foster a welcoming and inclusive environment in medicine, dentistry, veterinary medicine, and other clinical roles.


NHS Doctor Apprenticeship – everything you need to know
The NHS recruitment and training body, health Education England confirmed funding for a new medical doctor apprenticeship in January.
https://educationhub.blog.gov.uk/2023/06/30/nhs-doctor-apprenticeships-everything-you-need-to-know/
Volunteering Advice from the National Careers Service
Volunteering is a helpful way for students to make career choices, gain experience and develop those all-important soft skills
https://nationalcareers.service.gov.uk/careers-advice/advice-on-volunteering
Inside the BBC – What it's like to work there
The BBC Young Reporter team went behind the scenes of some popular BBC brands to find out which jobs go into making hit content
https://www.bbc.co.uk/bitesize/articles/z7rd96f
Future Filmmakers Summer Camp
Central Film has partnered with FindEducation to host a 2-week residential filmmaking summer camp for students aged 13 - 17.
https://centralfilmschool.com/summer-school/
Employment
Y13 Leavers - FSP – Digital Transformation & Cyber Security
We have three apprenticeships, we are offering out for September 2023 starts. The criteria for these are for Students that have completed A levels and would like to learn on the job.
Consultancy In digital Transformation – Based in Reading at TVP
We have the following advertisements out at the moment and ideally any candidates that would like to be considered can apply direct on the website by simply submitting their CV's.
– Apprentice Business consultant: https://fsp.bamboohr.com/careers/90
– Apprentice Data Analyst: https://fsp.bamboohr.com/careers/91
– Apprentice Software Developer: https://fsp.bamboohr.com/careers/92
Level 3 Business Administration Apprenticeships
Amberjack Global
My name is Becca, working in the Attraction team at Amberjack Global. We partner with employers such as PwC Middle East, Virgin Media O2 and LSEG (London Stock Exchange Group) to help students find their future careers.
As your students finish their GCSEs, they're probably wondering what to do next. We're recruiting for our Level 3 Business Administration Apprenticeship right now!
Our Apprenticeship offers your students the opportunity to earn a salary of £17,500 and study for a level 3 Business Administration Apprenticeship. We would love to provide your students with a great foundation for wherever their future career may go!
To show off this great opportunity we're offering, please find attached a poster that we would love if you could share with parents and students
KPMG – Apprenticeships are open to apply for!
At KPMG, we're always looking for curious minds to join us in Audit, Consulting, KPMG Business Services and Tax & Law. But we'll need your help to spread the word — it's your guidance that can really make a difference.
In our nationwide apprenticeships, candidates will be empowered to grow and make a positive difference to the businesses and communities we serve.
We'll offer them training and qualifications – including degrees and work experience that gives them the opportunity to grow in their own way, and gain skills that will last them a lifetime. Our supportive community is made up of inspiring and innovative people, and working alongside them is rewarding in ways that go far beyond our competitive salary and broad range of employee benefits.
Guide the next generation towards a career at KPMG, and we'll give them the support they need to learn, thrive and start making a meaningful difference.
https://www.kpmgcareers.co.uk/apprentice/audit-apprenticeships/?utm_source=notgoingtouni&utm_medium=html&utm_content=apps-audit_geo-hs&utm_campaign=2226c-kpmg-sr23-app-topup-audit_notgoingtouni_html_apps-audit_geo-hs_static_mona_jul23&dm_i=4CV9,1J5HK,127B1P,7555G,1
Colleges
Activate Learning
Junior Chef Academy for 14–16-year-olds
The Junior Chef Academy is part of the Activate Learning Cookery School and the starting point for young chefs in Years 9 to 11 who want to explore food and culinary arts. Students will be introduced to basic cookery methods and have the opportunity to cook foods from different cultures.
For more information, including dates, times, and prices, please view the attached poster.
Reading College – Media Make-Up
This pathway combines techniques from film and television with the conceptual artistry and commercial awareness of fashion and beauty makeup. Students will work on projects involving discussing requirements and collaborating with creative ideas and solutions. Between 2011 and 2019, the number of jobs in the UK cultural sector (including film and TV) grew by 24%, and roles in this pathway include media makeup artist, specialist makeup arts, skin camouflage specialist, and many more!
Students will have the opportunity to work in our industry-standard salons, take part in exciting on-location shoots and performances, and undertake work-based projects with leading industry employers. For more information about our L1 and L2 courses, please click here.
https://reading.activatelearning.ac.uk/courses/?sort_by=default&pathway%5B%5D=media-makeup
Bracknell & Wokingham College – Motor Vehicle
Through our L1 and L2 Motor Vehicle courses, students will access our state-of-the-art facilities, including hybrid vehicle diagnostic equipment and the latest vehicle lifts. We have also received donations of new vehicles from manufacturers including Hyundai, to offer students the chance to train on a range of modern engines. Our teachers create an exciting and supportive environment for students, offering insights and tips from their careers in the motor vehicle industry. Students will learn practically wherever possible, putting their skills to the test in the workshops.
Students will find and repair faults in their clients' vehicles as a mechanic, perform similar duties as a cycle technician, or become a parts technician, identifying and using the correct parts to repair any fault in a customers' vehicle. This pathway can also lead to a career in automotive sales and marking. There are over 168,000 people directly employed in automotive manufacturing in the UK and more than 6800 annual job openings forecast over the next five years for motor vehicle maintenance and repair occupations in the UK. Specialist skills are needed by private individuals and industries such as public transport, retail delivery, breakdown recovery, emergency services, and motorsports.
https://bracknell.activatelearning.ac.uk/courses/?sort_by=default&pathway%5B%5D=motor-vehicle
University Information & Summer Schools
University Open Days Listing for July- https://bit.ly/university-open-days-july
Insight into University – Virtual Course
Have you ever wondered what it's like to go to university?
Are there lots of questions about university going around in your head?
Would you like to know what it's like before you take the leap and apply for a STEM university degree?
Well now you can - with our Industrial Cadets Insight into University virtual experience you get the chance to try out multiple STEM degree subjects at various leading universities across the UK.
This course is like no other! Not only can it help you decide which degree course might be right for you and enhance your UCAS application. With the mix of live sessions, recorded lectures and hands-on practical STEM activities and projects set by leading UK universities and global STEM companies, you will have a unique opportunity to access all the amazing content in one place, pick-and-choose subjects that interest you and do as many as you wish at your own pace over the summer.
It is not too late to register, applications remain open for two more weeks. Don't miss out and apply today!
To find out more please visit our website https://www.etrust.org.uk/insight-into-university
EDT (Engineering Development Trust)
Tel: 01707 906106| Email: studentrecruitment@etrust.org.uk
www.etrust.org.uk
Gap Year Information
Orchards Cookery: Off to University
The Off to University course is designed for school leavers and undergraduates who are about to move away from home and cook for themselves for the first time. The course is intensive and each fun packed day concludes with a dinner party.
https://www.orchardscookery.co.uk/our-courses/off-to-university-3/
Caversham Lakes: Summer Work
As they prepare for the summer season Caversham Lakes are now recruiting for seasonal staff. They are looking for team members 16 and over in the following areas: • Customer Service/Reception•
Aqua Park/Water Safety• Food & Beverage• Car Park• Site Maintenance.
https://sway.office.com/qNqkyqmbZg7LMsQI?ref=Link
The Leap: 10 Ways to Nail Your Gap Year
It covers topics such as:
What type of traveller are you, how to fundraise, where to go and when and a packing list.
https://www.theleap.co.uk/gap-year-planning-next-steps/10-step-guide/