Careers Bulletin 8/9/23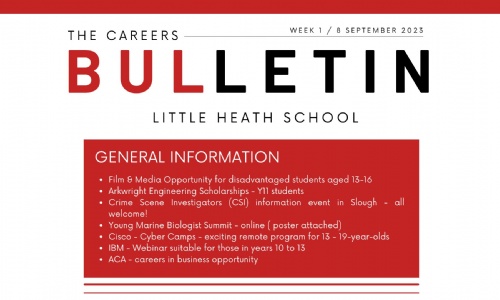 Upcoming Events this Term
220923 – Winchester University – Personal Statement Clinic
031023 – Hertfordshire University – Personal Statement Clinic
051023 – University of West London – Personal Statement Clinic
161023 – UK Atomic Energy Authority in 6F Café at Lunchtime
181023 – Y9 Bayer Science Trip
General Information
Film & Media Students – Fantastic Opportunity for students aged 13-16
25 places. First come first served film and media 'club' for Disadvantaged students via Bracknell and Wokingham college.
https://www.facebook.com/100064605192806/posts/678061351024032/?sfnsn=scwspmo
Arkwright Engineering Scholarship – Y11 Students
An Arkwright Engineering Scholarship is the most esteemed scholarship of its type in the UK, designed to inspire students to pursue their dreams and change the world as an outstanding engineer of the future.
Every Scholarship is sponsored by a commercial company, trade association, university, professional institution, armed service, government organisation, worshipful company, charitable trust or personal donor. This means that support is offered in various different ways, for example, valuable hands-on work experience, support for your curriculum project and a personal mentor who can help you with aspects of your studies and career planning.
To find out about this fantastic program for bright Y11 students please click on the link below
https://www.arkwright.org.uk/our-scholarships/arkwright-scholarships
Crime Scene Investigators (CSI)
Thames Valley Police is actively recruiting for Crime Scene Investigators (CSI) and are offering an exciting opportunity for entry-level CSIs, and the best part? No prior experience is required! But let's get one thing straight – the life of a CSI isn't exactly as portrayed on television. This isn't about glamorous investigations while casually sipping coffee. The real deal involves rolling up your sleeves and working tirelessly to bring justice to those who need it most.
Engage in conversations with our team and get inspired to carve your own path in the exciting world of crime-solving. Don't miss this chance to have your questions answered and join us at The Curve, Slough on September 13th and take the first step towards a new adventure.
For more information and to reserve a place please click on the link below:
https://www.eventbrite.co.uk/e/csi-recruitment-event-tickets-709342240737
Young Marine Biologist Summit
The Young Marine Summit is hosted by the Marine Biological Association. We are delighted to share with you the dates for this year's summit all about driving change and empowering young people on how they can make a difference in Ocean Conservation.
Details
Saturday 4th November 2023

10am-4pm

Key Age: 13-18 years but we encourage younger children to watch with their families

Online via our event page and completely free
Please see attached poster
CISCO Cyber Camps 2023 2024
As cybersecurity threats continue to rise, the need for a skilled, diverse cyber workforce is more important than ever. Yet, the global cybersecurity workforce was reportedly short of 3.5 million workers in 2021 and constituted less than 25% women, according to Cybersecurity Ventures. The Cisco Networking Academy programme is tackling this challenge head-on with the newly launched Cisco Cyber Camps.
Cisco Cyber Camps is a free, remote, self-paced training programme for students in the UK, aged 13-19, that identify as female or non-binary. The courses will allow participants to train on industry-ready cybersecurity skills whilst also engaging in forums with cybersecurity experts, attending online webinars, and embarking on soft skills training. The Cyber Camps are broken in to six courses and will run for 12 weeks, with four enrolment dates each year in July, October, January, and April. There is no pressure on participants to complete the programme, as they have the option to enrol, un-enrol, or re-enrol in the different cohorts. Since the programme is free, remote, and self-paced there are no restrictions on location or capacity.
For more information, please visit: https://www.teachingdigital.org/initiatives/cybercamp
Eligible participants can enrol here: https://www.netacad.com/portal/web/self-enroll/m/course-1796150
IBM Webinar
Come along and listen to the many different opportunities we have available at IBM and hear from some of our current interns about their experience so far!
On: 17th October 2023 at 6.30 - 7.30 pm
For: Students and parents of those in years 10 to 13. Career leaders and teachers are encouraged to join
https://events.teams.microsoft.com/event/b3d16001-027d-4088-8caa-ac1f2cb0d99f@182a8b31-3dab-4b92-8bb8-9526911aeba0?goal=0_f09eb3b2c8-dfc1d05587-211995373&mc_cid=dfc1d05587&mc_eid=7a807bdecc
ACA Careers in Business
ACCA are pleased to bring back "Careers in Business", the virtual expo, this time in partnership with Success at School! This opportunity enables them to establish connections with employers and experts in diverse careers across the UK, allowing them to share valuable information about all aspects of the business world.
Throughout the day we will host multiple live and interactive sessions covering topics such as jobs and roles available across various areas of business and entry pathways e.g. T Levels, apprenticeships and university.
On: 6th December 2023 at 8.30 - 5.30 pm
For: Students, parents and career leaders are encouraged to join
https://www.eventbrite.co.uk/e/careers-in-business-expo-hosted-by-acca-and-success-at-school-tickets-709422540917?aff=oddtdtcreator&utm_source=eventbrite&utm_medium=referral&utm_campaign=expoevent&utm_content=uk&goal=0_f09eb3b2c8-dfc1d05587-211995373&mc_cid=dfc1d05587&mc_eid=7a807bdecc
Volkswagen Apprenticeships
Location: Nationwide
Latest opportunities: Customer Service, Parts Sales Executive, Service Technician, Parts Assistant apprenticeships
STEM Clubs at Oxford
STEM Clubs are back! Experiment with heating, melting and cooling this Saturday at Science Club (9 September), or get creative with plant printing and make wild art at Nature Club (23 September), both for ages 5-9. Don't forget, your Club ticket includes access to the woodland and outdoor areas all day!

It's time for great ideas! The IF Oxford science and ideas Festival 2023 runs October 7-28 with an amazing programme of events across the city and online. We're thrilled to take part with a series of Live Labs, where you can meet real world scientists and get stuck in with activities and experiments. Live Labs run in the Exploration Zone at our Family Days in the Science Oxford Centre every Saturday in October, including a Sensory-friendly Family Day on the 7th. Come along to Super Science Sunday, 15th October, with lots of fun hands-on activities for all. Look to the stars, with STARMAKERS: The Energy of Tomorrow film screening in our theatre, 18 October. Tickets are flying out for all IF Oxford events, so don't miss out!
https://scienceoxford.com/whats-on/
Employment
Electrical Apprenticeships – HM Reading Ltd - Amners Farm
We are an electrical contractor in Burghfield and have been running since 2005. We have always employed apprentices and are proud to have a home trained workforce.
As it's a new term we are looking to employ another two apprentices to start college at Bracknell and Wokingham College and wondered if you have any pupils that are looking for this type of work. This would suit a recent school leaver - anyone interested, please email:
Newbury Building Society
I am sharing details of three new apprenticeships here at Newbury Building Society that I thought may be of interest to students at Little Health School.
As a long-standing local employer, we're always passionate about providing job opportunities to our local communities and are particularly excited to be able to offer these newly created roles. They provide fantastic options for anyone in the local area who is interested in taking the apprenticeship route and can demonstrate genuine ambition to develop into a career in these areas of expertise. We are hiring on a permanent basis.
Sustainability & Corporate Responsibility Apprentice - Level 4
https://www.newbury.co.uk/careers/current-vacancies/sustainability-corporate-responsibility-apprentice-level-4/
Data Analyst Apprentice - Level 4
https://www.newbury.co.uk/careers/current-vacancies/data-analyst-apprentice-level-4/
Further info about apprenticeships at Newbury Building Society can be found here
https://www.newbury.co.uk/news-knowledge/articles/super-charge-your-career-with-an-apprenticeship-at-newbury-building-society/
Zoe Davies - Employee Experience Manager
Newbury Building Society | 90 Bartholomew Street | Newbury | RG14 5EE
T: +44 1635 555 787
Volkswagen Apprenticeships
Location: Nationwide

Latest opportunities: Customer Service, Parts Sales Executive, Service Technician, Parts Assistant apprenticeships
https://successatschool.org/employer/volkswagen-group/508?goal=0_f09eb3b2c8-dfc1d05587-211995373&mc_cid=dfc1d05587&mc_eid=7a807bdecc
Y12 Part Time Work - Kumon Centre - Tilehurst
Kumon offers additional after school education for children. Many of my colleagues in other centres have successfully hired Year 12 students on a part time basis. This allows those students to gain an insight into the world of work and also earn a wage.
As my centre grows, I will need staff to welcome children, mark maths questions with the use of a solution book, communicate short messages to parents and supervise children when they are waiting to be picked up.
The hours are 3:30-6pm Tuesday and Wednesday and 9-1pm on Saturday.
This is a link to my page: https://www.kumon.co.uk/reading-tilehurst/
Please see the attached advert for more details.
Work Experience
Medical & Healthcare Work Experience - RBH
To help cope with the increasing demand for Work Experience placements RBH are introducing 2 separate emails, and application periods (for medicine).
Medicine – medicineworkexperience@royalberkshire.nhs.uk
Application periods.
27th of August 2023 to 24th September 2023 (or until places are full) Placements will be in Oct/Feb.
22nd December 2023 to 12th January 2024 (or until places are full) Placements will be in April
25th February to 17th March 2024 (or until all places are full) Placements will be in July
All other areas – healthcareworkexperience@royalberkshire.nhs.uk
PLEASE DO NOT DELAY IN APPLYING- THESE PLACES ARE LIMITED!
Volunteers wanted for the Community Justice Panel
The Reading Youth Justice Service team is looking for volunteers to helps support a new initiative of Community Justice Panels and is particularly interested in taking on young recruits. This is a community involved programme aimed at supporting first time offenders and giving those who have been harmed by crime a chance to be heard.
Volunteers need to be aged over 16, willing to give three hours a month to attend a panel meeting and 12 hours in one month to attend initial training.
This could be a great opportunity for you to develop your skills or for a young person over 16. If you know of any young people, those you are working with or maybe even your own, who may be interested, please pass this message on.
An open evening is being held on Wednesday 6 September for people who want to find out more. If you're interested, please contact Catie Blundell on 07808 093 615 or Kevin Williams on 07515 629 091.
Thames Hospice – Volunteers wanted Y11-Y13
Proudly serving the community for more than 30 years, Thames Hospice is the only adult hospice providing both inpatient and community palliative and end-of-life care services across East Berkshire and South Buckinghamshire.
We are committed to delivering and demonstrating excellence and the highest quality nursing, medical and therapeutic care within our Hospice and in patients' homes, supporting the physical, social and psychological needs of our patients and their loved ones.
Our services are free of charge to all who need us, thanks to the generosity of our amazing community and organisations. It costs £16 million every year to keep our Hospice running and we rely on charitable support and our fundraising activity to meet this need. Our retail shops play a vital role in contributing towards this so are asking for your help as we have a shop in your area in Caversham.
We are looking to encourage people who are aged between 16 and 18 to volunteer on a Saturday or Sunday for a few hours. We wondered if you would be kind enough to let those in years 11,12 and 13 know about these opportunities. We will make sure risk assessments and training are provided.
We are looking for people who are self-motivated, have good customer service and social skills and have a desire to give back to their local community. Students would need to apply via our website at https://www.thameshospice.org.uk/volunteer/volunteer-application/
Email: volunteers@thameshospice.org.uk
INVESTIN – Weekend Career Experiences for 12-18 Year olds
Medicine I Engineering I Investment Banking I Law I Psychology I
Computer Science I Entrepreneurship I 8 more careers

We are delighted to share with you our autumn term career opportunities, which are available in 15 cutting-edge industries. Students will learn directly from some of the world's best professionals through a series of live, interactive simulations which provide tailor-made professional experience to ages 12-18.

All programmes take place on Sundays, with dates available from November to January. Students can choose to attend in-person at UCL in London or Live Online.

We expect to be fully-booked soon so we would recommend that students register as soon as possible.
https://investin.org/collections/our-programmes?utm_source=UK+SCHOOLS+MASTER&utm_campaign=91ce02dc30-bankersschoolmar_COPY_01&utm_medium=email&utm_term=0_bfccb03bbd-91ce02dc30-137653699&mc_cid=91ce02dc30&mc_eid=37ce71523c
Colleges
Basingstoke College of Technology
Please see attached flyer with information about open days and various Fairs.
Henley College
INFORMATION EVENING – TUESDAY 3RD OCTOBER 2023, 5:30PM-8:00PM
Visit the Henley College for the most thriving open event of the year, as we welcome prospective students and their parents to explore our impressive campuses after an enormous summer refurbishment, especially for our new T Level qualifications.
Hear from the Senior Leadership team, meet enthusiastic teaching staff and find out more about our high-achieving, diverse and welcoming College. Learn about the varied qualifications on offer, including A-Levels, Applied A-Levels, BTECs and the introduction of brand new T-Levels in Digital, Business and Engineering.
Don't delay, spaces are filling up fast! Register by clicking on the link below.
https://www.henleycol.ac.uk/events/information-evening-event/
University Information & Summer Schools
Cambridge University - STEM SMART
I know I have recently emailed you all but I wanted to let you know that the sign-up form for STEM SMART 2024 is now open - https://cambridge.eu.qualtrics.com/jfe/form/SV_9sgXjDAdnMXc66G
This is the flagship University of Cambridge access programme for students thinking of applying for a STEM degree, and provides 17 months of free problem solving supervisions plus a residential in Cambridge for those who have been the most engaged with the programme. This is also not solely aimed at students thinking of Oxbridge, but is for any student thinking of applying to a competitive university (Queens', Edinburgh, Imperial, Warwick, Bath etc) for a STEM degree.
Please note that this year the programme has been expanded and it now covers the following A-level subjects:
Maths
Further Maths
Biology
Chemistry
Physics
Computer Science (new this year)
To be eligible students must be taking at least maths + one of the other listed subjects above. For more info on eligibility criteria - https://www.undergraduate.study.cam.ac.uk/stem-smart
Please do encourage your eligible STEM students to apply. If you're Arts & Hums focused I would really appreciated it if you mentioned the programme to your STEM HoDs when passing in the staff room for them to publicise to their students.
Email: aoc@corpus.cam.ac.uk
https://www.corpus.cam.ac.uk/undergraduate-study/admissions-events
Twitter: @corpusSLO
The Cost of going to University
For students unsure about whether to take the university route – please have a look at below.
Student finance: How much does university cost and does it increase earnings? - BBC News