Careers Bulletin 25 November 2022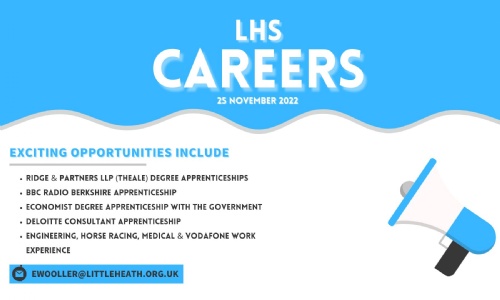 Employment
Ridge & Partners LLP – Theale

Degree Apprenticeships for Maths or Physics Students
We have an exclusive offer from a local employer that is only available for Little Heath Students. They're offering potentially two degree apprenticeships starting from next summer. This is a unique partnership, so they do not advertise these vacancies because they trust that they will get good candidates from our school. As part of the degree apprenticeship, you will work at the offices in Theale, but be on day release to the university to complete the degree work. The company will pay you a competitive salary (a previous student was very happy with the starting salary) as well as pay for your degree - you will have no tuition fees!
The two offerings are:
Mechanical and Electrical Building Services:
The role is to work within the Mechanical and Electrical Building services engineering team in the Reading office and work to a formal qualification via a weekly day release degree course. All university fees will be covered and a salary/package will be offered. A link to our website is below and if there are any other initial questions please let me know.
Quantity Surveyor/Cost Managers (Construction Accounting):
Quantity Surveyors / Cost Managers estimate and control costs for construction projects. They provide cost advice as well as contractual advice. Quantity surveyors are involved at every stage of a project. Whether they're working on projects such as residential, commercial or industrial, clients rely on them to ensure that the final outcome is value for money.
Information about Ridge & Partners can be found here: www.ridge.co.uk
This really is an opportunity not too be missed! It's an excellent local employer and an excellent opportunity. If you are interested in the above, then please email tjessop@littleheath.org.uk by Friday 2 December with an expression of interest and I will put you in touch with the company. They will then invite you in for a tour and an interview.
BBC Radio Berkshire Apprenticeship Scheme 2023
The BBC's Production apprenticeship could be your chance to turn your passion for telling stories into a job that you love. We're looking for our next apprentice at BBC Radio Berkshire. In September 2023 we will welcome hundreds of new apprentices into the BBC, why shouldn't one of them be you?
Whether it's telling important, or previously untold, stories in the national or global news that excites you; or if it's bringing to light the issues that affect you and your community…the BBC is a place where you can turn those ideas into something great for any of our TV, radio or online platforms.
Maybe you're someone bursting with the ideas or, perhaps, you're the person that loves planning and organising and bringing those ideas to life. Whichever part of storytelling gives you a buzz, there's a place for you at the BBC.
The BBC is a gold standard apprenticeship provider and has been delivering successful schemes for over a decade. This could be your chance to work for the world's biggest broadcaster. Check it out @BBCGetIn.
BBC Radio Berkshire's Fast Track Production Apprenticeship is for anyone from aged 18 upwards - school leavers through to career changers and anything in-between! Vacancies on all schemes are open now, right across the UK nations and regions.
The BBC was recently named as Large Employer of the Year at the BAME Apprenticeship Awards 2021 and is ranked 8 in the Times Graduate Employer of the Year list. It is part of the BBC's commitment to transforming its workforce to welcome more apprentices year on year.
Stop thinking about how you couldn't work for the BBC and start thinking about why you should! Help us Build The BBC #YouMakeTheBBC
If you want to earn as you learn start your application now at https://www.bbc.co.uk/careers/trainee-schemes-and-apprenticeships/production/fast-track/
And follow @BBCGetIn on Instagram for top tips and information.
Economist Degree Apprenticeship

Applications open Monday 19 December 2022
Over 60 vacancies available with the Government Economic Service
The Government Economic Service will be opening applications this year for their Economist Degree Apprenticeship programme for 2023.
Starting in September 2023, applications are open from Monday 19 December for over 60 vacancies nationwide, with departments such as the HM Treasury and the Department for Work and Pensions. This is a brilliant opportunity to work in a central government department or agency on some of the most important social, environmental and economic issues our country faces.
Join our webinar to find out more on Wednesday 7 December 3.30pm – 4.30pm: https://us02web.zoom.us/webinar/register/WN_U3_9RtY8T262xlnJNBRSgA
Join a webinar with the Government Economic Service to find out more about the apprenticeship programme and how to prepare for the application process. Suitable for students, teachers/careers advisers and parents/carers, sign up above to learn more.
Download the Candidate Pack
This pack contains useful guidance around the role of an Economist, what the degree apprenticeship involves, how the application process will work and answers key FAQs from applicants. To download the pack, click here: https://amazingapprenticeships.com/GES/
Deloitte Apprenticeships
BrightStart Consultant apprenticeships: Live Vacancies Y13
Are you considering a consulting apprenticeship after your A levels and keen to know more?
Join our consulting meet and greet session on Thursday 1st December at 5 pm. You'll get to chat to a Deloitte Representative about their career journey and role.
Sign up here : https://forms.integrate-events.com/#/events/deloitteves/333397?type=preregister&background=ffffff&font=000000&page=ffffff
For more information please refer to: https://www2.deloitte.com/uk/en/pages/careers/articles/early-careers-consulting.html
Apply for Career Shapers -Year 10-12
We have had high interest in our Career Shapers programmes from pupils already.
It's a great time to start an application with us.
We have spaces available for pupils in year 10,11 and 12. Career Shapers is a fantastic way to learn about life at Deloitte and how your skills and future career can thrive.
Read more about this and apply: https://www2.deloitte.com/uk/en/pages/careers/articles/early-careers-programmes.html?utm_source=deloitte&utm_medium=click-tracker&utm_campaign=deloitte-ecr-fy23&utm_term=smrs&utm_content=see-prospecting-1x1-general-school&dclid=CP6dxt2LyfsCFURIHQkdwcoATw
Virtual Event: Come and Meet Us!
Interested to hear more about why an apprenticeship might be the right choice for you, your students or your young person?
Why not come along to our virtual event and meet our Apprentices, hear from our Early Careers and Learning & Development teams, and put your questions to them?
Thursday 8th December 2022
5-6pm

Virtual Zoom Event

Please click the link below to register
Full details of how to join or dial in will then be sent to you

Agenda

Welcome & Introductions
About Deloitte
Apprenticeships & Career Paths
Meet Our Apprentices
Q&A
https://experience-event.zoom.us/meeting/register/tZ0pdOiprzspHdVvbzy-2PoQWs0znUAxLwxD
Work Experience
Medical Work Experience Courses Y10 - 13
We're hosting 3 very special courses in December for students, an in person day in London and 2 online courses, each specially created by NHS doctors for students interested in careers in medicine.
We're lucky to announce that on Saturday the 10 December we've been given permission for students to enter the dissection room at a hospital in London (students must be aged 14-18) where they will be tutored in brain anatomy from one of the worlds leading authorities on neuroanatomy and NHS consultants. A unique and very special work experience day for all students applying to medicine, students can see all the details here: www.premedprojects.co.uk/course/medicine-work-experience-day-event Students are already attending from all over the UK and Europe so we'd encourage interested students to confirm places on this one as soon as they can.
Our second day in December is an online day, Emergency Medicine live on Saturday 4 December. You can expect to learn about the treatment and management of major trauma and medical emergencies. With insights into pre-hospital and emergency medicine. Students can see more information here: www.premedprojects.co.uk/course/emergency-medicine-live
Our third course is completely free, Medicine Case Studies live on Monday the 5th December at 7.30pm. We've 500 free places on this course which will probably go pretty quickly, to attend the course, students just need to register here: https://www.premedprojects.co.uk/medicine-work-experience-live-december
All courses have been created by NHS doctors and provide outstanding work experience for you to use in your applications to medicine. if you can, we'd love to see you there.
Rachael Wallace
The PremedProjects Team
E: info@premedprojects.co.uk
W: www.premedprojects.co.uk
Royal College of Nursing – Nursing Cadet Scheme
The RCN Prince of Wales Nursing Cadet Scheme gives 16 - 25 year old members of youth organisations an introduction to potential careers in nursing and health and social care, through health care related learning modules and a clinical observational placement in your local hospital. The scheme will run for approximately two weeks. Please see the attached flyer for more information -interested students should contact me for an application form: ewooller@littleheath.org.uk
GE (General Electric) Explorer Series: Engineering Programme
This programme will introduce you to a few areas where engineers thrive at GE. Learn
about how to optimize a design to meet customer requirements, how to supply a reliable
mix of power to the grid, and how to ramp up production for medical equipment during a
surge of demand. These samples are just the beginning for the kinds of solutions you can
create as an engineer.
https://www.theforage.com/virtual-internships/prototype/XxtPu3MdxghFHzPGn/Engineering-Program
Springpod: Vodafone Work Experience
In this programme you'll dive deep into the product side of the business with a strong emphasis on innovation, development and bringing to market. You'll gain an understanding of how these different business processes link together to sustain an innovative company like Vodafone and finish by learning more about potential early careers with them.
https://www.springpod.com/virtual-work-experience/vodafone-innovators
Careers in Racing
Discover a wide variety of job opportunities in the horseracing industry. Varied roles including marketing, breeding, catering, and events management.
https://www.careersinracing.com/
General Information
Ernst & Young – Reading Information Evening
14 December 2022
6-7.30pm (please arrive by 5.45pm)
Are you interested in Business, Finance or Technology? Join us for an exclusive, Apprenticeship event and see how you can start your career with EY.
You will get to know who we are as an organisation, the kind of work we do and the opportunities we have on offer. As well as hearing from our apprentices with the opportunity to ask them your questions!
You can bring your parents, guardians & friends and find out more about what a career at EY looks like. Scroll down to register your place, spaces are limited!
Location: EY Reading, R+ Building, 2 Blagrave St, Reading RG1 1AZ
Please reserve your space here: https://forms.integrate-events.com/#/events/ey/336852?type=preregister&background=ffffff&font=2e2e38&page=2e2e38
This will be a great opportunity to find out more around our different programmes including more detail on our different programmes as well as your local office. We're also offering the opportunity to get some hints and tips on our application process that we believe you'll find useful if you're looking to kick-start your career. It's a chance for you to ask the EY Reading staff your questions too.
Exclusive Screenings of UKAEA's 'Star Makers - The Energy of Tomorrow' Cornerstone Arts Centre, Didcot, 29 November 2022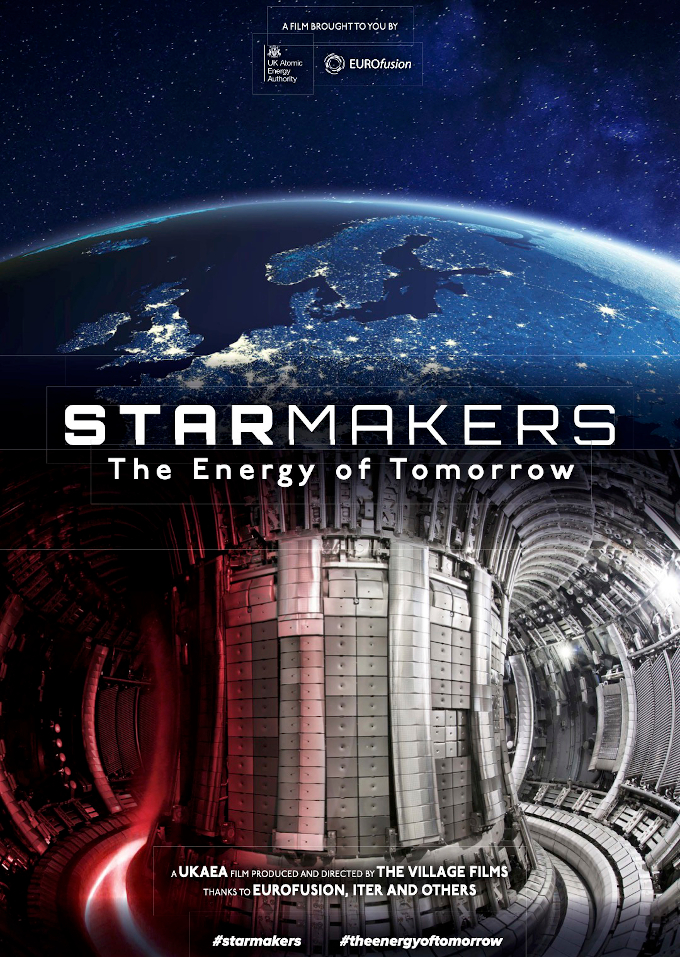 We are delighted to invite you all to a complimentary screening of a documentary film made by the United Kingdom Energy Authority (UKAEA) based at the Culham Science Centre, near Abingdon.
On 29 November two FREE exclusive screenings of Star Makers – The Energy of Tomorrow followed by a panel Q&A session will be hosted at Cornerstone Arts Centre in Didcot by UKAEA and Women In Nuclear (WiN) UK as the organisations work together to raise awareness of fusion energy and careers in STEM.
This is the perfect opportunity to bring along friends, family and neighbours who want to know more about the research taking place at UKAEA, i.e. to provide the world with abundant, safe, sustainable and low carbon electricity for generations to come.
As we are very keen to inspire children to work in STEM and this film also provides an insight into what that can be like, we are hosting an after-school screening at 4pm to encourage secondary school pupils to attend. However, anyone curious about fusion is welcome to either screening. This is an exclusive opportunity to not only see the documentary but also to meet and ask questions to the main cast: Fernanda Rimini (EUROFusion Senior Exploitation Manager for JET), Joe Milnes (Interim Chief Operating Officer), Damian King (Beam Line Systems Group Leader) and Joëlle Mailloux (JET Science Programme Leader).
Programme: Star Makers – Tuesday 29 November – Cornerstone Arts Centre
3:40pm Doors open
4:00pm First screening for secondary schools and general public
5:00pm Q&A (30 minutes)
6:10pm Doors open
6:30pm Second screening for WiN members and general public
7:30pm Q&A
8:00pm Networking
Food and drinks will be available for purchase until 8.30pm at the Nourish café bar located within the Cornerstone Arts Centre. The Arts Centre is within walking distance (5-10 minutes) of the Didcot Parkway railway station and there is plenty of parking available at the adjacent Orchard Centre car park.
Trailer, free tickets and more on: https://www.cornerstone-arts.org/whats/star-maker-energy-tomorrow
Elina Militello Asp (Transport and Scenario Modelling Group Leader) at UKAEA
College Information
BCOT – Basingstoke College of Technology
A reminder that our final open event of the year is next week on the 29 November from 5-6:30 pm.
For any enquiries please contact our Schools Liaison Team at schools.liaison@bcot.ac.uk
Register now at www.bcot.ac.uk/opendays
Open Evening at The Henley College

Tuesday 6 December
5.30pm - 8pm
Visitors will get the opportunity to explore our campuses and meet our experienced teachers to discuss our wide range of subjects and what the courses will entail.
Our friendly and knowledgeable support staff will be on hand to talk to you about everything The Henley College has to offer including support, admissions, transport and welfare.
Afterwards, you may want to explore beautiful Henley-On-Thames and its excellent facilities.
Please register your place by following this link: https://www.henleycol.ac.uk/events/
Current & Upcoming Events | The Henley College
Current and upcoming events at The Henley College.
www.henleycol.ac.uk
University Information
Escape Studios – Career in Animation, Game, Art or Visual Effects
Are your students looking for a career in Animation, Game Art or Visual Effects? Escape Studios has been at the forefront of creative education since 2002, supplying the industry with studio-ready talent.
Bookings are now open for our next undergraduate open day, taking place on Saturday 14 January 2023. Why not sign up and get your questions answered ahead of the UCAS deadline in late January!
https://successatschool.us3.list-manage.com/track/click?u=2c038531b25876a2c7c9cf8b1&id=d424e77b57&e=7a807bdecc
You'll gain an insight into our impressive range of industry partners and get to discover the details of our degrees by attending our online subject talks.
Can't wait until January? Why not check out our on-demand open day at a time that suits you for a variety of content about life at Escape Studios:
Hear from Vice Principal of Escape Studios, Dr Ian Palmer
View showreels and award-winning student work
Listen to talks from our inspirational alumni
Undergraduate Open Days (pearsoncollegelondon.ac.uk)
Date: Saturday 14 January 2023
Time: 10:30am - 12:30pm
Location: Online only (Zoom)
Kings College London – Medicine & Dentistry Lecture Series Y11-13
Applications for our free online and national King's College London Medicine and Dentistry Lecture Series 2023 are now open! This programme is for students across the UK in Year 11, 12, and 13 who have only attended non-selective state schools since age 11 and are interested in becoming a doctor or dentist. Please circulate this opportunity to students who you think will be interested.
Over the course of the 14 lecture programme students will hear from a variety of speakers to help them make the best application to medicine or dentistry possible! Last year's lectures included the following:
Medical and dental specialities: cardiology, prosthodontics, renal transplant, and many more!
Q&As each week with current medical and dental students as well as a lecture dedicated to the student experience.
A session on other careers in healthcare with six professionals currently working and teaching in the sector (nursing, dietetics, clinical science, etc.)
September Q&A with key admissions colleagues in the schools of medicine and dentistry at KCL and UCL.
Lectures on the application process: the UCAT, personal statements, and interviews.
Lectures will be held on Tuesday evenings at 6-7.15pm and will run in blocks of three throughout 2023. The first three lectures will take place on the 31 January, 7 February, and 14 February. The remaining three blocks of lectures will take place in Spring and Summer.
For more information and to apply, students should follow this link. The deadline to apply is Friday 16 December 2022. https://kings.onlinesurveys.ac.uk/medicine-and-dentistry-lecture-series-2023-application-fo-3
If you have any questions, please feel free to reply to this email. We will also be posting further information about the programme on our social media channels. Please follow our Instagram @kclofmd for updates.
Jake Featherstone| Widening Participation Officer (Outreach for Medicine and Dentistry)
King's College London| 57 Waterloo Road | London | SE1 8WA
www.kcl.ac.uk
NMITE: BSc Sustainable Built Environment
The first degree to be held in NMITE's Centre for Advanced Timber Technology (CATT).
The programme has been designed to help educate a new generation of construction professionals and enable them to create a more sustainable future.
https://nmite.ac.uk/study/bsc-sustainable-built-environment
BIMM: A taste of life at BIMM

You'll get to watch live performances from BIMM bands, hear from current students, learn more about their industry-leading courses and facilities with expert lecturers, and find out from their careers teams how, studying at BIMM Institute can help you forge a career in the music industry
https://www.bimm.ac.uk/open-days/
Sheffield Hallam University: More than Meets the Pie Online Food Science Webinar
Don't miss out on the opportunity to join Caroline Millman- Senior lecturer in Food and Nutrition at SHU- for a virtual FREE UK Food Science Webinar!
https://leeds.onlinesurveys.ac.uk/food-science-webinar-sign-up
Oxford Brookes: Taster Days
Interested in attending university? Unsure on what university life is like and what the courses have to offer?
Why not visit Oxford Brookes University's for a Taster Day? You will have the opportunity to explore a range of themes from across their courses. All Taster Days give you the opportunity to engage in discussion with academics and current students, tour the university campus and hear about the career potential from the courses on offer.
https://docs.google.com/forms/d/e/1FAIpQLSfOhaRW1lkjTbtG_tgXV_39E7QOXUINSL9bNQoRLhNvMN3P3g/viewform?aa=aa&dm_i=BBQ,83L4X,1U6JUT,X5P5H,1
For more information about any of these opportunities, contact Mrs Wooller, Careers Leader, ewooller@littleheath.org.uk