Careers Bulletin 13 October 2023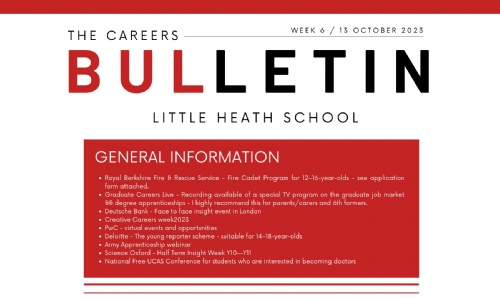 Upcoming Events this Term
· 161023 – UK Atomic Energy Authority in 6F Café at Lunchtime
· 171023 – Personal statement Clinics – Winchester University in S6
· 181023 – Y9 Bayer Science Trip
· 191023 – Mr Scott Rolph-Dickinson -Chartered Engineer talks to Y12 & Y13 in S2
· 200123 - Personal statement Clinics – University of West London in S4
General Information
Royal Berkshire Fire and Rescue Service Fire Cadet Programme.
12 to 16 Year olds
We are currently recruiting new Fire Cadets to join the Whitley Wood Fire Station Unit and would be very grateful if you could share this information with students, parents and carers.
The Fire Cadet Programme starts on Wednesday 1st November and will run until July 2024.
Fire Cadets is a youth initiative for 12 to 16-year olds and is run by firefighters, staff and volunteers with support from the Service's Safety Education Team. The Cadets programme seeks to be representative of the community it serves and we actively encourage individuality, diversity and inclusion Fire Cadets participate in practical and theoretical fire and rescue service activities, including hose drills, breathing apparatus procedures and fire safety awareness sessions. The scheme teaches young people essential life skills such as self-discipline, confidence and leadership
Courses take place at Whitley Wood Fire Station on Wednesday evenings, running from 7pm to 9pm. At the end of the course, the Fire Cadets will have a graduation ceremony, where they will perform drills in front of their family and friends, demonstrating what they have learnt during the course. Sessions consist of a combination of practical and theoretical fire and rescue service activities, including understanding how the fire and rescue service operates and learning about fire, road and water safety. The course is designed to be 80% practical, with all of our Cadet units using dedicated fire engines and equipment. The Cadets also have uniform and fire kit provided for the duration of the course. If you are between 12 and 16 years old and are interested in this opportunity, or if you know someone who would be interested in taking part, please email:
https://www.rbfrs.co.uk/latest-news/2023/we-are-recruiting-fire-cadets-could-you-be-one-of-them/
Please see attached application form
Graduate Careers Live!
Thursday 5th October 2023 - a recording of the event has been put on Satchel. A special TV programme for Year 13 sixth-form students on the graduate job market & degree apprenticeships.
Deutsche Bank
Insight Event London – suitable for Y13 students
Tuesday 21st November – 5.30pm – 7.00pm
Want to know more about the apprenticeship opportunities Deutsche Bank have to offer?
Come and join us at their London office for an evening where you'll have the chance to network with one of the world's largest banks! Learn about the apprenticeship programs the company offers and even apply right at the event!
What will I get out of it?
Learn more about Deutsche Bank and what they do.
Hear about the different programmes they offer.
Submit your application at the event! (Make sure you have an up to date CV to apply at the event).
Event Details:
Deutsche Bank Office, London, 5:30pm-7pm, All students interested in working for Deutsche Bank
Getting to the venue:
1 Great Winchester St,
London,
EC2M 5NG
Tube/Train:
Moorgate Station – 4 minute walk
Liverpool Street Station – 6 minute walk
Bank Station – 7 minute walk
——————————————————————————-
This event will be recorded by Pathway CTM any issues or questions please contact us via events@pathwayctm.com
If there are any adjustments that we can make for this event to be more accessible for you, please email: events@pathwayctm.com
Please Arrive 5 Minutes Early if Possible.
Register on the link below
https://pathwayctm.com/event/deutsche-bank-2-in-1-insight-event-london/
Discover! Creative Careers Week 2023
In previous years companies offered a range of practical experiences, from workshops, demonstrations, interactive tours, panel discussions and 'The Apprentice' style challenges.
Those that opened their doors included the National Trust, BALTIC Centre for Contemporary Art, Pinewood Studios, Northern Ballet & Phoenix Dance Theatre, Channel 4, Norwich Theatre Royal, Birmingham Museums Trust, Cockpit Arts, the Financial Times, Kudos TV, The National Archives, xsite Architecture, Royal Exchange Theatre Manchester, The Historic Dockyard Chatham, Colston Hall, Burberry and Hachette Publishing, plus many more.
https://discovercreative.careers/
PwC: Virtual Classroom Events
With information on their Flying Start Degree Programme, Apprenticeships and Work Experience.
This is your one stop for anything PwC.https://www.pwc.co.uk/careers/early-careers.html
Deloitte - The Young Reporter Scheme: Leading the next generation of journalists
The Young Reporter scheme is a school's programme giving students aged 14-18 an opportunity to write for a real live online newspaper. The programme runs for eight months during the school term, with various opportunities offered along the way. At the end of the scheme students are judged on the articles they have submitted throughout the year and an awards ceremony is held for the winners.
https://www.youngreporter.co.uk/
Post 16 Options - The Parent Perspective
Episode 6 kicks off the first of a 3-episode run called 'Options October'. Today, it's about post-16 options (after GCSEs) - use our handy Post-16 options comparison table (attached) while you listen in!
Rachel's guests, Lisa and Laura, provide invaluable insight from 3 key viewpoints - Lisa as a College Principal and Laura as both a teacher and a parent.
Listen in as we cover everything from A Levels to apprenticeships and many more along the way.
https://amazingapprenticeships.com/resource/the-parent-perspective-podcast-s3-e6-the-options-post-16/
Army Apprenticeship Webinar
For young people interested in apprenticeships with the British Army, (and those supporting them!) join us on the 7th November at 4pm for a webinar about the Army Foundation College Harrogate (AFC Harrogate) and how the college helps 16 – 17-year olds prepare for a career in The British Army.
You'll gain invaluable insight into the extensive range of apprenticeships, the application process and hear from current and former apprentices!
Register now: https://amazingapprenticeships.com/apprenticeships-with-the-british-army/
Science Oxford- STEM Half Term Insight Week Y10 & Y11
23rd to 27th October; 9am to 4pm at the Science Oxford Centre
Applications close on Monday 16th October
Register now for STEM Insight Week this half-term. Do you have Year 10 and 11 students interested in a future in STEM? Encourage them to sign up to Science Oxford's exciting STEM Insight Week to get a first-hand look into a range of fascinating careers.

To apply, simply fill out the registration form here: https://scienceoxford.com/schools/secondary-schools/insight-weeks/?mc_cid=b664a4b13c&mc_eid=a2087230cd

What will students gain?
STEM Insight Week offers a unique, career-focused experience. Students will:
Meet a variety of people working in STEM, including those from energy specialists Habitat Energy, and engineering consultancies Ricardo and Hoare Lea.

Develop skills for higher education and the world of work through workshops covering topics such as mindfulness, interview skills and CV writing

Participate in Oxford Instruments' STEMFest, an afternoon festival packed with fascinating speakers from academia, start-ups, and industry giants, and an interactive 'innovation zone'.
What have students said?
"A fantastic opportunity to get an insight into amazing companies."
"I have learned about a range of careers in STEM and skills to help me excel in the workplace."
"I've developed communication, leadership and teamwork skills."

Please apply here: https://scienceoxford.com/schools/secondary-schools/insight-weeks/?mc_cid=b664a4b13c&mc_eid=a2087230cd

If you have any questions about our STEM Careers programme, please get in touch at STEMCareers@scienceoxford.com.
The National Free UCAS conferences for students interested in becoming doctors
Students will be awarded a certificate of attendance which can be listed on their Medical School UCAS applications for 'activities that support higher education'. The events have marked a valuable turning point for students and are open to students from any school and background in 10-12-year groups.

Conference Registration Form: https://airtable.com/appgXnyzN5ZD9Iwk6/shry7MZYtt3MGPjvO

Upcoming Dates: Saturday 28th October, Sunday 29th October, Saturday 4th November

The Get into Medicine UCAS Conference is a comprehensive guide to the medical application process. The doctors and medical students will cover:
Application Timelines
How to Tactically Choose Medical Schools
CV Building
Personal Statements
Medical School Interviews
UCAT - Entrance Exams to Medical School
Medical Leadership and Awards Programmes
Accessing Work Experience
Accessing Scholarships

We strongly encourage all students to make the most out of this free opportunity that has helped thousands of students secure medical school places since it launched: https://medicmentor.org/successful-student-journeys-reviews/

Here's how the day will run:
9:30-10.00 Registration
10.00-11:00 Quick introduction to Medic Mentor, overview of the day, competition ratios, application timeline, Awards and Scholarships
11:00-11:15 Break
11.15-11.45 Introduction to the UCAS application form and entry requirements
11.45-12.15 Interactive CV building exercise and exclusive access to leadership, research, presentation, publication, prizes and scholarship opportunities
12.15-12.30 Top tips form a successful applicant (medical student)
12:30-12:45 Break
12.45-13.30 How to write the perfect personal statement
13.30-13.45 Break
13.45-14.10 Entrance exams - how to do ace the UCAT
14.10-14.30 How to prepare for Medical School interviews
14.30-15.00 Top tips form a successful applicant (medical student) and next steps

One booking = one booking for a student + their parent/guardian.

Getting into medicine may seem impossible to many students, but we're here to break down the entire process into actionable steps. Our Chief Mentors look forward to meeting your students at our conference!

Employment
Grant Thornton
Grant Thornton, based in Reading, Bristol, London etc have opened their application window for apprentices and graduates. This would suit students interested in Finance, Tax and advisory.
https://trainees.grantthornton.co.uk/trainee-positions/category/apprenticeships/?PageIndex=2&OrderBy=1&keyword=
Work Experience
Cats Protection Charity Shop
Tilehurst Triangle – Volunteering Opportunities Available
Opportunities available for age 14+ for Duke of Edinburgh scheme, Citizenship programmes, work experience or just to support the charity. Call into the shop to pick up an application form.
InvestIN Work Experience Programmes
InvestIN is a London based organisation that provides students aged 12-18 with an immersive experience of their dream career, offering programmes in London, Manchester and Dubai. They have programmes in Medicine, Investment Banking, Entrepreneurship and Fashion to name a few. There is a cost to this, LHS receives a discount so please contact me if you wold like the discount code.
https://investin.org/collections/our-programmes
Dentons: Work Experience
Experience Dentons starts by introducing law, the commercial world and to Dentons as a firm. Then, as you progress through the programme, you will complete work related to each of their key practice areas, honing both your technical and commercial skills. By the end of Experience Dentons you will have completed a range of meaningful activities, gained insight to insider information from Dentons, which will help boost your LinkedIn profile and CV.
https://challengers.dentons.com/uk-apprentices/the-programme/experience-dentons/
KPMG: Discovery Work Experience
The Discovery Work Experience programme has been designed for pupils who are – aspirational, curious and enthusiastic. As well as giving you the chance to gain an invaluable overview of the professional services sector, this programme will give you an excellent insight into the work they do, their culture and people – and provide you with some interactive learning opportunities to enhance your employability skills.
https://www.springpod.com/virtual-work-experience/the-world-of-the-british-library/WEXP-00037?queryID=f0c6613d7e1a3817d526d9a9090a5829
Legal Work Experience in London – October Half Term
25th October 2023
Calling all aspiring legal professionals, solicitor apprentices and anyone who's considering a career in Law, we have something VERY exciting lined up for you this October Half Term - Young Professionals x City Century Legal Work Experience is coming for you in London!
This is an in-person Work Experience Day taking place on Wednesday 25th October at the prestigious Queen Elizabeth II Centre in the heart of London!
We are thrilled to announce that Young Professionals have teamed up with City Century which is a collaboration of over 50 leading London law firms who are all coming together to provide invaluable insight events, work experiences and solicitor apprenticeship opportunities for students up and down the country.
Never before has the legal industry seen so many law firms all coming together with a mutual goal - to help thousands of students around the UK find out how to secure their dream jobs within a City law firm! This is your chance to be in the same room as some of the senior leaders at each of these incredible law firms to learn from their experiences, ask any burning questions, network and ultimately take the first step to secure your dream job!
On Wednesday 25th October, we will be holding an in-person work experience day where students will get the chance to come face to face with the 40+ law firms, experience panel discussions, hear some inspiring keynote presenters, as well as have plenty of opportunities to network and build up your personal legal connections to help you start your journey to a very bright future.
This is set to be the biggest in-person student law event to ever take place in London so spaces are in high demand and are very limited. Please note, there are two sessions taking place during the day, a morning session from 9:30 AM – 13:00 PM and an afternoon session from 14:00 PM – 17:30 PM. On the application link below, please select your preferred time slot. Please note, the sessions are exactly the same so please do not apply to both sessions.
Please check with your parent/guardian, consider your travel arrangements, and check your diary to ensure you can attend before applying.
Application Link:
https://www.surveymonkey.com/r/CityCenturyLawEvents
Colleges
Local College Open Days Listing
Please see attached and also some new information recently received below:
Langley College
Wednesday 4th October 4pm-6:30pm
Wednesday 22nd November 4pm-6:30pm
BCA and Langley Colleges are also running Y10-13 taster sessions across the year, which individuals can book on to through our website to sample any of our courses.
Strode's College
Thursday 19th October 4:30pm-7pm
Windsor College
Tuesday 17th October 4:30pm-7pm
Reading College
We just wanted to let you know that applications for Year 11s to apply for Activate Learning college courses starting in September 2024 are OPEN!
When viewing a course page on the relevant college website, students will see a blue 'Apply now' button, which will direct them to our Application Portal. Please remind students to:
Use an email address that they have regular access to when creating their account.

Provide up to date contact details, including for parents (most information is duplicated to parents to ensure families receive all updates)

Add the Activate Learning number as a contact in their mobile phones so that they know when the Advice & Admissions Team is telephoning them: 0800 612 6008 (this is an essential part of the application process)

Check their emails regularly and always follow up if something doesn't seem right with their application.

Only apply for a maximum of two full-time courses (we will adjust the level if needed during the application process)

Provide accurate information about predicted GCSE grades and additional support needs where applicable.
Students can also apply for courses when attending one of our Open Events.
Please do let me know if you have any questions at all, or if you would like to book an application session during school time for your Year 11s. The application window is open until the end of July 2024; however, we recommend applying as soon as possible so that students receive invitations to all touch points with their chosen college throughout the academic year and are not trying to submit applications during exam season.
University Information
Discover Uni: Earnings and Employment
Thinking about your job prospects can be helpful in deciding between courses, particularly if this is your main reason for studying at this level. The Discover Uni site has some ideas of what to think about and suggests information that can help.
https://discoveruni.gov.uk/how-do-i-choose-course/employment-prospects/
Canterbury Christchurch University: Open Days & Ask International Live
Develop the skills employers really want. CCC University has a strong reputation for graduate employment and ranks above the national average for graduates in highly skilled employment.
https://www.canterbury.ac.uk/study-here/applying/visit-us
OxBright Essay Competition 2023
Test your academic skills with the OxBright Essay Competition. Designed for bright 15-18 year olds, the competition will challenge you to go beyond the school curriculum and think about the future of your subject. Think big, stretch yourself – and stand out from the crowd when the time comes to apply to university.
Deadline for submissions 15 October 2023
https://www.oxbright.org/resources/essay-competition/
UK University Search Fairs: London Autumn 2023
19th October - Tottenham Hotspur Stadium
This exciting and informative event will provide attendees with the opportunity to speak to a multitude of exhibiting universities and apprenticeship providers. These will include; Russell Group, red brick and modern institutions, as well as apprenticeship providers and local colleges.
The fair will feature a wide range of vital seminars including: UCAS Personal Statement & Application Advice, Why take an Apprenticeship, Choosing a University Course, Higher and Degree Apprenticeships and Student Finance.
https://www.ukuniversitysearch.com/fair-signup/london-autumn-2023
Lancaster University: Black History Month 2023
This year's theme is 'Before Windrush' - an exploration of the lives and stories of the Black Britons
who were living in the UK before the arrival of the Empire Windrush in 1948.
https://forms.office.com/pages/responsepage.aspx?id=Ec2bnHqXnE6poLxzQJAWSuT3v3IHC5dIsYUSz80dK9JUQ0xMVVhGT1pXWkZMWE9EUlM5M1RBQVBFQy4u
Reading University
School of Chemistry, Food Sciences and Pharmacy Taster Day
Thursday 26 October 2023
This exclusive taster day offers your students the opportunity to meet current staff and students, explore campus and the benefits of studying at Reading, and participate in three distinct sessions highlighting the exciting worlds of Chemistry, Food & Nutritional Sciences, Pharmacy, Pharmacology & Physician Associate.
These sessions will offer hands-on experience of these subjects and provide attendees with an understanding of the course content and what it's like to actually study these subjects at University-level. To find out more, please do book to attend via the link below:
https://emailer.reading.ac.uk/p/4R68-DA2/scfp-taster-day?dm_i=4R68,V2KN,GLNWT,3X1WV,1
Reading University – Last Open Day 14th October
We're looking forward to showcasing everything the University has to offer at our last Open Day of the year and bookings are still open!
Attendees will have the opportunity to chat to current staff and students, experience subject talks and learn more about student life. This includes student funding, accommodation, the students' union and, of course, the chance to look around our Whiteknights and London campuses.
Click the links below to be taken straight to our booking form now.
https://www.reading.ac.uk/ready-to-study/visiting-and-open-days/opendays?dm_i=4R68,V2KN,GLNWT,3X1WS,1