Careers Bulletin 17 November 2023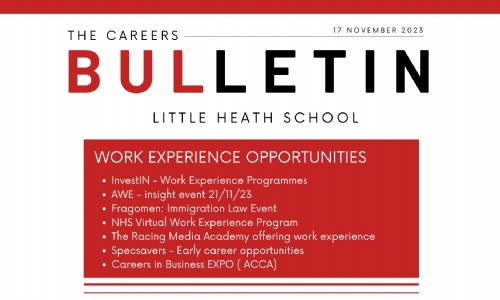 201123 – Y12 Physiological Disorders Presentation by Healthreach
201123 – Y11 Apprenticeship Awareness Assembly
211123 – Y12 & Y13 Capgemini Mock Interviews with Computer Science class (tbc)
231123 – Y11 Mock Interviews
241123 – Y10 Bayer Trip – Photosynthesis Workshop.
General Information

What's a day in the life really like at work?
You are invited to Unifrog's 'day in the life' series of webinars, led by employers such as the Met
Office, NHS, and Allen & Overy. You will learn about the key skills needed to succeed and how to
get in to a career in engineering, teaching, tech, healthcare, or law.
https://www.unifrog.org/teacher/webinars
Employment
Early Years Level 3 Apprenticeship – Acorns Nursery
I work at Acorns Nursery School, which is a pre-school located at the bottom of Langley Hill (we used to be located on Wittenham Avenue but moved in 2015) and we are looking to provide an apprenticeship from September 2024 with a view to supporting, mentoring and then employing a successful EY Level 3 candidate.
For more information please refer to their website:
fis.westberks.gov.uk or pop in and see me .
Work Experience
InvestIN Work Experience Programmes
InvestIN is a London based organisation that provides students aged 12-18 with an immersive
experience of their dream career, offering programmes in London, Manchester and Dubai. They
have programmes in Medicine, Investment Banking, Entrepreneurship and Fashion to name a few.
https://investin.org/collections/our-programmes
What will you do this summer?
Watch the InvestIN Summer Experiences in action
https://www.youtube.com/watch?v=kqqciQwyIp0&utm_source=InvestIN%20Students%20and%20Parents&utm_medium=email&utm_campaign=Summer%20Trailer%20Launch%202023%20-%209th%20Nov%20%2801HE5BN3M6F6NVG71GED80Y1R8%29

AWE: Insight Event 21/11/23
AWE are a high security organisation that are part of the United Kingdom's Ministry of Defence.
During this event you will learn about the organisation as well as the defence industry, and you will
have the opportunity to take part in a hands-on top-secret workshop. AWE will also be launching
some brand new apprenticeships, so if you have an interest in working for the government and
would like a future career in this sector then this will be ideal for you.
https://www.surveymonkey.co.uk/r/5FPQYM3
Fragomen: Immigration Law School Event
Fragomen are the world's largest corporate immigration lawyers and they are excited to invite you to their law school which will take place across 2 evenings in November! Fragomen's immigration
school has been hugely successful in the previous three years and is packed full of content, amazing
senior speakers from the law industry as well as providing you with lots of networking opportunities.
https://www.surveymonkey.co.uk/r/FragomenLawSchool
NHS Virtual Work Experience Programme
Sunday 3rd December
Offers a perfect opportunity for students to engage with AHP professionals, gain in-depth insights,
experience a patient's journey from health concern to recovery, and receive a work experience
certificate that is invaluable for UCAS applications.
https://alliedhealthmentor.org/nhs-healthcare-careers-virtual-work-experience/
The Racing Media Academy
The Racing Media Academy for those people who love the idea of working in racing, sports, and
media. The Racing Media Academy gives its students the opportunity for work experience and
training within racing's top media houses. An intensive week's training has been designed at The
British Racing School, where students will get an insight into the world of horse racing and learn
about the different areas of the media.
https://racingmediaacademy.com/
Specsavers: Early Careers
Open your eyes to a career in Optometry and start seeing things differently!
Would you like to discover a fantastic career which will use your STEM skills to the full?
Optometry offers a career as a respected healthcare professional, great pay and benefits,
opportunities to make a difference in the local community and the opportunity to work with cutting
edge technology with the chance to change people's lives every day.
Did you know Specsavers can offer a bursary to support your journey into Optometry?
https://join.specsavers.com/uk/inside-specsavers/bright-futures-bursaries-available-across-stores-in-the-uk/?utm_source=Parents&utm_campaign=1359ec58e7-EMAIL_CAMPAIGN_2023_08_30_10_47&utm_medium=email&utm_term=0_-1359ec58e7-%5BLIST_EMAIL_ID%5D&goal=0_075a5d0dae-1359ec58e7-212161375&mc_cid=1359ec58e7&mc_eid=efb94c2c83
Careers in Business Expo hosted by ACCA and Success at School
This opportunity enables pupils to establish connections with employers and experts in diverse
careers across the UK, allowing them to share valuable information about all aspects of the business
world.
https://www.eventbrite.co.uk/e/careers-in-business-expo-hosted-by-acca-and-success-at-school-tickets-709422540917?aff=oddtdtcreator&utm_source=eventbrite&utm_medium=referral&utm_campaign=expoevent&utm_content=uk&goal=0_f09eb3b2c8-20a3515df6-212009417&mc_cid=20a3515df6&mc_eid=efb94c2c83
University Information & Summer Schools
Aston University: Health and Life Sciences Taster Sessions: Nursing Taster Session
Wednesday 13th December, 12:00-14:30
Working as a nurse is an incredibly rewarding career. This taster event will give you the chance to
find out more about becoming a Nurse as you meet the Nursing academic team who will explain
what the Nursing degree at Aston University will entail. There will also be a Q&A session with
academics so you can get your questions answered, a sample lecture and a tour of the clinical space
https://app.geckoform.com/public/#/modern/21FO00qzrzxzqh00443j8xm39t?level_of_study=Undergraduate&field448=Website%20form&field447=Enquirer
Leicester University: Understanding Black Holes Webinar
Embark on a cosmic journey as the University of Leicester explore the strange world of black holes.
Join this explorative webinar, where you'll find out how astronomers discover black holes of all
sizes, study the exotic physics near the event horizon, and the impact that black holes have on stars
and galaxies. Using Physics and Maths, experts at Leicester discuss what happens in the vicinity of a
black hole and the role black holes play in cosmic evolution.
https://www.unifrog.org/teacher/webinars/upcoming/873-understanding-black-holes
Southampton University: Social media, fake news and conspiracy theories, let's talk ethics
What can we learn from conspiracy theories, fake news and their impact on social media? Join
academics from the University of Southampton who will share how a Liberals Arts degree allows
you to tackle real world challenges from several different perspectives including Archaeology,
Sociology, English, Film, History, Languages, Music, Philosophy, and Politics.
884 Social Media Fake News And Conspiracy Theories Lets Talk Ethics - Upcoming - Webinars - Teacher - Unifrog