Careers Bulletin 20 January 2023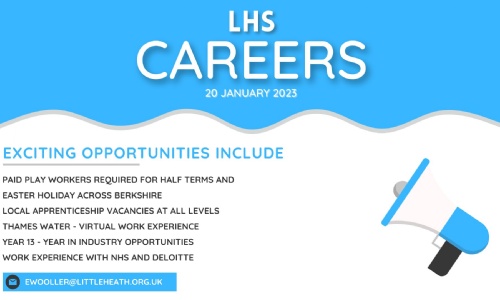 Upcoming Events
Vodafone - Y9 Hospitality Trip to contract caterers Garner & Garner 230123
Army Insight Day – Y10 Periods 1 – 4 Main Hall & Activity Studio 230123
Healthy Market Place – Sixth Form Café 1pm – 1.25pm
Parliamentary Talks – Whole school main hall 240123 & 250123
West Coast – employment opportunities – Sixth Form Café 1pm 310123
"What's my Line of Work?" – Y8 Main Hall 270123
Environmental Speaker Mr Ed Winters Y12, Y9, & Y8 300123
Y8 Options workshops 310123
First Aid Training Course Y12 Main Hall 010223 & 020223
Oxford International Biomedical Conference Y12 Biologists 030223
Purley Park Trust speaker on Social Care Y12 P4 R4 060223
Pharmaceutical Speaker 060223
Legal rights & responsibilities in the workplace Y10 080223 date tbc
Employment
Solicitor Apprenticeship
Osborne Clarke are looking for Solicitor Apprentices to join in Reading in September 2023. Solicitor Apprenticeships offer the opportunity to study an undergraduate law degree and train as a Solicitor whilst earning a salary, without the cost associated with going to university.
Find out more at our open evening for students and parents/carers:
Wednesday 8 February 2023 at 5.30pm
At – Osborne Clarke, 3 Forbury Place, 23 Forbury Road, Reading RG1 3JH
To secure your place sign up here - https://forms.office.com/e/Fd27cyrQ7H
Additional information can be found online at https://www.osborneclarke.com/solicitor-apprenticeship/
Funtastic – Half Term & Easter Job Opportunities for Sixth Formers
Funtastic Kids is currently recruiting individuals to work as Sports Coaches and Playworkers at our Holiday Camps during February Half Term and/or Easter. Roles are available across Berkshire, but we are particularly looking for people who can work as Playworkers at our locations in Wokingham, Bracknell and Finchampstead.
Role descriptions:
Sports Coaches: Deliver fun and educational sports sessions to children aged 3-14. A Sports coach qualification is desirable but not essential.
Playworkers: Assist with the overall running of holiday clubs and help to deliver our creative-themed timetables, as well as supervise and support the children throughout the day.
Our teams are friendly, welcoming and supportive, making a role with Funtastic Kids a fulfilling (and fun) way for students to gain valuable work experience and earn money in a way that fits around their studies!
An application form for each role can be downloaded from:https://funtastickids.co.uk/vacancies
Application forms can also be requested from marketing@funtastickids.co.uk
Invesco - Fixed Term contracts for school leavers.
One Year Fixed Term contracts available for Y213 students – applications now open Free bus service available from Reading Station to their office in Henley.
I've listed the roles below, along with their locations and the links to the applications:
UK Pensions and EMEA Consultant Relations Trainee
RFP Administrator

Location: Henley-on-Thames

Junior EMEA ETF Product Management Analyst
Internal Communications Trainee

Location: Henley-on-Thames

Junior AML Officer

Location: Henley-on-Thames

GDS Team Administrator

Location: Henley-on-Thames

Junior Technology Associate
Trainee Associate, Investment Operations
There will potentially be another 2 vacancies (one in Risk, and one in Talent Acquisition/Learning & Development (HR)), but these are not yet confirmed.
Vodafone – Applications open
Applications are open now for their apprenticeship programmes
https://careers.vodafone.co.uk/apprentices?utm_source=Not_Going_To_Uni&utm_medium=Email&utm_campaign=2228_VF_Apprenticeship&utm_content=Targeted_Email&dm_i=4CV9,1GE66,127B1P,6T8UU,1
General Information
RICS – Royal Institution of Chartered Surveying
What is it like to be a surveyor?
The Royal Institution of Chartered Surveyors' (RICS) is excited to provide your students with the unique chance to learn more about the range of opportunities available within the surveying sector via digital mentoring!
Surveying is one of the most varied and rewarding jobs globally and offers:
The opportunity to develop transferrable skills
A chance to see the world whilst using state of the art technology.
The RICS Connectr portal will not only support your school in meeting Gatsby Benchmarks 1, 4 & 5, it will also give your KS4 & 5 students the opportunity to be supported on their self-development journey, whether that be academically or personally. The portal provides:
Access to digital mentors (RICS members). Students can meet different mentors and ask questions relating to their day-to-day job, routes into the sector and industry knowledge.
Information about the wider surveying sector, the type of roles available and information about internships and work experience as well as, apprenticeship programmes.
Real life case studies and learning about current projects including a spotlight on the role of technology.
Bite sized learning content to help student understanding. Content can be used to compliment topics covered in Geography, Math, Design and Technology and Physics alongside your schools Careers Education programme.
Everything your students need to sign up and start talking to a mentor is within a fully secure and safeguarded platform, Connectr. Students send the first message, and they will then receive a notification via their email when they get a reply from a mentor
Sign up to the Connectr portal: https://rics.connectr.co.uk/surveyors/?utm_source=Schools&utm_medium=Email&utm_campaign=RICS++Schools
Free Online Electronics Course – Ages 15-18
Developed by the UKESF, in collaboration with the University of Birmingham, the course covers key theoretical and practical concepts using interactive examples, including the basics of component level design from resistors to amplifiers, investigating how we power satellites in space and examining real-world control systems in action.
The course will introduce your students to the exciting subject of Electronic Engineering, help them to make an informed decision about their career choices and degree subject, and strengthen their application for university, college, or an apprenticeship.
The course takes approximately three hours a week over three weeks, and is self-paced.
We would be grateful if you could share the details with any of your students who might be considering a career in Electronics and Engineering.
Full details here: https://www.ukesf.org/schools/things-we-are-doing/an-introduction-to-electronic-engineering/
Thames Water - Virtual Work Experience
Students will go into detail about how Thames Water is working hard to play their part in achieving the UN's 17 sustainable development goals, and learn about biodiversity too.
They will explore how STEM helps Thames Water revolutionise water treatment, from utilising cutting-edge technology to employing the best engineers to ensure processes go smoothly and safely.
Students will find out everything about how award-winning apps are made, to how Thames Water is embracing all tech at its disposal to bring them and customers closer together.
Apply here: Thames Water Work Experience (springpod.com)
NHS Careers Untapped Webinar
NHS Careers Untapped is an innovative project funded by HEE in London and the project group is a collaboration of 10 London trusts leading on the development of podcasts, videos and webinars on lesser known careers in the NHS.
The next NHS careers untapped webinar is focusing on Allied Healthcare Professions and Healthcare Science and is being held on Wednesday 25th January from 4.30-6pm. This webinar will showcase roles including Podiatry, Radiography, Play Specialist, Mammography, Bioinformatics and many more. Working for the NHS doesn't mean you have to be a doctor or nurse, and the aim of this event is to show you how other careers contribute to our wonderful healthcare service.
This 90-minute free webinar is for young people aged 13-18, anyone interested in understanding careers in healthcare, and careers advisors who want to know more about the lesser-known roles in healthcare.
To register for this fantastic event please click here: https://gosh.zoom.us/webinar/register/WN_rPZFzUceREu5oy1bVC-DWw
Accountancy Online Information Evening - Tuesday 7th February. 6.30 to 7.30pm
First Intuition is an "Outstanding Provider" of apprenticeship training in the Finance Sector. We offer training both through apprenticeships and commercially and have worked with a number of accountancy practices and industry employers in Hampshire, Dorset and Southampton over the last 13 years. We have Campuses in Reading and Southampton. https://www.fi.co.uk/
I would like to invite your pupils and their parents to our free online Accountancy information evening on Tuesday 7th February. 6.30 to 7.30pm.
This evening will explain the various routes into accountancy including entry at 16, 18 and post-graduate as well as apprenticeships and commercial study routes. We will discuss the various qualifications within the profession and the possible careers post qualification.
This evening will be relevant to anyone who is interested in a career in business, finance, or accountancy and who is choosing A levels or deciding whether to go to university.
To register for the free event please click the following link.
https://firstintuition-co-uk.zoom.us/j/97535786648
New Careers Website for students interested in Physics
PlanetPossibility.co.uk Is a new physics careers website, funded by the Institute of Physics, run by a team of consortium partners, including AllAboutGroup, The University of Southampton, The University of Birmingham, Future First and The Blair Project.

The website is part of the Planet Possibility consortium's overall programme that focuses on building a diverse community of future physicists through inspiration, opportunities and careers guidance! https://www.planetpossibility.co.uk/
Virtual Routes into STEM students in Year 9 & 10
It is not too late to apply for our February half-term 2023 Virtual Routes into STEM course. This unique course offers a content for students in England, Scotland and Wales covering:
College Life, University Life as well as Apprenticeship routes in the different settings of college, university and industry.
Live sessions to meet and ask questions to STEM students, ambassadors and industry professionals.
Workshops in various sectors such as:
Design and the Built Environment with Arup, Murphy, Balfour Beatty and others.
Transport and Flight with BAE Systems, Network Rail, Leonardo etc and Studying Aerospace Engineering at University.
The future of Technology by WCIT, studying IT at college and university, Phyton Tutorial and more!
The Future of Medicine at University, GSK and NHS Careers.
The Electric Revolution and Net Zero Explained by Innovate UK, Siemens, Rolls-Royce and many more!
Energy including Babcock International, Cory Riverside Energy, Bechtel etc.
Problem Solving – Maths and Forensics including Maths at University, Maths Careers, Forensic Science etc.
Places are limited so if you haven't applied yet, do not delay and apply by the 23rd January!
https://www.etrust.org.uk/routes-into-stem-read-more
Students interested in Law
BVL is a 10 year old charity that works to improve social mobility in the legal profession. We organise projects to give opportunities to state school students to understand the legal profession and gain experience to put on their CVs and personal statements. Please view our short 'Who are we' video https://www.youtube.com/watch?v=0aT7C9v3uxM&ab_channel=BVL
All of our projects are completely free of charge and open exclusively to state school students. More information about these projects is below and on our website: https://www.bvl.org.uk/
Presentation on pursuing a career in law:
https://www.dropbox.com/s/we345hxoi3azods/BVL%20-%20Have%20you%20considered%20a%20career%20in%20law_.pptx?dl=0
Upcoming BVL Projects
(1) Supreme Court Mooting Competition, deadline for applications: end of January 2023. Details on competition and how to apply here: https://www.bvl.org.uk/mooting
-competition.
(2) Aqeel H Noorali Essay Competition, deadline for submissions: 31 March 2023. Details on competition and how to enter here: https://www.bvl.org.uk/aqeel-h-noorali-essay-competition. Students can sign up to receive occasional reminder emails about the deadline, here: https://bvl-law.typeform.com/to/ktAIxbOp.
(3) Introduction to the Legal System Programme, deadline for applications: 6 April 2023. Details about the programme and how to enter, here: https://www.bvl.org.uk/introduction-to-the-legal-system-project.
For more details on these projects, please email me directly: ewooller@littleheath.org.uk
Solicitor Apprenticeships: The Low-Down 7 February 16:30 - 17:30
Learn all about life at CMS; an inclusive, global law firm. Hear from our current apprentices and get the low-down on their experiences. Quiz them on their journey and find out if a Solicitor Apprenticeship is right for you.
Solicitor Apprenticeships: Secrets to Success 9 February 16:30 - 17:30
Interested in applying but don't know where to start? Come and hear from the Early Talent Team about how to stand out from the crowd or quiz current apprentices on how they secured their dream job at CMS.
Sign up here: https://meetandengage.com/cmsearlytalent
Applications are now open, find out more here: https://www.cmsearlytalent.com/programmes/solicitor-apprenticeships/
Year in Industry Opportunities for students in Year 13
If you are a school leaver considering a structured and paid gap year to enhance your university or apprenticeship application, join our next FREE webinar session, as it may be a useful additional resource for you.
Webinar: EDT Year in Industry (YINI) Placements Open Day
Date & Time: Wednesday 18th January 2023 at 4-5pm
Zoom link: https://us06web.zoom.us/webinar/register/WN_iNtMbdqhTquTmpQgw_5wCg
YINI offers a free resource when searching for a year-out paid placement and has been helping students for over 35+ years. Find out how the scheme can help you in searching for a paid placement, as well as how we support each student during their placement. Plus, hear from our YINI Team and currently/former placed YINI students talk about their placement experiences.
To access EDT Year in Industry (YINI) Placements webinar timetable and see other available dates, please visit https://www.etrust.org.uk/yini-careers-events
NHS Work Experience – Virtual – Sunday 5th February
Registrations for the NHS Allied Healthcare Work Experience Programme are open for our next session on Sunday 5th February. This programme is suitable for students in years 10-13 interested in working in healthcare.
Registration Link: https://alliedhealthmentor.org/product/live-virtual-work-experience-programme/
The NHS Allied Healthcare Virtual Work Experience successfully invited 12,000 students to participate in its programme last academic year, making it the largest programme for students who are considering the following careers:
Nursing
Midwifery
Paramedicine
Physiotherapy
Occupational Therapy
Dietetics
Radiography
Prosthetics and Orthotics
Speech and Language Therapy
Pharmacy
Registration Link: https://alliedhealthmentor.org/product/live-virtual-work-experience-programme/
Once they've registered, students will be emailed links to their virtual work experience portals. Students are awarded a Work Experience Certificate for every session they complete. Those who complete the full 5-month programme will be awarded a Highly Commended Reference from the Presidents of Allied Healthcare Mentor. These are fantastic additions to their CVs!
During the work experience day, students will follow 2 patients from their initial presentation to recovery. They will gain a unique insight into how patients interact with a variety of healthcare professionals and what it's like to work in an NHS multidisciplinary team.
Attendees will have the opportunity to interact with healthcare professionals throughout each day. This will empower students to make informed career decisions and demonstrate their commitment to healthcare in their UCAS applications.
Students can register individually at any time throughout the 5-month programme using the link below. We recommend booking early to gain as much out of this programme as possible. Places are £10 a session to cover administrative and technological costs.
https://alliedhealthmentor.org/nhs-healthcare-careers-virtual-work-experience/
Enquiry Form: https://airtable.com/shrM6UPT8Z2uxx7OL
Allied Healthcare Mentor Helpline: 01530 417299 (Open 10am - 5pm Monday - Friday)
Deloitte – Work Insight Programmes
Career Shapers: Summer programmes are open!
Discover your future
If you're a student in year 10, 11 or 12 making the right career choice is probably on your radar already. If you're not sure where to begin or want to test out your talents to see where they fit best, then our Career Shapers days are for you. We have a number of dates available and have just opened for our Summer programmes this week.
Our year 10/11 Career Shapers programmes are hosted online on:
13th and 14th February 2023
3rd and 4th April 2023
24th and 25th July 2023 (applications have just opened)
Our year 12 Career Shapers programmes run in person, with one virtual event:
Reading: 15th-17th February 2023
Applications for Aspire 2023 are now LIVE!
We believe that it's not about where you're from – but where you're going. In a world of inequality, helping to redress the balance has never been more important. Shaping a fairer society that values everyone is a priority for us – and ASPIRE is part of that.
What is Aspire?
Aspire is a 3-day immersive programme for students in Year 12. It's designed to excite school students about the huge possibilities on offer here, no matter what their background.
By attending students will discover what it is like to work at Deloitte, attend employability skills sessions, find out about opportunities at Deloitte such as our BrightStart Higher Apprenticeship, network with various employees from different service lines and much more…
Who is eligible to apply?
To apply, students need to be in a state school in:
Year 12 in England or Wales
They'll also need to be on track to achieve at least a Level 4 GCSE in English Language and Level 5 GCSE in Maths, as well as meet one or more of the following criteria:
The occupation of their main household earner when they were aged 14 is categorised as a lower socio-economic background or
Are/have been eligible for free school meals or
Attend a school that's above the regional average in terms of the number of students eligible for free school meals or
They would be the first member of their immediate family to attend university.
When & Where
We will be hosting three events this year. Two in person events and one virtual event. Each event is 3 days.
ASPIRE Virtual Event: Monday 26th – Wednesday 28th June 2023
ASPIRE Birmingham: Monday 3rd – Wednesday 5th July 2023
ASPIRE London: Monday 10th – Wednesday 12th July 2023
For ASPIRE in-person events, we will cover reasonable travel costs (for example journeys up to 1 hour each way). There are no overnight stays for these events.
Students will take a closer look at Deloitte life and get to grips with what each of our business areas does. They'll get to take part in immersive case studies, develop life skills and benefit from employability sessions that'll help to set you up for your future career.
How to apply?
Applications are open until the 31st March. Please note, applications may close earlier should we reach maximum applications before the closing date.
Visit our website to apply now. https://deloittecandidate.ambertrack.co.uk/studentprogrammes2023/createaccount.aspx?Application_Programme=ASPIRE&Application_CareerPath=ASPIRE&Application_MediaSource=Deloitte%20Careers%20Site&cookieCheck=true
To find out more about our work insight programmes, head to this link https://www2.deloitte.com/uk/en/pages/careers/articles/early-careers-programmes.html?utm_source=deloitte&utm_medium=click-tracker&utm_campaign=deloitte-ecr-fy23&utm_term=smrs&utm_content=see-prospecting-1x1-general-school&dclid=CPrPkaSb1vwCFcGx1QodAEUJ1A
Please note offers will be made on a first come first served basis, therefore please do apply as soon as possible to avoid disappointment.
College Information
Activate Learning Open Events
Our Spring Open Events are fast approaching! If you have students who have applied but not visited campus, OR who have not yet finalised their decisions and applied, please do encourage them to make use of these opportunities. Open Events allow students to see our wonderful facilities and speak with expert teaching staff about their decisions. Places can be booked using the following links:
Guildford College: Wednesday 1 February (16:30-19:30)
https://www.eventbrite.co.uk/e/guildford-college-february-open-event-tickets-475105141267
Merrist Wood College: Wednesday 22 February (16:30-19:30)
https://www.eventbrite.co.uk/e/merrist-wood-college-february-open-event-tickets-475136485017
Farnham College: Wednesday 8 February (16:30-19:30)
https://www.eventbrite.co.uk/e/farnham-college-february-open-event-tickets-475115873367
Reading College: Wednesday 22 February (16:30-19:30)
https://www.eventbrite.co.uk/e/reading-college-february-open-event-tickets-475131841127
Bracknell & Wokingham College: Wednesday 1 March (16:30-19:30)
https://www.eventbrite.co.uk/e/bracknell-and-wokingham-college-march-open-event-tickets-475143415747
Summer Schools
Applications for the RVC Easter and Summer Schools are now open!
Y10 – Y12
Applications for the Royal Veterinary College 2023 Year 10 Easter School, Year 11 Summer School and the Year 12 Sutton Trust Summer School are now open! We also have a BRAND NEW Year 12 Bioscience Summer School for students who are interested in Biosciences!
These free RVC Easter and Summer Schools give young people a real taster of what life is like as a student at the RVC. As well as taking part in lectures, practical demonstrations and Q&A with our world-leading researchers, your students will get hands-on experiences in our anatomy museum, labs, and with our animals on our campuses! Participants get the chance to meet current RVC students, other young people with a passion for animals and professionals working in a range of animal science careers. Your students will work together to solve veterinary or science case studies, reflect on their career goals and how to achieve them, and enjoy student social activities!
To participate in any of our Easter and Summer schools your student must attend a state school and meet a number of other Widening Participation eligibility criteria such as being the first in the family to go to university or being eligible for Free School Meals. Full information can be found here: https://www.rvc.ac.uk/study/rvc-is-open-for-all/widening-participation/eligibility
You can click below to view the Easter and Summer Schools and read more about them!
https://www.rvc.ac.uk/study/rvc-is-open-for-all/widening-participation/opportunities
University Information
Reading University - Scientists of the Future Day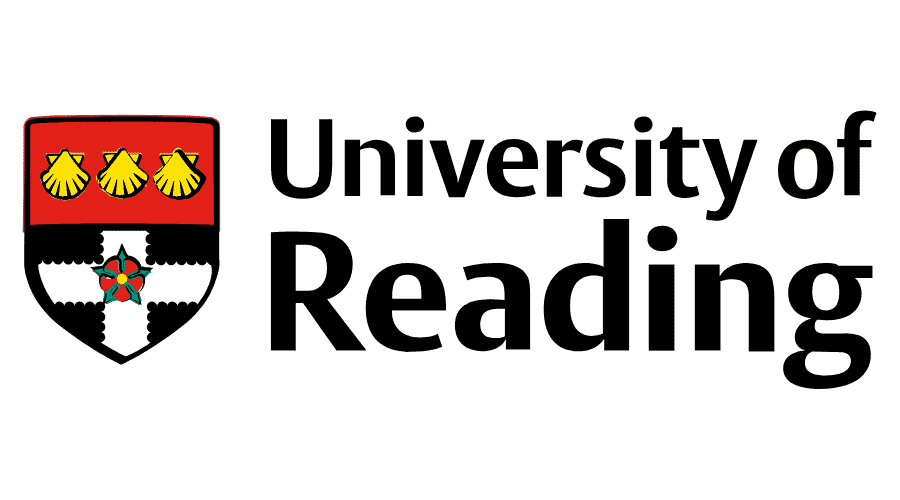 Wednesday 15 February 2023 - 9:15 - 15:45
The University of Reading is delighted to be hosting an all-day science workshop for young people age 15-17. I hope this will be of interest to your students. Attendees will have the opportunity to undertake a series of laboratory activities, talk to current University of Reading students, and explore our beautiful campus. The lab activities running on the day are:
Forensics and DNA: Solve the mystery using this powerful technique to separate DNA. Learn how to undertake gel electrophoresis and use micropipettes; real techniques that are used in diagnostic and research labs.
Chemistry: Explore the science of equilibria and learn how these relate to the cycles of life. We will also demonstrate just how much energy is stored in sugary sweets!
Food & Nutritional Sciences: Have you ever wondered how or why we taste things the way that we do? This session will look to explore this through your sense of taste and smell and start to explain the science behind the phenomena of taste
Find out more or request a place via our sign up form below.
https://emailer.reading.ac.uk/p/4R68-BJ9/scientists-of-the-future-day?dm_i=4R68,S79L,GLNWT,3HZBL,1
University of Bath – Programmes now open.

Our Discover Bath 2023 residential programme
The programme is now open to applications and we are offering subjects covering Science, Engineering, Social Science and Management (see a list of subject strands on the website).
Discover Bath is for your Year 12 students who have the academic potential to progress to a leading university and who also meet our Widening Participation criteria. Please be aware that students may also meet the criteria if they are refugees/asylum seekers, in care, estranged or can evidence significant mitigating circumstances that have effected their secondary education.
All Discover Bath students who apply to study at Bath will receive additional consideration during the application process. In addition, having completed the Discover Bath programme successfully, students may be eligible to receive a reduced offer. The specific terms of the offer will be outlined to the applicant and may vary by course, but will typically include a reduction of one grade in one of the student's A-levels.
Discover Bath is free of charge including accommodation and meals. Travel may also be reimbursed (reasonable travel within the UK only) as we want to ensure that costs are not a barrier for students to attend. If you have other students who would benefit from a residential experience but who do not meet our Widening Participation criteria, we also offer Step into Bath.
Please encourage your students to apply for Discover Bath by 28th February 2023.
Pathway to Bath
Just a quick reminder that applications to our Pathway to Bath programme will now and close soon on 31 January 2023!
This blended curriculum enrichment programme for Year 12 students from Widening participation backgrounds offers students
The opportunity to complete a project in a subject of their choice alongside academic tutors and undergraduate e-mentors
A free 3 day residential at the University of Bath
The chance to receive a reduced offer to the University of Bath
The programme has been going from strength to strength and we offered over 400 students the chance to participate in the academic projects this year. Pathway to Bath was awarded "University Access Initiative of the Year" In the upReach Student Social Mobility Awards and we look forward to an even bigger and better 2023!
If you want to promote this fantastic opportunity to your students head to our website and encourage students to apply! Any questions, get in touch at pathway@bath.ac.uk.
A reminder for your students who are applying/have applied to the University of Bath this year
As part of our contextual admissions process we have a specific approach to mitigating circumstances and strongly encourage applicants to complete a form if they are applying to Bath. There has been such a rise in significant mitigation the last few years we want to encourage disclosure as much as possible: https://www.bath.ac.uk/guides/understanding-mitigating-circumstances-for-undergraduate-applicants/
It would also be great if you could mention the guaranteed offers for care leavers who meet our criteria and terms and conditions: https://www.bath.ac.uk/guides/additional-support-and-funding-for-care-leavers-foyer-residents-and-estranged-students/