Careers Bulletin 29/9/23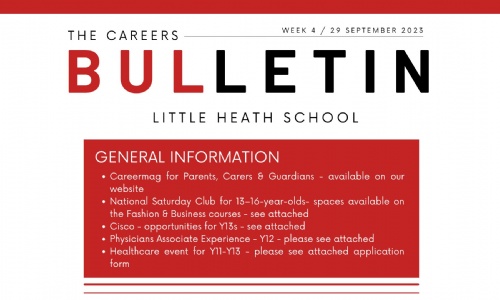 031023 – Hertfordshire University – Personal Statement Clinic
041023 – Oxford Brookes University – How to write a Personal statement
091023 – KPMG talk about cyber security
091023 – Reading FC Community Football & Coaching Development Foundation Degree - 6F Café 1.20pm – 2.05pm
121023 – Why is AI such a complex global problem? LIS Y12 & Y13
161023 – UK Atomic Energy Authority in 6F Café at Lunchtime
181023 – Y9 Bayer Science Trip
191023 - Chartered Engineer talks to Y12 & Y13 in S2
General Information
Careermag for Parents, Carers & Guardians - Issue 11
Available on the Careers Page of the LHS Website
National Saturday Club for 13 -16 Year olds
There are a couple of spaces left on the Fashion & Business course at Reading College, starting on Saturday 7 October 2023!
The National Saturday Club gives students in years 9, 10, and 11 a unique opportunity to study subjects they love for free, and weekly classes are led by expert tutors. There are opportunities to take part in national events throughout the year including visits to leading cultural institutions, masterclasses, a summer show exhibition at Somerset House, and a Graduation Ceremony. There are no exams, just the transformational opportunity to build skills, develop confidence, and discover pathways to further study and future careers.
If you have budding fashion students who would love to explore aspects of industry such as fashion illustration, pattern cutting, ethical fashion, and designing, this is the perfect course! The fashion business is an important part of the UK's creative industries, and its supply chains provide 880,000 jobs in a wide range of sub-sectors, which vary from materials technology and trend forecasting to journalism and retail management. This industry is a great British success story, generating £28 billion for the economy each year. Fashion courses lead the world and are in global demand.
For more information, and to register for the course, please see attached poster.
Cisco – Opportunities for Y13 Students
Please see attached flier.
Physicians Associate - Experience
Our Physicians Associate Team will be running a careers event aimed at Yr. 12 students interested in becoming a Physicians Associate on 26th October 2023 at the Trust Education Centre.
Please find attached a flyer for the event with a link to book and an email address to contact the team with any enquiries.
Please see attached
Introduction to Healthcare event- 20th October
This year we are pleased to be hosting an Introduction to Healthcare Event on 20th October 2023 from 8.50am to 12.20pm at the Trust Education Centre, Royal Berkshire Hospital.
Students who attend will have a chance to hear from our teams about their roles and pathways into their career areas. The event will be open to Yr 11`s, Yr 12`s and Yr 13`s attending local schools and colleges.
If you have any students who would like to attend please could you send a list of their names to myself and ask each student to complete and return the attached registration form to healthcareworkexperience@royalberkshire.nhs.uk by 4th October at 5pm. Students will need to indicate which of the 3 sessions they wish to attend before break (session A, B or C) and which of the 2 sessions they would like to attend after the break (session A or B).
Students are welcome to bring one person, a parent or carer or older sibling with them. We can accommodate up to 80 people, and will accommodate places as we receive responses. Any student who is offered a place must request the time off school in the normal way via their HOY
IBM Apprenticeships Webinar! Y10 – Y13
17th October 2023 at 6.30 - 7.30 pm
Are you looking to solve some of the world's biggest problems ranging from Artificial Intelligence, to sustainability and data science? If so, you won't want to miss out on this free and interactive insight webinar with IBM. Take part in a Live Q&A session with the recruitment team, go through each step of the application process, and speak directly to current apprentices to learn more about life as an IBMer. Register below please.
https://events.teams.microsoft.com/event/b3d16001-027d-4088-8caa-ac1f2cb0d99f@182a8b31-3dab-4b92-8bb8-9526911aeba0?goal=0_f09eb3b2c8-782a84e881-211995373&mc_cid=782a84e881&mc_eid=7a807bdecc
Meet Dentons: Life as a Solicitor Apprentice at the World's Largest Law Firm – Y10 – Y13
21st November 2023 at 6.30 - 7.15 pm
Are you considering a career in law? Not sure that university is right for you but you don't know much about Solicitor Apprenticeships? Join our free insight webinar with Dentons to find out more about applying, what the programme looks like, and how you will be supported throughout.
https://events.teams.microsoft.com/event/ea518936-7e53-435a-997b-48f70a0b6519@182a8b31-3dab-4b92-8bb8-9526911aeba0?goal=0_f09eb3b2c8-782a84e881-211995373&mc_cid=782a84e881&mc_eid=7a807bdecc
Insight into Law at Charles Russell Speechlys
Wednesday 4th October, 5pm - 6.30pm
Suitable for 14-18 year olds
Have you ever imagined what it's like to be Harvey Specter? Or even the boss lady that is Elle Woods? How about coming into work each day sitting at one of the tallest buildings in the heart of London? We have got you sorted.
We have an exclusive event with the world renowned law firm, Charles Russell Speechleys, with revenues over £120 million and international offices ranging all across the globe. You do not want to miss the opportunity to speak to senior lawyers to gain an insight into this fascinating world. This infamous law firm holds a vast range of opportunities for all aspiring students wanting to develop their career into law such as in person work experience and insight events, mentoring and solicitor apprenticeship opportunities. This is an exclusive opportunity you won't want to miss.

This kick-off virtual event will be held on Wednesday 4th October from 5pm - 6.30pm, where you will hear first-hand from some of the biggest legal professionals in the industry whilst taking part in fun and practical workshops to really give you a sense of what it's like to be a corporate lawyer at a global law firm like CRS. You will also have the opportunity to chat with recent solicitor apprentices on how they secured their roles and hear their top tips and recommendations on how you can follow in their footsteps.
Law events like this are really important to attend especially if you are looking to build up your professional network as well as keeping up to date with the latest legal knowledge and skills that corporate firms such as CRS want you to have.
There are limited spaces available so sign up now to secure your spot at this prestigious event. You will also have the opportunity to apply for in person work experience during the October half term at their HQ in London.
Application Link:
https://www.surveymonkey.co.uk/r/CharlesRussellSpeechlysLawEvent
Insight into a career in Law with Bird & Bird
Ever dreamed of becoming a legal professional or paving your way to a dynamic career in law? Imagine kickstarting your legal journey at Bird & Bird, one of the world's leading international law firms. Join our Exclusive Insight Event opportunity with Bird & Bird on Tuesday 3rd of October, from 5pm – 6pm!
With 31 offices worldwide, Bird & Bird have the global reach and collaborative spirit to help you soar in your career. You'll learn what it means to be a solicitor and the different routes to get into law.
You'll be able to hear success stories and insights from recent apprentices, connect with experienced lawyers, and gain valuable knowledge on how to access Bird & Bird's programmes.
What are some opportunities on offer?
Solicitor Apprenticeship Programme: Qualify as a solicitor by undertaking on-the-job training while studying for a law degree and the SQE for six-years.
Early Bird Scholarship: A mentoring scheme with our trainees for support and career guidance during your university studies in law, work experience at the firm, tailored workshops and skills sessions, and financial assistance of £7,500 paid in instalments over your time at university.
Work Experience: A variety of online and in-person work experience opportunities across the year that you can book onto.
Following the event, you will receive a certificate of completion within 7 working days. This can be used on your CVs or LinkedIn profile and will undoubtably enhance your applications for upcoming opportunities and help your CV to really stand out!
Join us for our exclusive virtual insight on Tuesday 3rd of October from 5pm – 6pm to kickstart your legal career at Bird & Bird!
Secure your spot now:
https://www.surveymonkey.co.uk/r/BirdandBirdScholarship
Find out about Early Career Programmes & Apprenticeships in Horseracing
Have your students ever thought about a career in the Horseracing industry?
There are various career paths they can take, some of which they may never have even thought about and a wide range of training to support them on their journey.

Foundation training at our racing schools, the National Horseracing College and the British Racing School, leads to completing an apprenticeship in a racing yard, which allows you to work hands-on with horses. There are similar options in Scotland with the Scottish Racing Academy.

There is also an option for those that want to work with horses but maybe don't want to ride. The National Stud offers an Entry to Stud Employment Course for those with no experience handling horses, leading to a role in the breeding industry.

If media interests your students, then there is the Racing Media Academy who provide students with work experience and training at some of the largest media companies within Horseracing. This involves a one-week course at the British Racing School, followed by a paid placement in one of the many racing media outlets. Applications are invited in November.
https://careersinracing.com/early-careers-programmes-apprenticeships/?utm_source=School+Admin+Registrations&utm_campaign=efbe3fbdf6-EMAIL_CAMPAIGN_2023_08_30_10_47_COPY_01&utm_medium=email&utm_term=0_-1359ec58e7-%5BLIST_EMAIL_ID%5D&goal=0_f09eb3b2c8-efbe3fbdf6-211995373&mc_cid=efbe3fbdf6&mc_eid=7a807bdecc
Employment
Solicitor Apprenticeship - Theale
Cornerstone is the leading UK mobile infrastructure services company with our offices located in Theale and we are looking to recruit an A-level graduate for our solicitor apprenticeship programme due to start in September 2024. The programme is a 6-year course supported by BPP which leads to a LLB (Hons) Law and Legal Practice qualification awarded by BPP University, and has a minimum entry requirement of grades A,A,B at A level.
We have one space available for a September 2024 start and wondered if you promoted career opportunities within your school and if we could send you more information on the programme? The successful candidate would be an employee of Cornerstone and receive a salary as well as benefits package for the duration of the apprenticeship with the opportunity for career progression on completion.
More details on the course can be found here: https://www.bpp.com/courses/law/apprenticeships/solicitor-apprenticeship and more information on Cornerstone can be found on our website https://www.cornerstone.network/.
Deloitte – Apprenticeship Opportunity
Location: Nationwide
Latest opportunities: Consulting, Business & Financial Advisor, Audit & Assurance, Risk Advisory, Tax Consulting and more!
https://successatschool.org/employer/deloitte/1006?goal=0_f09eb3b2c8-782a84e881-211995373&mc_cid=782a84e881&mc_eid=7a807bdecc
PwC's Flying Start & School Leaver Programmes
Location: Nationwide
Latest opportunities: Degree Apprenticeship opportunities in Technology, Accountancy & Business Management. School Leaver Programmes available within Tax & Operations.
https://successatschool.org/employer/pwc/241?goal=0_f09eb3b2c8-782a84e881-211995373&mc_cid=782a84e881&mc_eid=7a807bdecc
Work Experience
Civil Engineering – Free Virtual Work Experience
Help your students understand what a career in civil engineering could do for them and the world.
ICE, an affiliate of the CDI committed to high-quality careers provision, have launched an on-demand virtual work experience with Springpod.
The programme Civil Engineers: Shaping the World is for students aged 14 to 18 years old and shows young people what being a civil engineer is all about. https://www.springpod.com/virtual-work-experience/civil-engineers:-shaping-the-world/WEXP-00091?queryID=1e980148b96d39c8573e9c8c6eb1f0bc
It features:
Online content that can be completed flexibly

6 student-friendly topics including sustainability, improving lives and keeping us entertained

Recorded webinars featuring industry experts

A topic on being career ready with tips on CVs and cover letters

A certificate of completion at the end
https://www.springpod.com/virtual-work-experience/civil-engineers:-shaping-the-world/WEXP-00091?queryID=1e980148b96d39c8573e9c8c6eb1f0bc&utm_source=dotdigital&utm_medium=email&utm_campaign=871780_CDI%20%20Sponsored%20email%2026.09.23&dm_t=0,0,0,0,0
Careers and Work Experience Days
Suitable for 13 – 18 Year olds
There are new dates for your students for career and work experience days taking place online over the next couple of months.
The days are designed to give students an insight into possible future careers with advice on how to apply to university followed by an afternoon session of work experience to help them see what the career may be like. Students will receive a certificate confirming their work experience.
If you could let your students know who are aged 13-18, students can register to join the online days through the website.
The schedule is as follows:
Performing Arts Career Day - Saturday 30th September 2023
Medicine Career Day - Saturday 7th October 2023
Midwifery Career Day - Saturday 21st October 2023
Dentistry Career Day - Saturday 28th October 2023
Business Career Day - Sunday 5th November 2023
Psychology Career Day - Saturday 11th November 2023
Architect Career Day - Saturday 18th November 2023
Vet Career Day - Saturday 25th November 2023
Law Career Day - Saturday 2nd December 2023
Computer Science Career Day - Saturday 9th December 2023
Students can visit www.careerdays.co.uk to join a session in their field of interest and will receive a certificate at the end of the day confirming their work experience.
Y12 Sutton Trust – Free Pathways Program
Do you have students interested in Banking & Finance, Consulting (business and project management), Law, or Veterinary Medicine? We still have places available on our fully virtual programmes (Pathways to Banking & Finance, Pathways to Consulting, Pathways to Law, and Pathways to Veterinary Medicine)
What are the Pathways Online programmes?
Unlike our in-person programmes which are restricted by proximity to partner universities, our virtual programmes can be applied to from anywhere in the UK. So, if you have students interested in our programmes but don't have any on offer nearby, these still have available spaces.
Application Criteria:
Student must attend, and have always attended, a state-funded, non-fee-paying school/college
Be in Year 12 at the start of the programme
We prioritise students based on a range of social mobility criteria including eligibility for free school meals, and the context of their school and neighbourhood
https://www.suttontrust.com/pathways-who-can-apply/
Veterinary Medicine
We are launching a national Veterinary Medicine and Animal Science Pathways, delivered in collaboration with our academic staff and student ambassadors based at Nottingham University's award-winning School of Veterinary Medicine and School of Animal Science.
https://www.suttontrust.com/our-programmes/pathways-to-veterinary-medicine/
Consulting
Pathways to Consulting is completely virtual. Alongside work experience, there is a programme of after-school skill workshops and info sessions, mentoring opportunities, and networking events with universities and leading professionals, all with opportunities to develop skills needed to access a career in consulting.
https://www.suttontrust.com/our-programmes/pathways-to-consulting/
Law
Pathways to Law Online is completely virtual. Unlike the in-person Law programme, this can be taken from anywhere in the UK and you will receive exactly the same benefits, including work experience, networking opps and skill workshops.
https://www.suttontrust.com/our-programmes/pathways-to-law/
Banking & Finance
Pathways to Banking and Finance Online is completely virtual. Unlike the in-person Banking and Finance programme, this can be taken from anywhere in the UK and you will receive exactly the same benefits, including work experience, networking opps and skill workshops.
https://www.suttontrust.com/our-programmes/pathways-to-banking-and-finance/
NHS Virtual Work Experience Programme
Sunday 1st October
Students can register using the link below:
https://alliedhealthmentor.org/product/live-virtual-work-experience-programme/
Once they've registered, students will be emailed links to their virtual work experience portals.
Please ask students to check their spam folders and mark their attendance on the day in order to receive their Work Experience Certificates.
If they give us permission to do so, we can also forward you copies of student certificates. This will help you to track their progress across the programme and assist your school in reaching all of the Gatsby Benchmarks for Ofsted.
This programme is suitable for students in year groups 10 - Year 13 who are interested in the following careers:
Nursing
Midwifery
Paramedicine
Physiotherapy
Occupational Therapy
Dietetics
Radiography
Prosthetics and Orthotics
Speech and Language Therapy
Pharmacy
As the UCAS deadline for NHS Health Careers is in January, the sooner students begin work experience, the better.
Please forward these details to your interested students so they can participate in the monthly virtual work experience days.
During the work experience day, students will follow 2 patients from their initial presentation to recovery. They will gain a unique insight into how patients interact with a variety of healthcare professionals and what it's like to work in an NHS multidisciplinary team.
Attendees will have the opportunity to interact with healthcare professionals throughout each day. This will empower students to make an informed career decision and demonstrate their commitment to healthcare in their UCAS applications.
Students will receive certificates as evidence of having participated in the work experience programme. Those that complete the full 5-month programme will also be awarded Highly Commended References.
Students can register individually at any time throughout the 5-month programme using the link below. We recommend booking early to gain as much out of this programme as possible. Places are £10 a session to cover administrative and technological costs.
https://alliedhealthmentor.org/nhs-healthcare-careers-virtual-work-experience/
Business & Accounting Work Experience with Grant Thornton for Y12 and Y13 students!
Wednesday 4th October, 5pm – 6pm
Calling all aspiring accountants and business professionals! In-bound work experience is coming your way right now! We have teamed up with global professional services firm Grant Thornton, who are offering work experience this October Half Term.
If you are someone who is an ambitious aspiring accountant or business professional, looking to learn more about the industry then this is for you!
We have arranged an incredible event with Grant Thornton, one of the largest accounting & professional services firm in the world on Wednesday 4th October, between 5pm – 6pm. Following on from this event, you will have the opportunity to apply live at the event for a whole week of work experience in the October Half Term. And it doesn't matter where you live because Grant Thornton have over 15 offices UK wide, there will be an opportunity for you less than an hour away from where you live.
Grant Thornton are a leading international audit, tax, and advisory firm, aspiring to build the economic foundations of a fair and prosperous world. They rank within the Top 6 firms in their industry.
During this virtual introductory event we will be joined by some of Grant Thornton's senior staff, who will provide an insight to their business along with an exciting business application workshop (with a live demonstration on how to apply for professional services roles and work experience in October Half Term)!
This event is open to all students moving into Y12/S5 and Y13/S6 from across the UK.
Application Link:
https://www.surveymonkey.co.uk/r/InsightIntoGrantThornton
Colleges
Local College Open Days Listing
Please see attached
Basingstoke College of Technology
Please see attached flyer with information about open days and various Fairs.
Henley College
INFORMATION EVENING – TUESDAY 3RD OCTOBER 2023, 5:30PM-8:00PM
University Information & Summer Schools
University Open Days
https://bit.ly/September-Open-Days
The January UCAS deadline is fast approaching and October is one of the final chances for most students to visit the majority of universities in the UK. With over 100 Open Days in October, this month's Open Day List is a great opportunity to encourage students to book more Open Days and explore the universities listed!
Here is the link to distribute across your learning channels- https://bit.ly/UniversityOpenDaysinOctober
RFC Community Football & Coaching Development Foundation Degree
Reading FC Community Trust ,have partnered with the University of South Wales offering to study for a degree whilst being based at Reading FC Community Trust.
Please see attached flyer for more information
** They will be in school on 9th October in the 6Form Cafe
Bath University
Our Open Days are a chance for your students to discover more about life as part of the Bath Spa community with tours of our picture-perfect campuses and top-class facilities, accommodation visits, and opportunities to meet current students.

There will be talks and Q&A sessions with opportunities for staff and students to learn about our unique and diverse range of courses, work placements and our study and work abroad programmes.
We know that going to university is a big decision that comes with its own concerns and during the Open Day there will be the chance to meet our dedicated Student Wellbeing, Careers and Finance teams to find out more about the support on offer to all.

With our historic traditions and forward-thinking visions, our stunning campuses and inclusive sense of community there's nowhere quite like Bath Spa. Experience everything Bath Spa has to offer at one of our Open Days.
Our upcoming Open Days
28 October
25 November
13 January
Find out more here: https://www.bathspa.ac.uk/open-days/?utm_source=schools_mailing&utm_medium=email_paid&utm_campaign=ec_ug24&utm_content=brand_teacher_email_ad
Portsmouth University -
Getting Started Webinar Series
Our Getting Started Webinar Series is back in full swing, covering topics like Personal Statements, Degree Apprenticeships, and Clearing. What's great is that these sessions are recorded, and we send out transcribed versions to all registered participants. Here are two upcoming webinars you won't want to miss:
Personal Statement Webinar on Tuesday, 26th September at 4 pm: Register Here
Degree Apprenticeships Webinar on Thursday, 12th October at 4 pm: Register Here
Find the full list of webinars www.port.ac.uk/collaborate/schools-and-colleges/getting-started/live-sessions
Personal Statement Hub
Our online statement-checking service is designed to provide students with valuable insights and feedback on their statements. Share this link to help your students get the most out of it: Personal Statement Hub.
Subject Taster Days
Our Subject Taster Days are tailored to help students explore specific subject areas. Learn more about these informative sessions www.port.ac.uk/collaborate/schools-and-colleges/subject-specific-events
Open Days
Mark your calendar for our upcoming Open Days on Saturday, 7th October and Saturday, 4th November. Your students can register and discover more information www.port.ac.uk/study/open-days/undergraduate-open-days
University of Hertfordshire
We have some exciting events lined up on campus and online, all free to attend.
Please could you forward to any staff who may be interested in promoting Geography, Psychology and Sport and share with your students.
Online (further sessions TBA) - aimed at Years 11-13 and parents/guardians
Subject sessions
17 October: Sports Science: Bony anatomy on a 'real' human skeleton
26 October: Geography and Environment: Introduction
31 October: Psychology: Trick or Treat? The Psychology of the Paranormal
8 November: Sports Journalism: Learning to Love Journalism through Sport
16 November: Geography and Environment: Gen Z Geographies
7 December: Geography and Environment: The Secret Life of Microplastics
Advice and guidance
19 October: Parent/Guardian Information evening
25 October: Personal Statements
16 November: Personal Statements
On campus
ü Year 12 Taster Day Thursday 6 June
University of Hertfordshire Open Days
ü Saturday 14 October and Saturday 25 November
I thank you for your continued support in promoting our events to your students. Please continue to watch this space for subject sessions on creative arts portfolios and healthcare interviews.
Sarah Beth Lockwood [she/her]
Education Liaison Officer
Marketing and Communications