Careers Bulletin 4 November 2022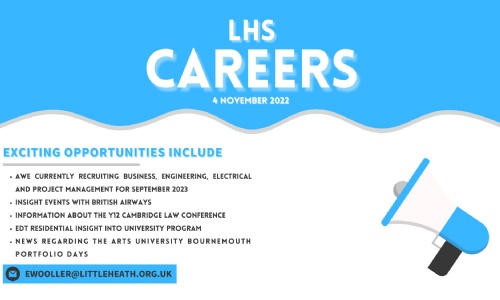 Upcoming Events
Thales are recruiting!
Health Outreach – Pre Natal Workshop – Child Development – Y9 031122
KPMG – Cyber Security Awareness – whole School 071122
KPMG Careers Talk Y12 & Y13 071122
University of Derby -Sixth Form Café 081122
Health Outreach – STI Workshops- Child Development – Y9 101122
Reading College – Introduction to College Y7 & Y8 141122
Financial Awareness Workshop Y11 151122
Reading College – Vocational Courses Y9 – Y11 181122
Health Outreach – Safeguarding & Physiological Disorders – Health & Social Care Y12 211122
Reading University – What does university have to offer me? Y12 221122
Financial Awareness Workshop Y8 231122
Reading University – Introduction to university Y7 & Y8 231122
Health Outreach – Contraception Workshops – Child Development 241122
Reading University – Why go to university? Y8 – Y11 241122
Materials & Physics Trip – Oxford University Y12 & Y13 051222
Mock Interviews – Y11 061222
Cellnex – Smart Cities Workshop Y12 071222
Careers Carousel – Alumni – tbc Y9 081222
Xmas Science Lectures Trip – Oxford Y9 091222
Learn with the Lords (speaker from the House of Lords) – Y12 & Y13 161222
General Information
Animals Aspirations - Writing Competition from Royal Veterinary College
Animal Aspiration's National Children's Writing Competition is a chance for students to showcase their creativity while thinking about animals in a different perspective. Here is some information on the competition:
The competition is open to children aged 11-14 across the UK. Participants must write a 250-word short story following on from one of three Story Starters which are listed on our website (which are not included in the 250 words). The story does not require an ending!
The competition opens on Monday, 26th September 2022 and will close on Friday, 16th December 2022. All entries must be submitted by 11:59pm on 16th December
The entries will be judged by published authors Jane Elson, Damien Hine, and Aisha Bushby. Our prizes are amazing experiences generously donated by Woburn Safari Park!
1st prize – Off road guided VIP experience and animal behaviour talk with Natasha, one of the Heads of Education for (up to) 2 adults and 2 children.
2nd and 3rd prizes – Family ticket to the Safari Park (up to 2 adults and 2 children) and animal behaviour talk with Natasha, one of the Heads of Education.
More complete information about the competition and the judges can be found on our website, www.animalaspirations.com.
Science Enrichment Activities for Students in Y9 & Y10
Oxford University Museum of Natural History will be running another series of Natural History Investigator sessions in January 2023. These eight free Saturday sessions are for students in Years 9, 10 or 11 who are interested in science and nature.
People taking part explore the museum's collection of animals, rock and fossils, meet experts from the museum and the wider University and devise their own research investigations.
If you know of students that would enjoy this opportunity, please share the information attached and encourage them or their parents to get in touch with us at education@oum.ox.ac.uk by Monday 19th December. Please see attached poster.
Insight Evening with British Airways
On Monday 14th November from 5:00pm - 6:00pm
Are you ready to take your career to new heights? From Pilots to Cabin Crew, Project Management or Business, to Engineering and Digital careers. British Airways, one of the U. K's most iconic brands has the right career waiting just for you!
British Airways are the UK's largest international scheduled airline, flying to nearly 600 destinations around the world! It's an exciting time to be at British Airways. They're growing their global route network, investing in their fleet, and transforming the experience they offer their customers. From Customer Service to Aircraft Engineering, you needn't know everything about the world, or even be well-travelled! Provided you're curious, mindful and open to new experiences, you can make a real impact from day one.
Their Apprenticeship opportunities appeal to the adventurous and those who want to start earning right away, whilst getting a head start in their careers. Whether you aspire to work in their global head office, be face to face with customers at Heathrow Airport, or behind the scenes in their engineering and operations teams, there's an opportunity for you.
Discover where a career with British Airways could take you. Click the link below to register yourself for our upcoming online event. This event will be held virtually Zoom, so you can tune in from anywhere in the country!
Registration Link: https://www.surveymonkey.co.uk/r/BA-Insight-Evening
Josh / Young Professionals / @youngprouk
Medical Work Experience Y10 – Y13
6th November
Registration Link: https://alliedhealthmentor.org/product/live-virtual-work-experience-programme/
Students considering a career in the Allied Health Professions (AHP) are encouraged to secure their place on the programme as soon as possible. This will allow them to complete at several sessions of work experience before the UCAS deadline for NHS Health Careers in January.

We've also created a brochure to distribute among your students, they just need to scan the QR code to register: https://medicmentor.co.uk/wp-content/uploads/2022/10/AHP-6th-nov.pdf
The NHS Allied Healthcare Work Experience successfully invited 12,000 students to participate in its programme last academic year, making it the largest programme for students who are interested in the following careers:
Nursing
Midwifery
Paramedicine
Physiotherapy
Occupational Therapy
Dietetics
Radiography
Prosthetics and Orthotics
Speech and Language Therapy
Pharmacy
Registration Link: https://alliedhealthmentor.org/product/live-virtual-work-experience-programme/
Once they've registered, students will be emailed links to their virtual work experience portals.
Students are awarded a Work Experience Certificate for every session they complete. Those who complete the full 5-month programme will be awarded a Highly Commended Reference from the Presidents of Allied Healthcare Mentor. These are fantastic additions to their CVs and UCAS applications!
During the work experience day, students will follow 2 patients from their initial presentation to recovery. They will gain a unique insight into how patients interact with a variety of healthcare professionals and what it's like to work in an NHS multidisciplinary team. Attendees will have the opportunity to interact with healthcare professionals throughout each day. This will empower students to make informed career decisions and demonstrate their commitment to healthcare in their UCAS applications.
Students can register individually at any time throughout the 5-month programme using the link below. We recommend booking early to gain as much out of this programme as possible. Places are £10 a session to cover administrative and technological costs.
https://alliedhealthmentor.org/nhs-healthcare-careers-virtual-work-experience/
Work Experience Team, Allied Healthcare Mentor
Doctors, Dentists & Vets – Free Opportunities - Y10 – Y13
I am delighted to announce that we have a date for Dental Mentor's free virtual Get into Dentistry Conference!
Get into Dentistry Conference on Saturday 12th November 10am - 3pm.
Dr Alicia Mead will guide students through the entire UCAS application process, including personal statements, interviews, work experience, UCAT and BMAT, and more.
Get into Dentistry Conference Registration link: https://airtable.com/shr7JL0vaCAzEYUo1
We've also created another conference brochure for you to distribute among your students. They just need to scan the QR code and fill out the form to secure their spot: https://medicmentor.co.uk/wp-content/uploads/2022/11/Updated-GID-Brochure.pdf
Get into Medicine conferences throughout November, hosted by Dr Siva and Dr Kennedy.
Get into Medicine Conference Registration Link: https://airtable.com/shr66li3bqG3ZpkPM
Get into Medicine Conference Brochure: https://medicmentor.co.uk/wp-content/uploads/2022/10/GIM-brochure-compressed.pdf
Get into Veterinary Medicine Conference, hosted by Dr James Taylor and Dr May Yean Chua, on Saturday 26th November.
Get into Veterinary Medicine Conference Registration Link: https://airtable.com/shrs1hEiPfdSSgnI2
Get into Veterinary Medicine Conference Brochure: https://medicmentor.co.uk/wp-content/uploads/2022/10/GIV-Brochure-.pdf
Liz Bailey, Head of Medic Mentor Education
Free Work Experience - students interested in STEM - Y10 – Y13


Focusing on multiple areas such as engineering, innovation and technology, this programme with the Institute of Acoustics is ideal for students in years 10-13, and covers a wide range of technical and employability skills that will help them stand out to universities and employers alike.
This work experience programme is completely free and flexible, so can be completed around studies, at times that suit your students.
Not to mention that they will receive a certificate of completion to add to their CVs, Personal Statements and/or application forms, to evidence their experience and skills gained.
All they have to do to get started immediately is click the link below, send off an application, and keep an eye on their inbox for a link to start the programme.
Please consider sharing the link below, or forwarding this email so that they can get started today.
Application link: https://www.springpod.com/virtual-work-experience/from-architecture-to-ocean-science-to-music-and-more---explore-stem-careers?utm_source=campus&utm_medium=email&utm_campaign=vwex&utm_term=architecture_oceanscience&utm_content=architecture_oceanscience_02nov22
Steve Morton, User Acquisition and Campaign Delivery Lead
Marketing I Springpod
Deloitte – Apprenticeships, Work Experience & Webinars
Apprenticeships – Robots. Creative thinking. Solving complex challenges.
If you thought a career in tax was all about filing returns, think again.
You'll be doing challenging, meaningful work from your first day in the job, making an impact that matters. If you're in year 11 applications are open for our entry-level tax apprenticeships. If you're in year 13 you can apply for our BrightStart higher-level tax apprenticeships. Find out more and apply: https://www2.deloitte.com/uk/en/pages/careers/articles/early-careers-tax-consulting.html
Work Experience
Events
When you're choosing something as important as your career, it's important to find out your options. Our events help you to understand the opportunities available and get a feel for what will suit you. We even offer upskill sessions to help support you through the application process.
You're welcome to join us from any year at school. You might even be a parent, teacher or careers advisor – everyone is welcome. We look forward to meeting you at an event soon!
https://www2.deloitte.com/uk/en/pages/careers/articles/early-careers-events.html
Virtual Event: Come and Meet Us!
Interested to hear more about why an apprenticeship might be the right choice for you, your students or your young person? Why not come along to our virtual event and meet our Apprentices, hear from our Early Careers and Learning & Development teams, and put your questions to them?
Wednesday 16th November 2022 from 5pm - 6pm
Virtual Zoom Event
Please click the link below to register, full details of how to join or dial in will then be sent to you
Agenda
Welcome & Introductions
About Deloitte
Apprenticeships & Career Paths
Meet Our Apprentices
Q&A
https://experience-event.zoom.us/meeting/register/tZwtc-mhrDIsHdKPwDMWZ1stlv8WGzGxNqFm
PwC's Virtual Classroom
We are really excited to have also launched our next series of Virtual Classrooms for this Autumn. This series will focus on our opportunities, an insight into our business areas, a deep dive into our work in technology and accounting and sessions on our application process and UCAS applications. We'll also have a session for Parents & Teacher to support you in understanding the apprenticeship route and degree programmes. Please encourage your students to sign up on the link below.
https://www.pwc.co.uk/careers/early-careers/ourevents/virtual-classroom.html
HSBC - Investing in Futures – Opportunities Available NOW!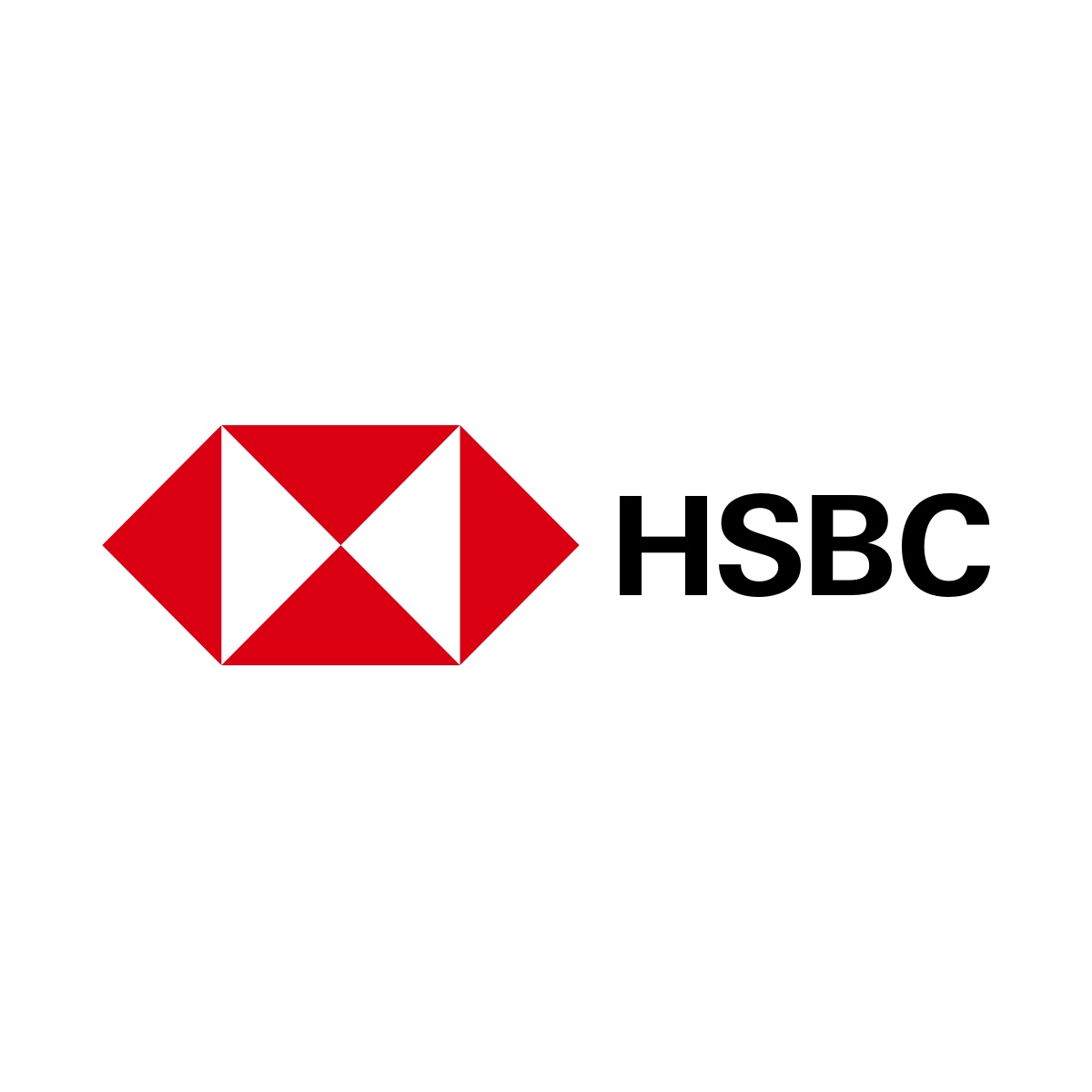 Closing date 13/12/22
Apprenticeships play an important role in our business, and provide people who may not have gone to university with another route into a challenging and rewarding career with HSBC.
Degree Apprenticeships – Applications open now!
Our degree apprenticeships offer an alternative to the full-time university route providing you with full-time employment alongside studying towards a BSc (Hons) in Financial Services Management, fully funded by HSBC.
Positions are available now, with full-time, permanent opportunities across various locations in England, Wales and Scotland. These positions are within Wealth and Personal Banking, Commercial Banking, Asset Management, and Private Banking. These positions will be starting in October 2023 so if you are deciding on your next stage after College, this could be your next step!
To find out more and to apply, please visit our website on UK Apprenticeships by the closing date of 18th December 2022. https://www.hsbc.com/careers/students-and-graduates/student-opportunities/uk-apprenticeship
Degree apprenticeship launch events
To find out more and to meet colleagues and Degree Apprentices please join us at out HSBC Degree Apprenticeship virtual events.
Commercial Banking: Tuesday 8th November 2022 from 17:00pm-18:00pm.
Please register now to attend. https://hsbc.zoom.us/meeting/register/tJ0sduuqrDkvEtQjK8yq9psqwLRGKNYOSPPX?_x_zm_rtaid=YSD4WoCNTHGpGnqpAIZjcg.1666968158035.94ea1b0d1faf2e9f315cc9a56c49feda&_x_zm_rhtaid=620
Wealth and Personal Banking: Tuesday 8th November 2022 from 18:00pm-19:00pm.
Please register now to attend. https://hsbc.zoom.us/meeting/register/tJIpcOCsrzkqE9HRv_mcnbmtAIA8FuR-0utA?_x_zm_rtaid=YSD4WoCNTHGpGnqpAIZjcg.1666968158035.94ea1b0d1faf2e9f315cc9a56c49feda&_x_zm_rhtaid=620
Live Webinar: When I grow up I'm going to be…
During this session, we will look at the career opportunities open to you and how you could find out which pathway to take.
Tuesday 15th November 2022 from 17:30pm-18:30pm.
Click here to register for this webinar. https://hsbc.zoom.us/webinar/register/WN_Eje6rnMrT3ugyFswKMmLcQ
Live Webinar: Planning your future
This event is suited to students in year 9, 10 & 11 and will discuss the different options available after high school, career routes & pathways, as well as case studies and stories from panellists from a variety of different backgrounds.
Wednesday 30th November 2022 from 17:00-18:30pm.
Click here to register for this webinar. https://hsbc.zoom.us/meeting/register/tJ0sfumsqzgiHdCMqhsOJRGR85L5UXZAh6kI
Arkwright Engineering Scholarships Y12 – Open for application
Applications have officially opened and will close January 20th 2023.
Benefits include:
📍Receive £600 financial reward as part of the Scholarship
📍£400 donation to their school
📍Nationally recognised Scholarship certification
Learn more and apply here!
https://www.arkwright.org.uk/our-scholarships/arkwright-scholarships
Army Officer Internship
The Army Officer Internship offers the chance for students to experience the role for 6 to 18-months before, during or after university.
Gain unrivalled insight into the life of an Army Officer, with plenty of support from our team. Whilst this is not an active service role, students will still experience the range of training and opportunities available to a young Army Officer.
Apply by 31st December for Internships starting the following September
Anyone with, or seeking, a place at a uniersity or college, or who has graduated within the last 2 years, can apply
Army Officer Interns will be paid £18,000/year (£1,500/month) in this role
Once the internship has been completed you can elect to remain in the Army, as a Reserist or regular Army Office
Army Officer Internship - British Army Jobs (mod.uk)
College Information
Please find attached open day dates for 2022/23 attached at the bottom of this page.
University Information
Residential Insight into University
Applications for Residential Insight into University are open for a limited time only and will close on the 3rd of January 2023. Find out more below and don't miss out – places on each course are limited!
Industrial Cadets accredited summer school can help you decide which STEM degree course might be right for you and also enhance your UCAS application. Courses run over 4 or 5 days where Yr12 students get a taster of university life and an insight into a specific STEM subject. In summer 2023 these will include:
Materials Science at University of Oxford
Maths at Lancaster University
Broad-based Engineering at University of Sheffield
Materials Science at University of Cambridge
Robotics & Autonomous Systems at University of Liverpool
Mechanical Engineering at UCL
Life Sciences at University of Warwick – details coming soon
Aerospace Engineering at University of Liverpool – details coming soon
It's just like studying at university! You will get the opportunity to experience university style lectures and work on activities and group projects with the support of academics and student mentors. Throughout the duration of the course, you will stay in halls of residence and will take part in social activities in the evenings.
For dates, cost, requirements, content of each course and the application form, please click below
https://www.etrust.org.uk/residential-insight-into-university
Student Recruitment Team, EDT (Engineering Development Trust)
Tel: 01707 906106| Email: studentrecruitment@etrust.org.uk , www.etrust.org.uk
University Centre Sparsholt – Registrations Open 121122
University Centre Sparsholt is one of the leading providers of undergraduate courses for the land, environment and conservation.
Please could you make your year 12 & 13 students aware that registrations are now open for University Centre Sparsholt's next open event on Saturday 12 November 2022. This is an on campus, in person event.
To attend, your students will need to register for the event as soon as possible by visiting Open Events | University Centre Sparsholt | Register Now.
Cambridge Sixth Form Law Conference – Y12
27th – 30th March 2022
We are emailing about the exciting opportunity for current year 12 students, potentially interested in studying law at university, to attend the Cambridge Sixth Form Law Conference. This is a four-day residential trip to Cambridge University, which aims to give students an insight into the study of Law and life as an undergraduate at Cambridge. It is organised and run by seven current Law undergraduates, many of whom attended the Law Conference themselves and are passionate about giving other students the opportunity to have this experience.
During the residential aspect of the conference, delegates will attend Cambridge style lectures, have the chance to meet current students and explore the city and colleges of Cambridge. Delegates will stay in college undergraduate accommodation, under the supervision of the Committee and college Porters. This arrangement has proved to be both safe and satisfactory over the past four decades and also helps to offer an extra aspect of life at Cambridge. All meals are provided. Whilst under appropriate supervision, delegates are given the time and the freedom to explore the city on their own and live life as if they were an undergraduate student.
200 delegates will attend the Conference this year, with a combination of funded and non-funded places available. For non-funded students, the Conference will cost £155, which covers both accommodation and food, but not travel. Only two non-funded places can be allocated to each school. This is on a first come-first-serve basis.
Eligibility for funded places can be found on our website, and any eligible student will have the cost of accommodation and food fully funded. Unfortunately, funding cannot be provided for travel costs to Cambridge.
More information can be found on the website, www.cambridgesixthformlawconference.com including a copy of the programme from last year and a contact form. Applications for the Conference will open November 1st and will close on December 31st.
Josef Burns. Outreach Officer | Cambridge Sixth Form Law Conference
www.cambridgesixthformlawconference.com
Taster Lectures with St George's, University of London
Below you can see the subjects and topics of this autumn's series of Taster Lectures at St George's, University of London. All are hosted online in after-school hours, meaning you can enjoy this level of insight and expertise from the comfort of your own home!
Clinical Pharmacology BSc: How clinical pharmacology transformed HIV infection from death sentence to liveable condition
Date: Wednesday 16th November, 5-6pm
Register here: https://attendee.gotowebinar.com/register/2031968283462843664?source=Cat+D
Details: In this talk you will look back in time to the 1980s, when the first people in the UK were diagnosed with HIV and AIDS, and the diagnosis was effectively a death sentence. You will learn how treatments for HIV infection were discovered and developed and how, with today's array of 'anti-retroviral' medicines, people with HIV can have a normal life expectancy. We will finish by reflecting on inequalities in access to HIV medicines around the world and how where you live affects your chances of beating HIV disease.
Biomedical Science MSci: How Science Works
Date: Wednesday 23rd November, 5-6pm
Register here: https://attendee.gotowebinar.com/register/3085144292331417359?source=Cat+D
Details: The Biomedical Science MSci degree places a strong emphasis on the development of critical thinking and scientific skills. This lecture, taken from the third year Biomedical Research Techniques for Drug Development module, provides a light-hearted, yet accurate introduction to how scientific research is carried out in both university labs and the pharmaceutical sector.
Biomedical Science BSc (Lecture topic TBC)
Date: Wednesday 7th December, 5-6pm
Register here: https://attendee.gotowebinar.com/register/4608525349196525072?source=Cat+D
Details: We are currently in the process of finalising the details of this particular lecture with our academics. The event registration page linked above will be updated as soon as we've confirmed the title and topic(s).
School and College Liaison Team
St George's, University of London | Cranmer Terrace | Tooting | London | SW17 0RE
Arts University Bournemouth Portfolio Days
Arts University Bournemouth are delighted to announce that bookings are now open for our 2022 Portfolio Days. Designed to provide specialist support for post-16 learners who are planning to study a creative degree, the Portfolio Days equip students with all the tools needed to make a successful application. Alongside guidance from expert tutors on constructing an excellent portfolio, learners will talk to current students about their experiences, as well as getting a taste of life on campus at Arts University Bournemouth.
We have two separate dates for students interested in Undergraduate or Foundation study.
Foundation Portfolio Day - Wednesday 23rd Noember at 10am - 2pm
Undergraduate Portfolio Day - Friday 25th Noember at 10.45am - 2.30pm
To book places, please share the below links with your students:
Foundation Portfolio Day Booking Form - https://inspired.aub.ac.uk/form/foundationportfolioday?event_id=69&_ga=2.176107882.975659079.1667233607-1858161322.1664205351
Undergraduate Portfolio Day Booking Form - https://inspired.aub.ac.uk/form/undergradportfolioday?event_id=70&_ga=2.176107882.975659079.1667233607-1858161322.1664205351
If you have any questions, please get in touch at schools@aub.ac.uk