Careers Bulletin 6 October 2023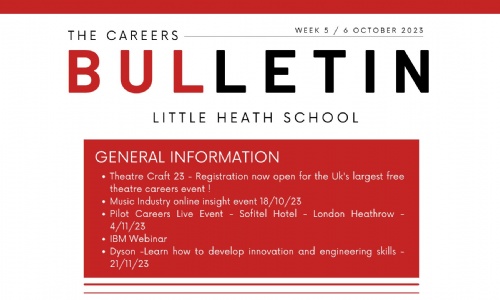 Upcoming Events this Term
091023 – Reading FC Community Football & Coaching Development Foundation Degree - 6F Café 1.20pm – 2.05pm
131023 –

Why is AI such a complex global problem? LIS Y12 & Y13

131023 -JP Morgan Senior Fund Manager
161023 – UK Atomic Energy Authority in 6F Café at Lunchtime
181023 – Y9 Bayer Science Trip
191023 – Mr Scott Rolph-Dickinson -Chartered Engineer talks to Y12 & Y13 in S2
200123 - Personal statement Clinics – University of West London in S4
General Information
TheatreCraft 23
Registration is now OPEN for the UK's largest free theatre careers event! TheatreCraft is back on Monday 20 November at the Royal Opera House and across the West End! Join for: Interactive Q&As and Workshops, Backstage Tours, On Stage Demonstrations, Exhibitor Marketplace, featuring more than 70 universities, theatre venues and suppliers to the industry, 1:1 CV Clinic, update your CV to get into the room where it happens.
This is your chance to find out more about all the different careers in theatre, chat one-to-one with industry professionals and potential employers, and network with your peers.
Discover Creative Careers
Music Industry Online Insight Event 18th October
There has never been a better time to choose a career in the music industry, it creates over 140k full time jobs in hundreds of different roles and is growing all the time. So we're particularly excited about our upcoming music industry online insight on 18th October, which will introduce you and your students to job roles and pathways in the sector.
https://discovercreative.careers/teachers-career-leaders/online-career-insight-events/upcoming-insights/online-insight-focus-on-music/?utm_medium=email&_hsmi=277075905&_hsenc=p2ANqtz--CpWP6Q8ae3mQPrV0dv9Kvc_6QWKi75FgHqovrPu4Rhg9pdbD5Tvshh8ZVJ79slqd2vogaKC7VPMESZ4Oqk2HWF6gtFkjnwdpHsq8RlW9rQTKSQI4&utm_content=277075905&utm_source=hs_email
Also, don't forget to register for Discover! Creative Careers Week 2023 coming up 13th - 17th November, the deadline to register is this Friday 6th October - find out more
https://discovercreative.careers/teachers-career-leaders/discover-creative-careers-week-2023-schools-colleges/?utm_medium=email&_hsmi=277075905&_hsenc=p2ANqtz-_tJ36pTg5Enkx7MnLzihYi19L0WGEikNsVX2IsyLAg0UJIJmfVFl1b2B1_-4vCyUIEiyE_rlPuQxz5EhALTDNp1Y-WTecuSoq9PZs1qMxao0hg0M0&utm_content=277075905&utm_source=hs_email
Focus on Music
Wednesday 18th October, 10am - 10.45am
Delivered in collaboration with UK Music, this free online event will feature a video games composer, a music producer and a business leader, all working in their dream jobs across the music sector. We'll hear more about their career journeys, what their roles involve and pick up some top tips around pathways including vocational options.
Find out more about the panellists and download our warm-up exercise below.
https://discovercreative.careers/teachers-career-leaders/online-career-insight-events/upcoming-insights/online-insight-focus-on-music/?utm_medium=email&_hsmi=277075905&_hsenc=p2ANqtz-8x_L-F6agBa4pAi4isoNSI9zHBPRukKIyRYf1Lodt6fOPVaD3fgt3Q-X6bviy9EwRXK-DhiS1QCQV1ybfI58zw-A7IBuR5qtbmwVoopWu74YMHaCo&utm_content=277075905&utm_source=hs_email
Pilot Careers Live
4 November 2023
Sofitel Hotel
Terminal 5 – London Heathrow
Pilot Careers Live is guaranteed to inspire and advise students who are interested in the rewarding career as a pilot. The event will cover every aspect of what it takes to become a professional pilot including helicopter and Air Traffic Control Careers.
Pilot Careers Live brings together leading Pilot training academies, airlines, universities and career experts and features a series of informative career presentations throughout the day.
What does the pilot/training selection and assessment process involve?

What are the medical requirements?

How to combine a university degree with pilot training

What are the costs?

What are the job prospects?
For full event details and tickets, please visit: https://bit.ly/PCLlhr
IBM Webinar
Are you craving to learn more? Prepared to solve some of the world's most unique challenges? And ready to shape the future for millions of people? If so, then it's time to join us, express your individuality, unleash your curiosity, and discover new possibilities.
Come along and listen to the many different opportunities we have available at IBM and hear from some of our current interns about their experience so far. Every IBMer, and potential ones like yourself, has a voice, carves their own path, and uses their expertise to help co-create and add to our story. It's time to define your career
Webinar structure:
Early Professional Manager talking about IBM and our apprenticeship opportunities (20 minutes)
1 Apprentices and 1 Intern speaking about their apprenticeship and Intern experience (15 minutes)
Q&A session with apprentices, intern and Early Professional Manager (10 minutes)
Webinar presenter details
John Griffin – Early Professional Manager -
Zak Polley – Test Engineer Apprentice -
Olivia Woodhead – Technology Enablement Operational Support Intern
Sign up using the link below:
https://successatschool.us3.list-manage.com/track/click?u=2c038531b25876a2c7c9cf8b1&id=101a8fee95&e=720e4569db
Skill development workshop: Develop your innovation and engineering skills with Dyson
Tuesday 21 November @ 17:00 UK time
What if you were responsible for redesigning an everyday item used by millions of people? Join Dyson at this exclusive workshop for Unifrog students to meet current engineering apprentices, hear about their everyday roles, learn about Dyson's early career schemes whilst developing your innovation and gaining engineering experience. Dyson are challenging Unifrog students to reimagine everyday household objects and your design could lead to an exciting prize with the Dyson Institute.
Employment
AWE- Apprenticeships
Your Child's Future at AWE: Explore Unique Apprenticeship Opportunities! 🌟

For nearly 70 years, AWE have been at the forefront of nuclear weapons research and development. They are thrilled to let you know their applications are now open and are excited to welcome your talented students to join their dynamic organisation!

AWE offer an array of exceptional apprenticeship opportunities tailored to suit your child's ambitions and interests. Their diverse apprenticeship programs will support them in gaining a professional qualification, while working on projects that they won't find anywhere else. Find out more about AWE on this link
https://www.awe.co.uk/wp-content/uploads/2019/04/Apprentice-Brochure-2018.pdf

As they help AWE to secure the nation, AWE will help young people to secure a uniquely rewarding career. There's an opportunity for everyone at AWE!
Bank of England: Degree Apprenticeship
This Degree Apprenticeship Development Programme could be the ideal solution for you if you're keen to start your career and earn a salary and would like to study for a fully funded degree. If you are looking to develop your business and technical skills and eager to gain a unique insight into the workings of the UK's central bank, this could be for you.
https://www.bankofengland.co.uk/careers/early-careers/our-programmes
MI5: Early Career Opportunities
MI5 have opportunities for people with a range of technical, vocational or professional qualifications, from IT to Electronics and Carpentry to Accountancy. They offer some roles that do not require any formal qualifications, such as Mobile Surveillance Officers and Foreign Language Analysts; and their graduates join with degrees ranging from Architecture to Zoology.
Currently recruiting for Software Engineering Apprentices in London or Greater Manchester
https://www.mi5.gov.uk/careers/opportunities
Work Experience
Half Term Work Experience in Reading
We are thrilled to extend an exclusive invitation to you for an upcoming work experience event featuring some of the world's leading employers. Taking place on Monday, 23rd October, at Reading Town Hall in Reading, this event promises to be a fantastic opportunity for you to connect with renowned companies such as KPMG, Mazars, Mott MacDonald, RAF, CIMA, and many more. You won't want to miss this!
We have two sessions, a morning slot and an afternoon slot. You can choose which one you'd like to attend on the sign-up form. The AM session runs from 9:30am – 1:30pm and the PM session runs from 1:30pm – 5:30pm.
During the event, you will take part in interactive sessions, which will be led by experts from our attending global employers, such as KPMG, Mazars, Mott MacDonald, RAF, CIMA, and more. These workshops are a unique opportunity to gain practical knowledge, enhance your skillset, and engage in meaningful discussions with industry professionals.
Why Attend?
Connect with leading global employers, including KPMG, Mazars, Mott MacDonald, RAF, CIMA, and more
Gain industry insights and trends, as well as picking up new skills through hands-on workshops and group activities
Expand your professional network
Explore potential career opportunities and further work experience opportunities
Please do apply ASAP if you'd like to secure a spot, as we have very limited places. We are operating on a first-come, first-serve basis.
Application Link:
https://www.surveymonkey.co.uk/r/Reading-WEX
Barclays: LifeSkills Work Experience
This opportunity currently provides an online work experience programme for young people aged 14-19 in the UK.
The next one available starts on Monday 23 October 2023, with a live session every day that week, plus, online activities and chances to hear from Barclays colleagues and ask them questions. The deadline for applications is 19 October 2023.
Students can also practise managing workplace challenges and use core transferable skills to deliver these challenges, then focus on the practical employability skills and use the CV Builder and even have a go on the Virtual interview practice tool.
Work Experience Placement | Barclays LifeSkills
Lululemon: Virtual Work Experience
On this virtual Work Experience, you will glimpse into the work the Lululemon Marketing and Omni and Retail Technology team do on the daily. You'll obtain the skills needed to work on a creative team and begin your career.
Learn from top companies and set yourself apart (theforage.com)
NHs Allied Health Profession Work Experience 5th November Y10 – Y13
Health Education England has recently completed a discovery report on virtual work experience programmes, which have concluded that these programmes are a valuable adjunct to in-person work experience, especially by preparing students for in-person placements and where in-person experiences are extremely limited. The NHS Allied Healthcare Work Experience successfully invited 12,000 students to participate in the last academic year, making it the largest programme for students who are specifically interested in the following careers:
Nursing
Midwifery
Paramedicine
Physiotherapy
Occupational Therapy
Dietetics
Radiography
Prosthetics and Orthotics
Speech and language therapy
and Pharmacy!

Applications for this programme are now open, and they will be open throughout this academic year, with the next virtual work experience day taking place on the 5th November. Please forward these details to your interested students so they can participate in the monthly virtual work experience days. It is suitable for students in year groups 10-13.

During the work experience day, students will follow 2 patients from their initial presentation to recovery. Students will observe the healthcare professionals as they interact with the patients and each other. Students will have an opportunity to ask questions and gain knowledge through teaching.

This will help students to make an informed career decision as well as learn about how healthcare professionals work together as part of a multidisciplinary team. Each work experience day is completely different, and students will be able to build on their knowledge of NHS careers as they see different patient cases and healthcare professionals work in a variety of settings, such as hospital and community.

Students will also receive certificates as evidence of having participated in the work experience programme. Those that complete the entire 6-month programme will be awarded with Highly Commended References too. Students can register individually through the website link below. Places are £10 a day to cover administrative costs and run the tech on the day. Schools can also register groups online. We have also provided a poster attached to this email.

You can learn more and your students can register for the programme here: https://alliedhealthmentor.org/nhs-healthcare-careers-virtual-work-experience/

Work Experience Team
Allied Healthcare Mentor

Colleges
Local College Open Days Listing
Activate Apprenticeships – Reading College
Activate Apprenticeships offers award-winning training for learners including School Leavers. We work with some of the UK's top employers and provide fantastic opportunities for students across a variety of sectors.
We have apprenticeships in the following areas:
Business Administration
Construction
Cycles
Digital
Early Years
Education
Furniture
Hairdressing and Barbering
Health and Social Care
Hospitality and Professional Cookery
Land
Students in Year 11 can register their interest, regardless of whether they have yet found an employer to provide the apprenticeship, via the link below. There is also a PDF version of our foldout flyer attached to this email for your reference. https://forms.monday.com/forms/27e436d6110eef9cd64bf3dbf1e82440?r=use1
University Information
Portsmouth University: Apprenticeships Advice Webinar
Degree apprenticeships might be the right option for you if you want to earn money while getting a degree (without paying any tuition fees).
Join Portsmouth to learn how they work, how to find vacancies and apply, and the key benefits choosing this route to a degree.
https://register.gotowebinar.com/register/4876779804132409696
Queen Mary University of London – Open Day
There's still time for your students to join us at our Undergraduate Open Day taking place on Saturday 7 October! Book your place below:
https://www.qmul.ac.uk/undergraduate/openday/?utm_medium=email_qm&utm_source=email_qm&utm_campaign=qmul_ug_enq_2024&utm_content=education_liaison_newsletter&j=303211&sfmc_sub=54582926&l=86_HTML&u=5718592&mid=510005529&jb=9

Queen Mary Futures
There's still time to apply for the Queen Mary Futures Programme. The programme provides eligible Year 12 students at schools and colleges in and near London with an opportunity to:
Explore science, engineering, humanities and social sciences subjects at Queen Mary's East London campuses

Develop academic skills that are required for success at university

Receive specialist information, advice and guidance about the career opportunities with different Queen Mary courses
Eligible students will be able to apply on the Queen Mary Futures website. The deadline for applications is Sunday 15 October. For more information on eligibility and how to apply, click the link below.
Students can join us online or on-campus at our next Undergraduate Open Day to:
Hear from our leading academics.

Learn about the programmes available across our wide range of disciplines.

Find out about scholarships and funding opportunities.

Discover the support services available to you as a Queen Mary student.

Chat to our students about their experience
Animation, Games, VFX – Open Day at Escape Studios
Why join us on 21st October?
Book your place at our open day on Saturday 21st October, starting at 10:00am or 1:00pm, to:
Explore our BRAND-NEW campus on the Greenwich Peninsula
Learn more about our courses in Animation, Games and Visual Effects
Hear from our expert tutors and current students
Check out our motion capture demo
Book now to find out how Escape Studios can make career dreams a reality!
https://www.escapestudios.ac.uk/events/undergraduate-open-days/?utm_source=careermap&utm_medium=email&utm_campaign=opendays2023_esc_ug&utm_content=invitation_oct_23
Solent University
Wednesday 18 October 2023
10.45am-3pm

This engaging day will feature:
a talk on studying social work and nursing and the multitude of work opportunities these courses offer to graduates

conversations with our friendly academics

a student finance session

admissions advice

interview top tips

a campus tour.
Audience: year 12 and 13 / level 3 year 1 or 2 students. Access students welcome too.
Location: Solent University, Southampton, East Park Terrace campus, SO14 OYN.
Book your place -angie.randall@solent.ac.uk