Student Wellbeing
It's important for all of us to look after our wellbeing. We will continue to post useful resources here which we hope will provide some support for your mind and body.
Staff in the Student Wellbeing office are here to support you. If you need their help, advice, or just a listening ear, you can reach out to them by emailing smile@littleheath.org.uk or popping into the Student Wellbeing office to see Mr Linz or Mrs Skeete.
If you feel like you need some support, please reach out to us! Our Little Heath School Wellbeing Team are there to help, and if you feel like you can't talk to someone face to face, you can complete our online help form (please note this is only available during term time, the page will be hidden during holiday periods)
Watch ex Little Heath student, Zaibaa in this advice video. She talks about...

the advice she would give her younger self
why she believes mental health is important
and why we should work hard at school
All Yours Period Boxes
Local menstrual health and period education charity, All Yours, provide support with period products for both young people and parents to use at home.
If you are finding it difficult to afford period products, especially in the run up to Christmas, you can visit their website to request what you need. They have a range of disposable products as well as reusable period pads and menstrual cups to choose from. If you would like to request products for multiple people in your household, just use the comments box to tell them how many people and the kind of products you would like. All requests are free and confidential.
You can request your All Yours box here.
Sample Period Pants available for all
They also have a limited stock of sample period pants available for anyone who would like to try them. If you have an address in West Berkshire, you are welcome to request a pair. Please complete a form for each person in your household who would like a pair, so we can ensure we send the correct sizes. They respectfully ask you only request one pair per person. If you would like any further advice on period pants once you have tried them, you are very welcome to just drop us an email.
You can request a pair of period pants here.
Period Product Information
If you would like any information about disposable or reusable period products, please do contact them. They provide information about reusable products on their website and they post snippets of educational content on their social media channels – including a recent video explaining the important differences between nighttime and heavy flow pads.
You can find out more about period products or about All Yours in general by visiting their website or you can find them on Facebook and Instagram by searching @allyoursmonthly. If you would like to message them directly, email allyours@allyoursbox.co.uk
Support LGBTQ+
Looking for local LGBTQ+ support and advice, visit the Support U website.
World Mental Health Day - Tuesday 10 October 2023
10th October is World Mental Health Day, and staff and students were invited to take part in a number of activities aimed at positivity and mental wellbeing.
Sixth Form students and staff were asked to wear green as part of the #wearitgreenday initiative, and staff were also invited to a coffee morning to start the day positively.
Our Head Students, Annabelle and Quabi, were not only on hand during the day, but also helped to put together this fantastic video about which was shown to all students during tutor time.
We also asked students from all year groups to take part in a lunchtime activity to think about what makes them happy. The theme of this year's event was 'Mental health is a universal human right'. We asked students from all year groups to note down who or what brings them happiness, and share it with others by pinning it to our 'universal human'!
We had some fabulous suggestions ranging from family and friends, to sports, food and musical artists. Make sure you do what makes you happy!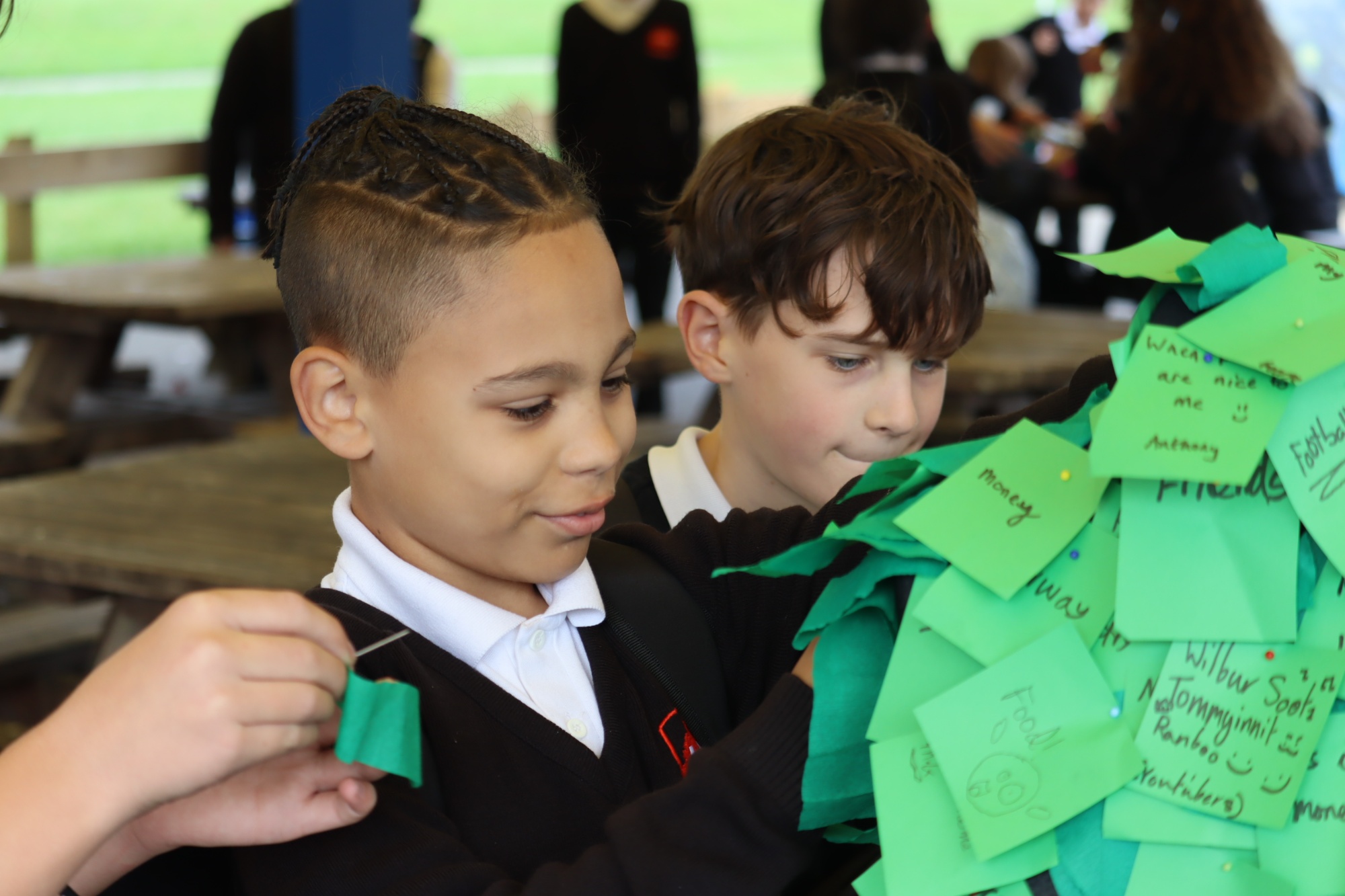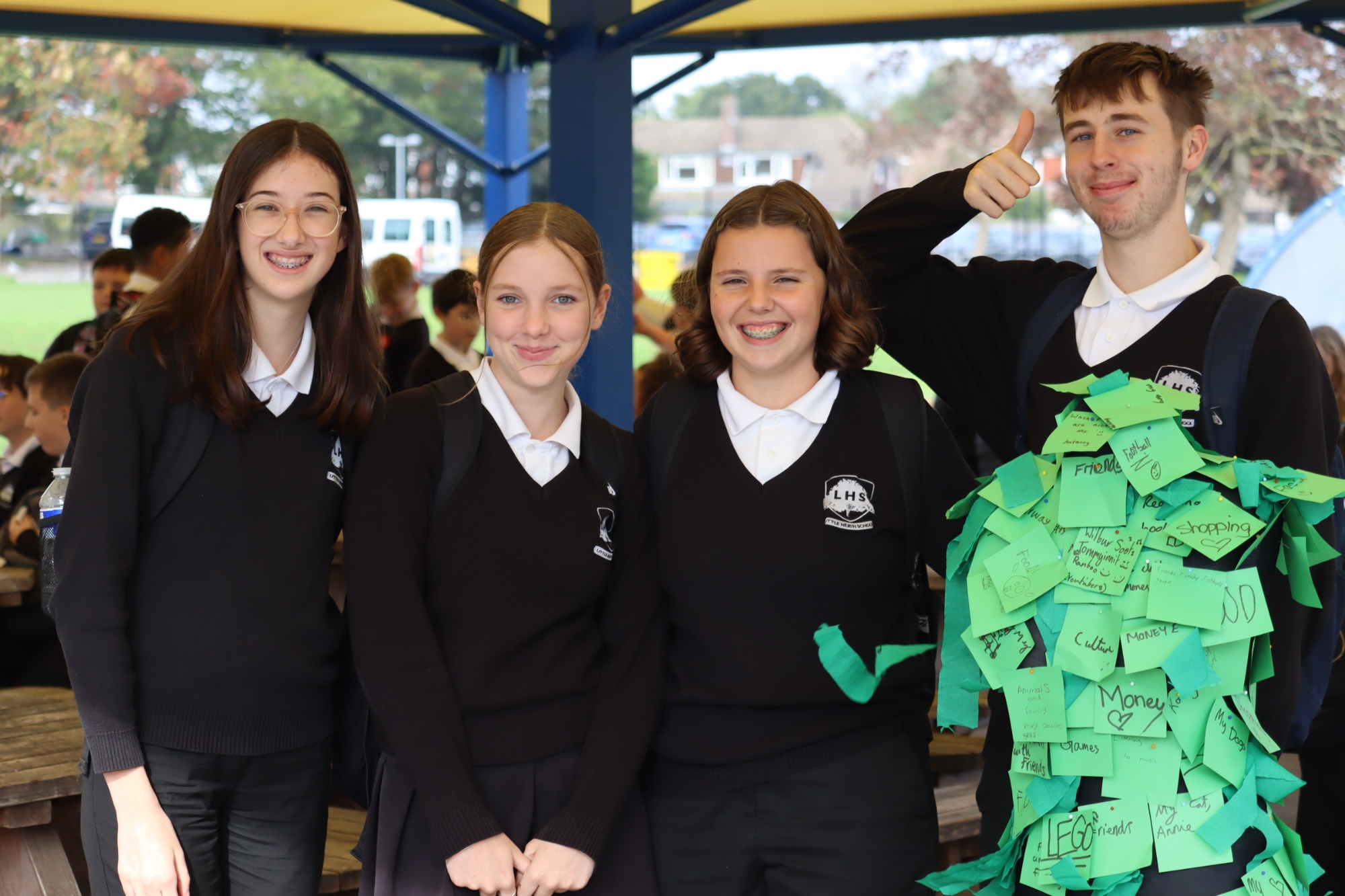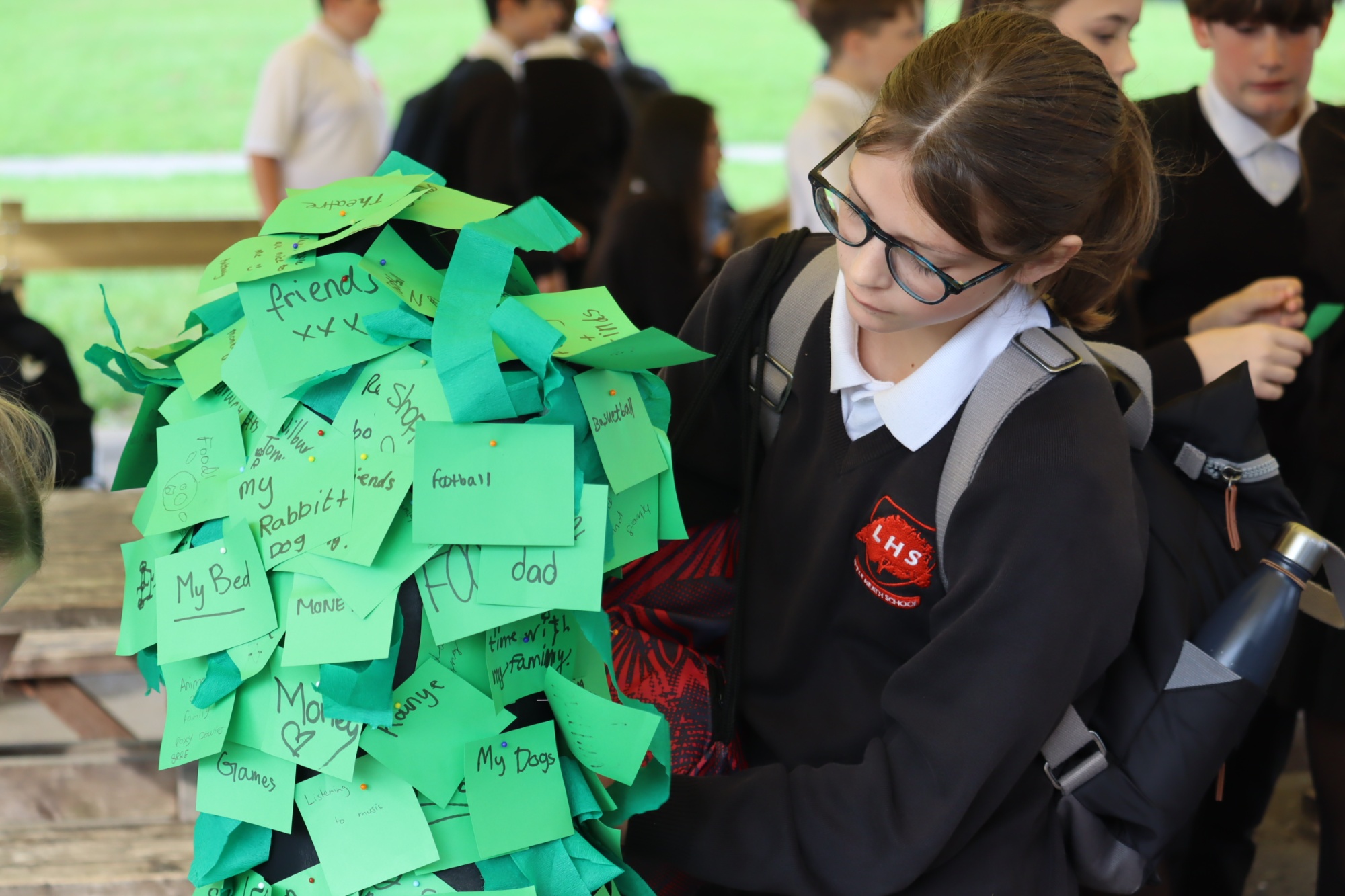 School Nurse Drop In sessions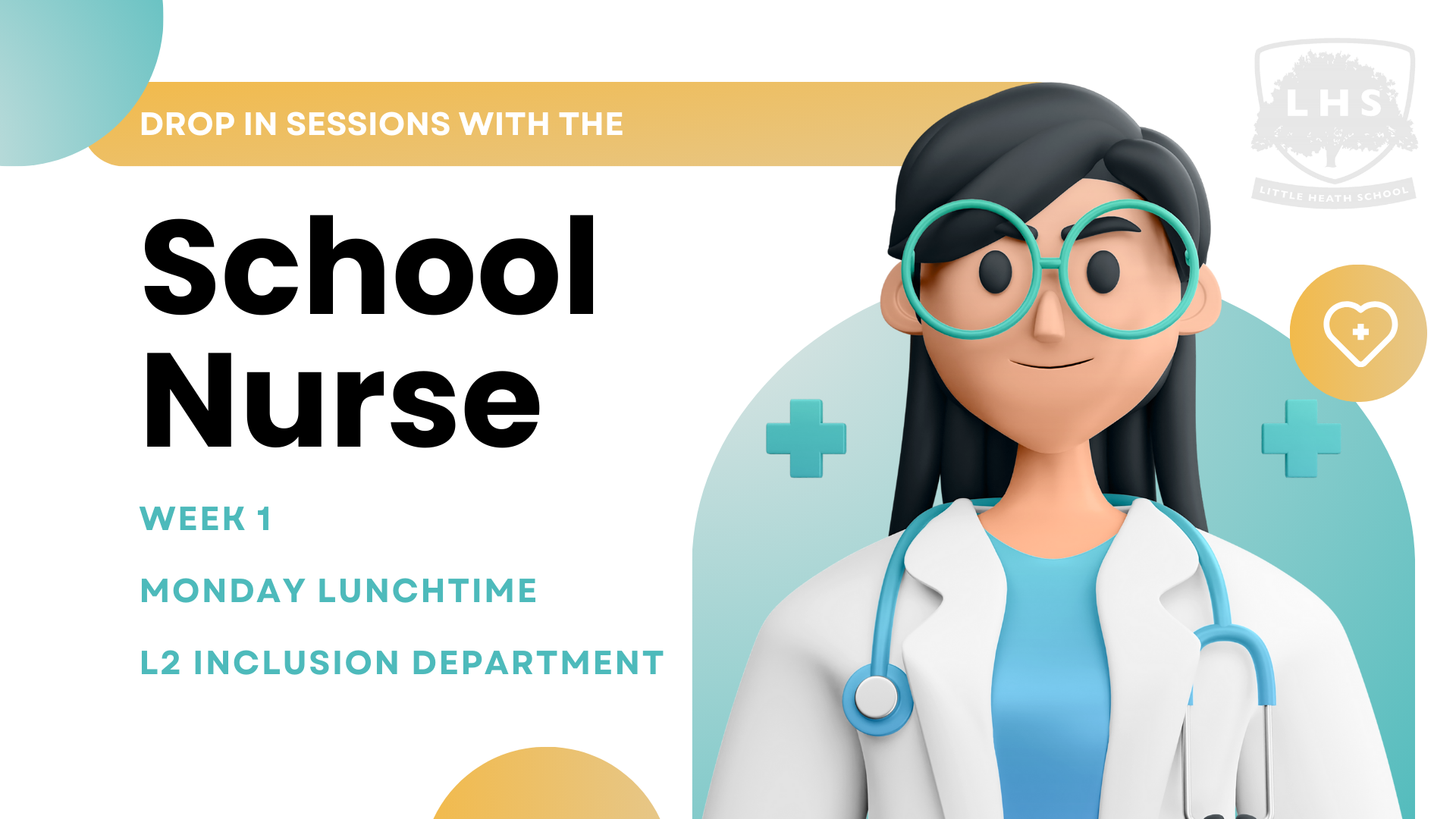 ​
Chat Health
ChatHealth is a texting service where parents/carers/students can text a member of the school nursing team for advice and support about any health concerns they might have. Texting can be done anonymously, and the service is confidential*.
*Unless safeguarding concerns override this, in which case other services will be informed.
We have 3 separate dedicated texting lines for:
Young people aged 11-19 years, text 07312 263266
Parents/carers of children/young people aged 5-19 years, text 07312 263194
Care givers up to the age of 25 years, text 07312 263188
The service runs Monday to Friday 9 - 4.30pm except on bank holidays.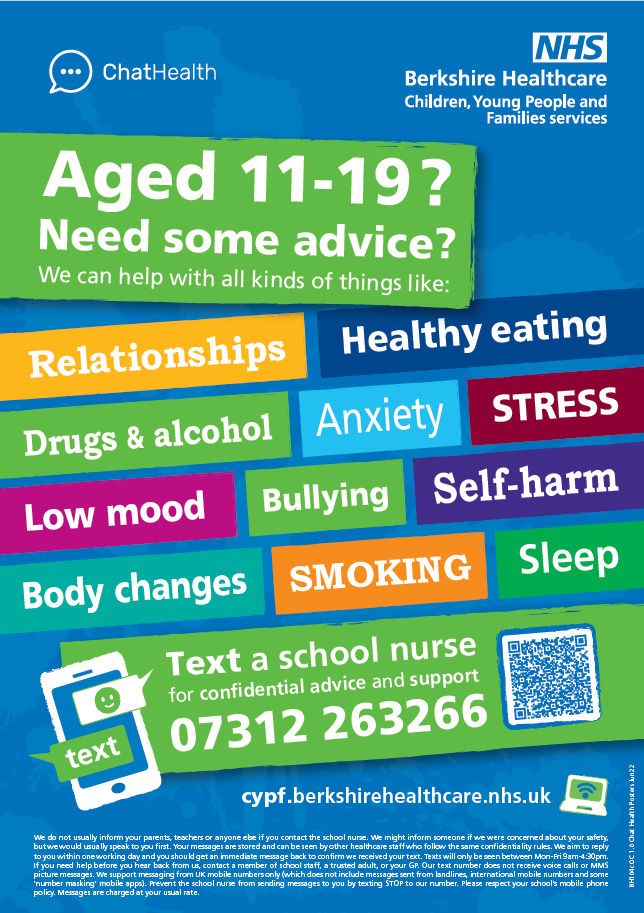 ​
tellmi app
Download the tellmi app for peer and professional support.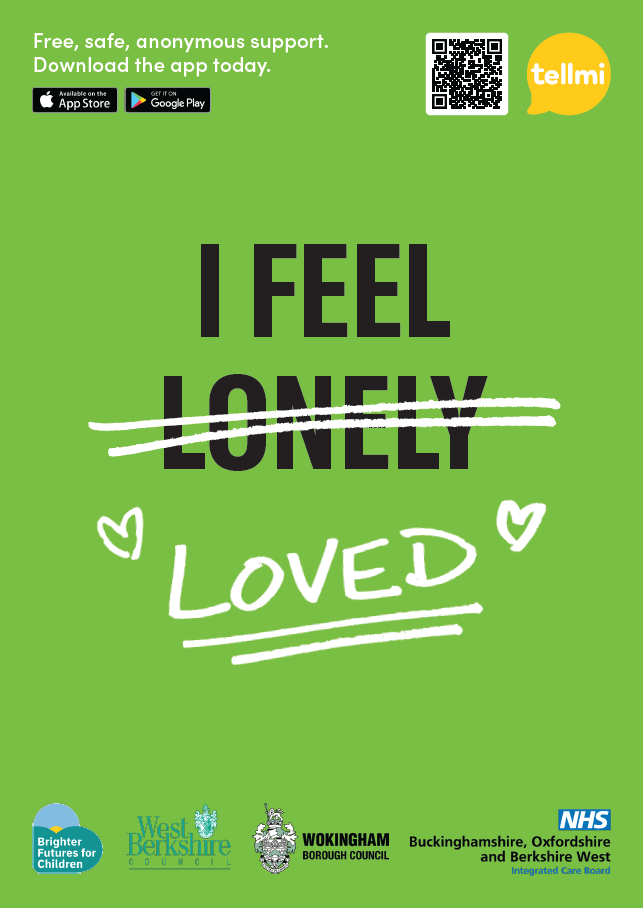 ​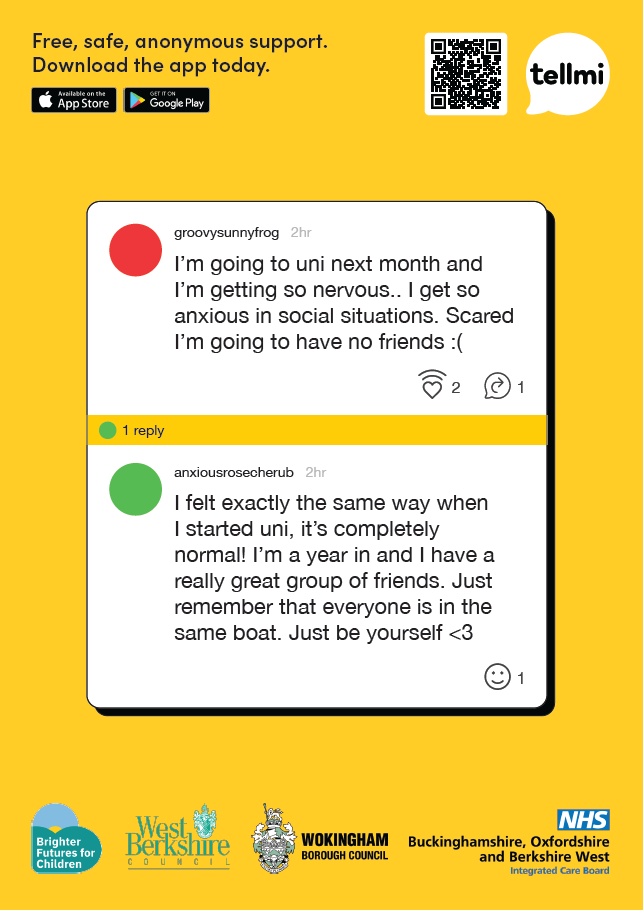 ​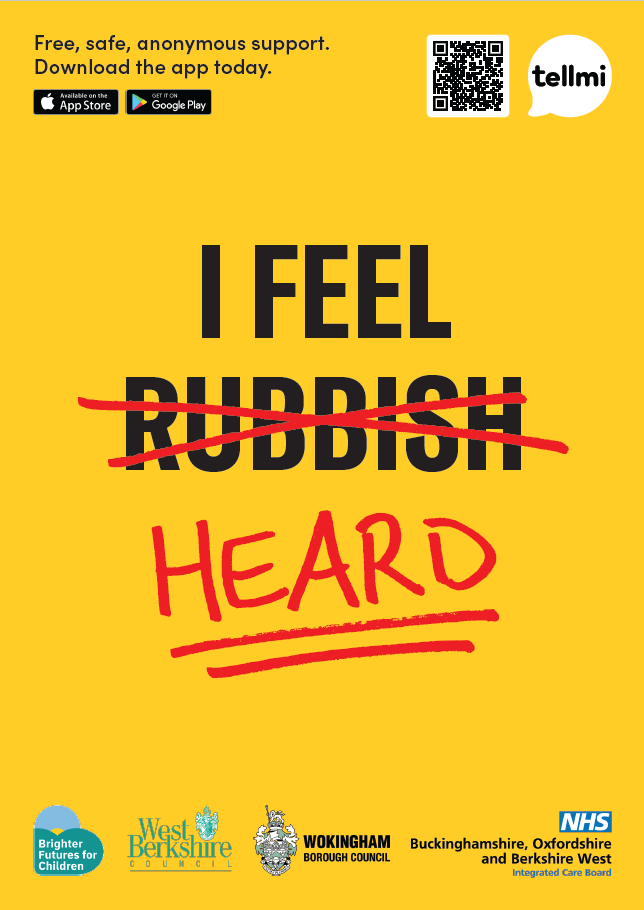 ​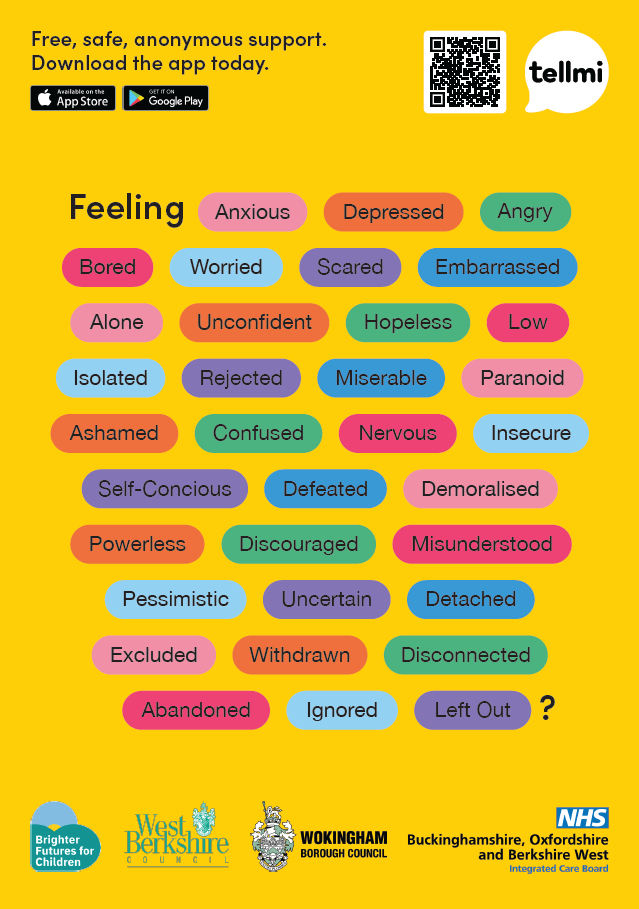 ​
October 2023 Wellbeing Newsletter
Health & Wellbeing Newsletter from the School Nursing Team
Download the latest Health & Wellbeing for Young People newsletter, from the school nursing team, here.
Time To Talk Assembly
Time to Talk West Berkshire is an independent charity providing FREE confidential counselling services to young people in need. They primarily support young people aged 11-25 in West Berkshire.
They recently delivered an assembly to all year groups. The presentation can be downloaded here.

​
Talk Club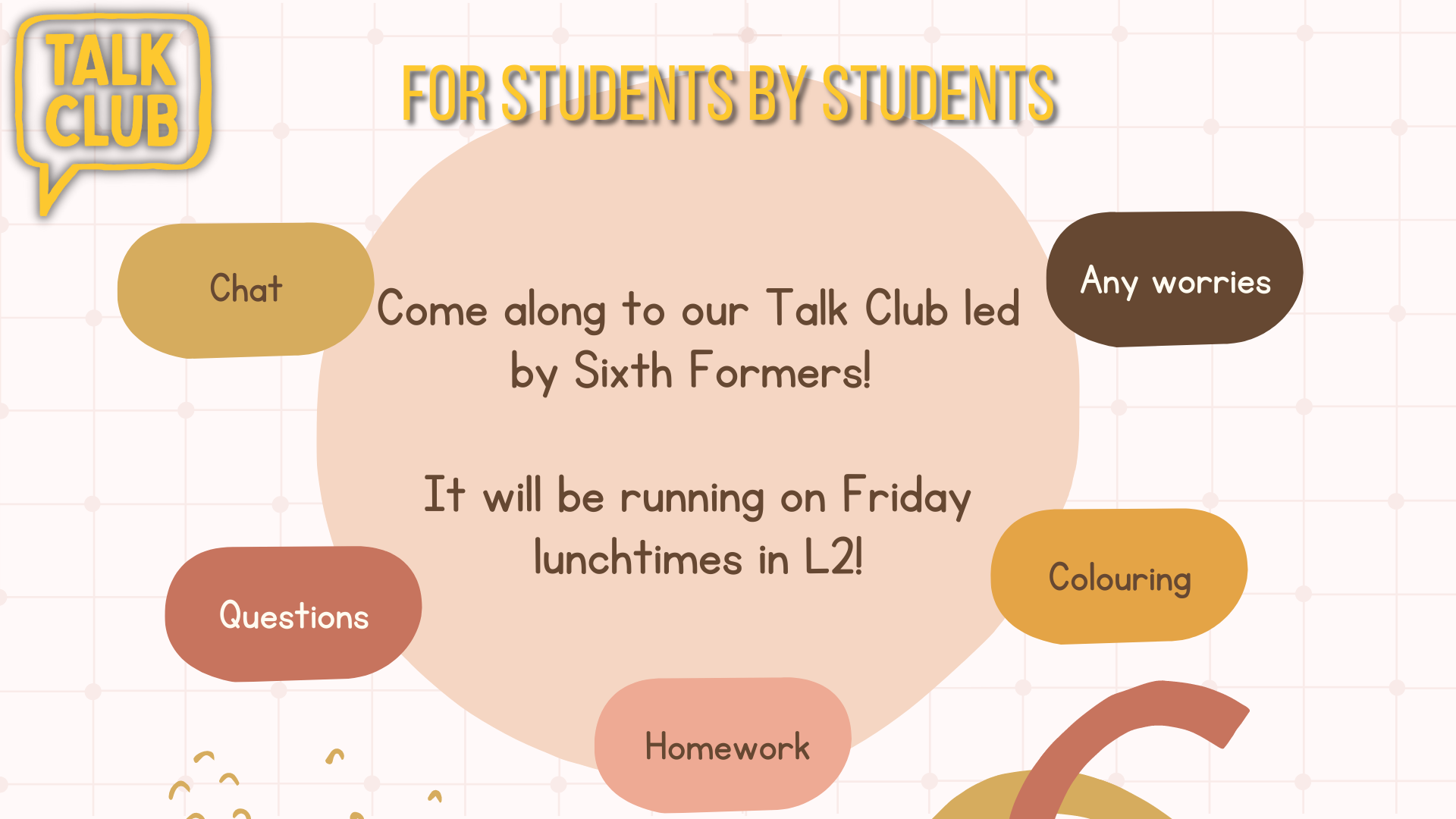 ​
Wellbeing Bags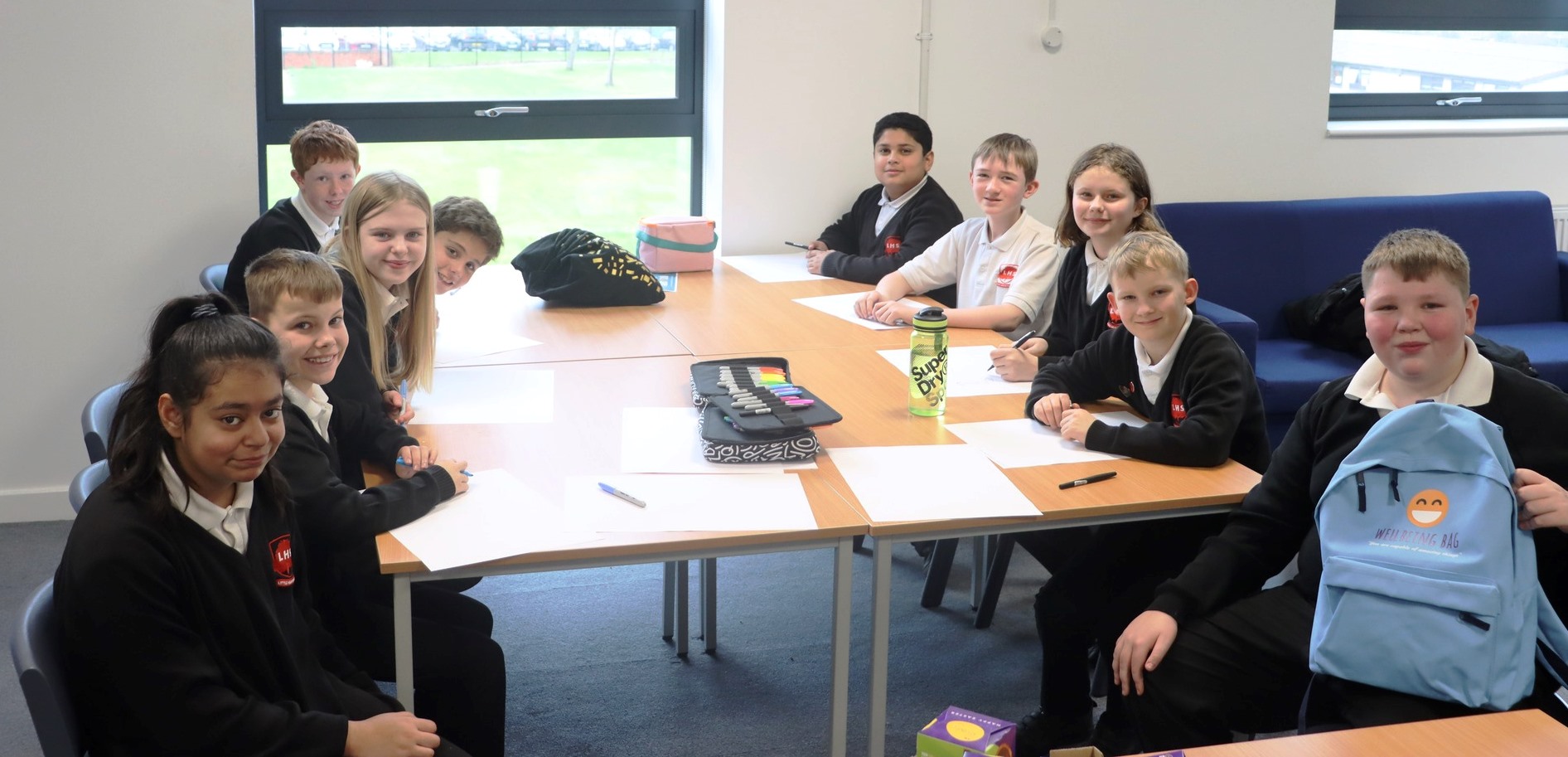 ​
​
As part of Children's Mental Health Week, some of our Year 7 students worked with West Berkshire Council on a pilot project to create a "Wellbeing Bag" for schools. Thanks to their enthusiasm and commitment, we have now created our own Little Heath School WELLBEING BAG - and this idea will now be rolled out to other schools.
The idea behind the Wellbeing Bag is to give students a few moments to focus on their well-being with the support of some games, some things to read and some things to colour. It is kept in the Student Voice Office, so if any students would like to have a look at the Wellbeing Bag, please do visit us before or after school, or at break and lunchtime.
West Berkshire Council libraries also have Wellbeing Bags available, you can reserve one here.
NHS support for young people
Use this link to access a number of NHS videos for tips on exercise, sleep and how to take care of yourself on social media. You will also find links to support those who may be finding things particularly tough, or have additional needs, and to provide help with some of the issues you may be facing.
More NHS guidance is below to download, including 5 ways to Wellbeing, which includes lots of useful tips and links; their young person's guide to coping; and a useful 'self-help' booklet called 'The Little Blue Book of Sunshine'.
​
Staying safe online
For useful guidance on staying safe online, please see the attached pdf below. For more information go to our internet safety page.
Sources of Support
Young Minds - lots of helpful practical articles for young people about how to manage mental health issues. Read them all here.
Kooth - Online Mental Wellbeing Community and support available to all young people in West Berkshire. Visit their website here.
EHA - The Emotional Health Academy. Read more and get in contact with the EHA here.
Time to Talk - Counselling services for young people in West Berkshire aged 11-25. Find out more here.
Childline - 24/7 support phone line 0800 1111 or visit their website for support and advice.
SHOUT - text 'SHOUT' anytime for FREE on 85258, or get help online here.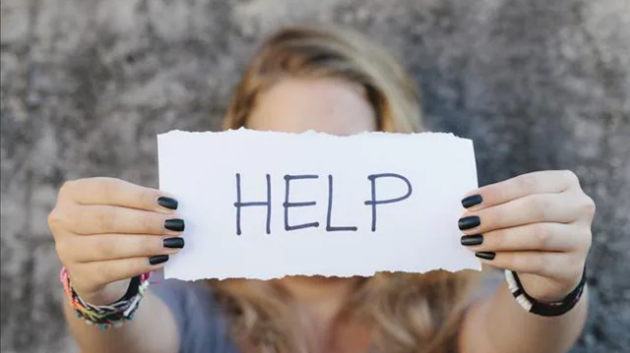 ​
More organisations are included in the document 'Helpful Contacts for Young People' and 'Useful Websites for Young People' which can be downloaded below.
Mental Health
​
Children's Mental Health Week - February 2023
Children's Mental Health Week led to many conversations about wellbeing and the importance of looking after your mental health.
On the Friday, tutors and tutor groups took part in a special tutor period with activities and discussions about wellbeing. Many of these activities were designed by our Year 12 Mental Health Ambassadors.
A special video from our Sixth Formers was presented to students which you can watch here:
We had a whole school assembly at the start of Children's Mental Health Week which explored the theme of the week - connections. During this assembly, students were also reminded about their avenues of support in school and the support that is available outside of school.
Thursday lunchtime saw students participate in a range of activities linked to wellbeing, including a giant jigsaw!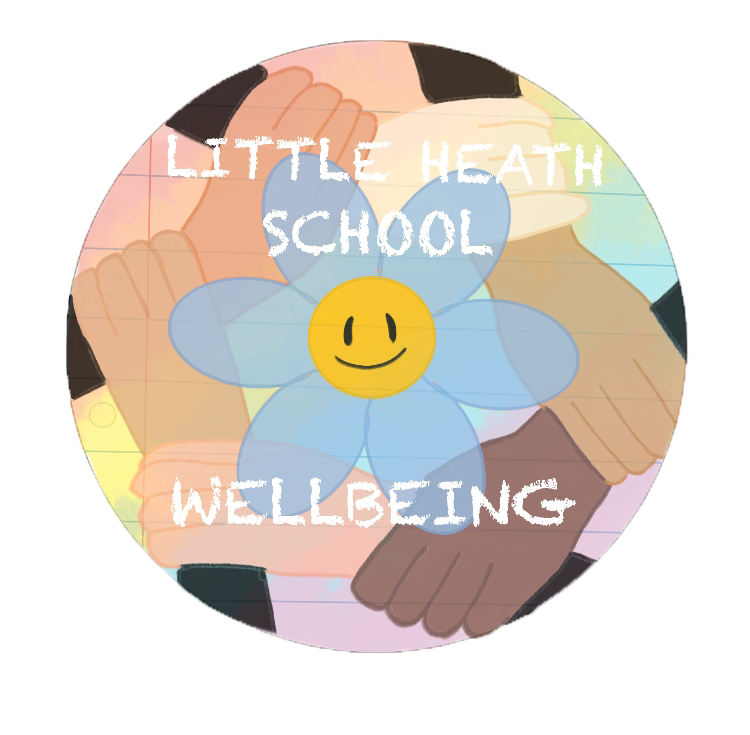 ​