Internet Safety
The internet is a fantastic resource that provides a huge wealth of information for students - it can be of great benefit to learning. However, it is really important that we all use the Internet, and other forms of technology such as mobile phones, sensibly and wisely. Lots of specific information is given in the attachments below.
Here are the Little Heath top tips to help keep students safe:
Don't post personal information online
Never let anyone have access to your passwords. Check the privacy settings on accounts like Facebook and make sure you know how to keep your personal information private.
Think very carefully before posting photos of yourself online.
Never respond or retaliate, as this can just make things worse. It might be difficult, but try to ignore the bullies.
Block any users that send you nasty messages.
Save and print out any nasty messages, posts, pictures or videos you receive or see.
Talk to someone – either at home or school – about any issues on line so that someone can help you
Make a note of the dates and times of any nasty messages, along with any details you have about the sender's ID and the URL.
Don't pass on cyberbullying videos or messages. You will get into trouble for doing this.
You have a right to say "no" to online requests from friends and also from other people that you don't know. No one should feel pressured into doing things that they would be embarrassed about or don't want to do. We want to remind you that you absolutely have the right to say "no" (this is, by no means, an exhaustive list):

to join a group chat
to accept someone as an online friend
to respond to a request from someone (a friend or non friend) to do something/send something via social media/WhatsApp/message
to talk about things which make you feel uncomfortable
to make promises to someone
to keep something a secret
While online, please be aware of your responsibilities. Think about how your words and actions would make you feel if you were on the receiving end. Remember the acronym THINK. Ask yourself before you post:
is it True?
is it Helpful?
is it Inspiring?
is it Necessary?
is it Kind?
and… if it's none of these things… don't post it!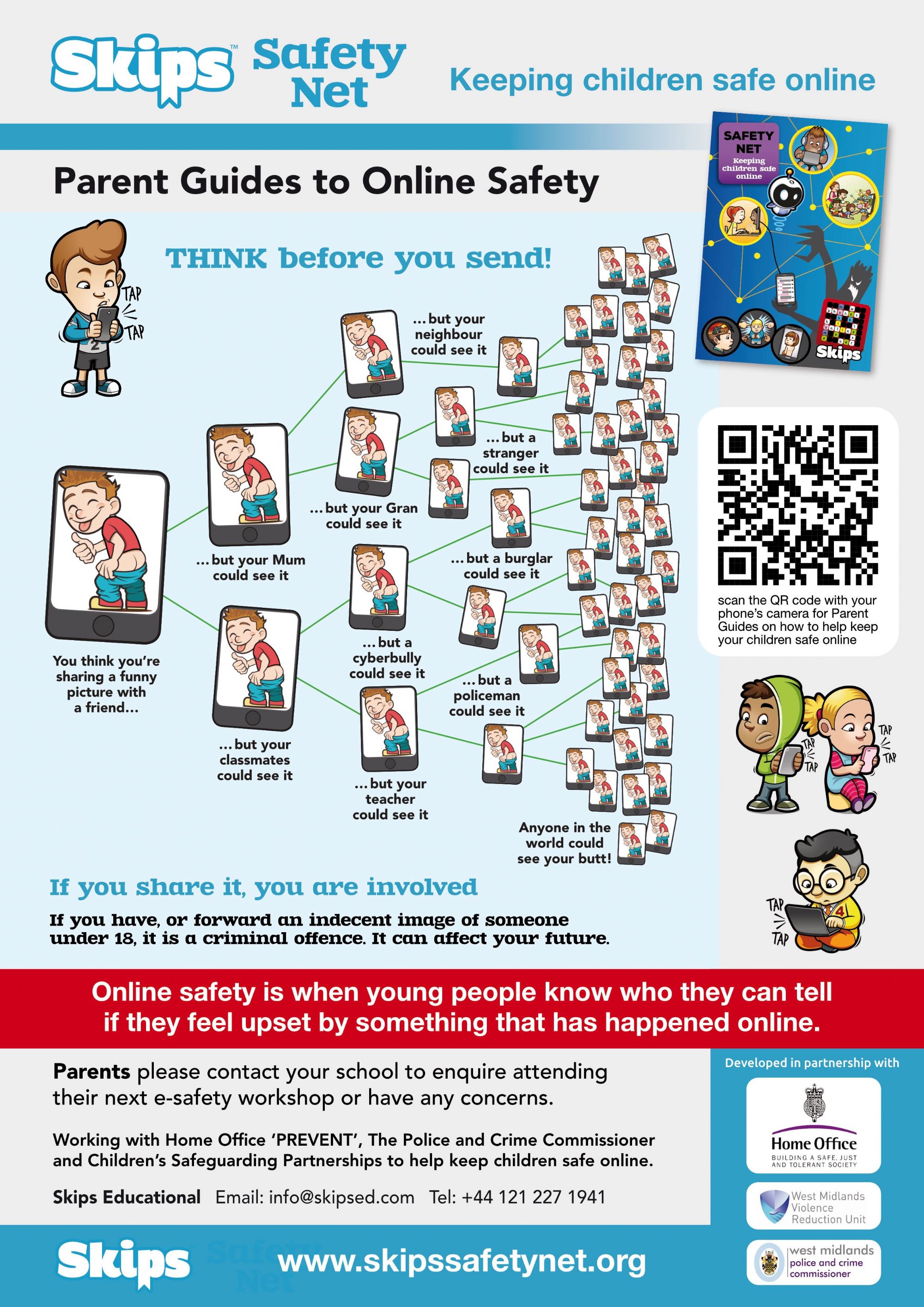 REPORTING E SAFETY CONCERNS:
If you are ever upset by anything you have received via text or via a social media site, please report to your mobile phone provider, or, if online, via the reporting functions on social media sites. If they receive anything that concerns or upsets them, they should not reply; they should block the person and they should tell an adult.
CEOP is part of The National Crime Agency who provide training and resources for children and young people aged 4 - 18, their families and professionals who work with them.
CEOP is available if a child has been contacted in an inappropriate manner or if they are in danger of being tracked or abused. The CEOP Safety Centre website allows you to complete an online form which goes directly to the police. This should be used when someone is in danger from another person.
You can make a report here: www.ceop.police.uk/safety-centre
The CEOP Safety Centre has clear information and advice on what can be reported to CEOP, the reporting process and what will happen if you do decide to make a report. You can visit the CEOP Safety Centre and make a report directly to CEOP by clicking the ClickCEOP button.
Useful websites with information and advice about how to stay safe online: